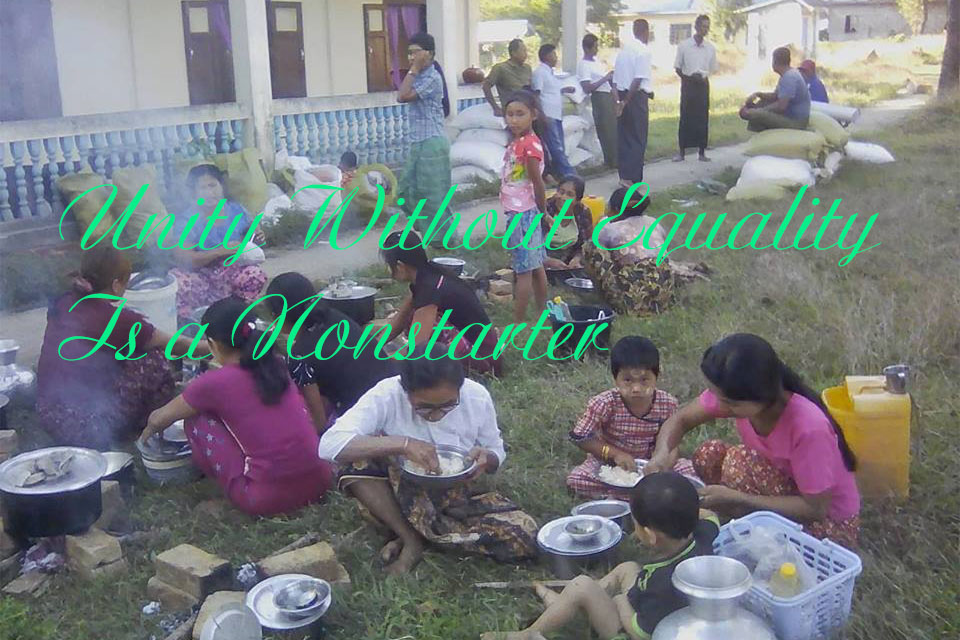 Written by Rammar Kyaw Saw
Successive governments in Myanmar have used some specific words to undergird the notion of "ethnic nationality". They are, for example: national equality, national reconciliation and national solidarity. The Tatmadaw ruled Myanmar from under the Union Revolutionary Council after General Ne Win led a military coup in 1962 to the quasi-military government that took office after the 2010 election. Although the names of the governments may have changed, the Tatmadaw maintained power throughout these decades.
The administration headed by retired general U Thein Sein took power in 2011 claiming to be a clean government dedicated to good governance, attracting the attention of international observers. It liberalized a previously repressive media environment, to some extent. The government additionally offered peace to several ethnic armed groups, saying that it wanted to see ethnic children using laptops instead of weapons of war. If we compare with what was, pre-2011, and with the current situation, we must say that U Thein Sein's peace process was relatively successful.
Ethnic armed groups who had not trusted successive military governments seemed to think that there would be a change. Some of those groups' leaders appeared to believe that they could help in making the so-called "Nationwide Ceasefire Agreement" a fulfillment of its name's implied virtues, over time. That's why eight ethnic armed groups signed the NCA under the U Thein Sein administration.
Daw Aung San Suu Kyi was an initial skeptic, saying during a foreign trip then: "Ethnic armed groups need to consider before signing the NCA immediately because it still has some weaknesses." However, when she took office, she invited ethnic armed groups to sign the NCA in good faith, with no amendments having been made to the document. She attempted to incentivise holdouts by telling them that their full participation in national peace conferences to come could only be guaranteed if they signed the NCA.
The Union Peace Conference christened by U Thein Sein got a facelift under the government of Daw Aung San Suu Kyi. It was rebranded as the 21st Century Panglong Conference, with the state counsellor claiming it would be a peace summit based on the "Panglong spirit" that forged a landmark pre-independence agreement in 1947. But in the course of the 21st Century Panglong Conference's implementation — from fanfare-laden gatherings to backroom dealings — the National League for Democracy government was beguiled by the Tatmadaw's twisted conception of democratic federalism, mistaking it for the federal democracy that ethnic nationals desired.
The positions of the government and the Tatmadaw essentially merged. One of the NLD's stated objectives during the 2015 election campaign, national reconciliation, has instead become a reconciliation between the NLD and the Tatmadaw.
The 2008 Constitution cannot be amended if the Tatmadaw does not participate in the process. It's important to remember that the NLD did not contest the 2010 election in part, the party said, because it could not accept the 2008 Constitution. At that time, many ethnic political parties also boycotted the 2010 election in support of the NLD's position. But the members of that alliance were caught napping when the NLD competed in the 2012 by-election.
Then in the 2015 general election, the NLD won a sweeping national victory, but ethnic political parties won a majority of elected seats in Arakan State, and performed formidably in Shan State. In those states, ethnic political parties demanded to form their government in their states. But the NLD relied on provisions of the very Constitution it had once opposed to justify ignoring those demands. (The chief ministers of states and regions are constitutionally appointed by the president.)
But the Constitution does not say that a person from the political party that won a majority at the national level must be assigned to lead the cabinets of state and regional administrations. The NLD could have appointed chief ministers from the most electorally successful party in a given state or region. Had Daw Aung San Suu Kyi's party done that, alliances dating back decades between the NLD and ethnic parties would likely have been strengthened, and rifts like the one that has opened up between the Arakan State government and the 47-member state Hluttaw could have been avoided.
The executive and legislative branches in Arakan State have struggled to work harmoniously together, even now in the fifth and final term year before elections in November. The government has been weak in implementing proposals approved by the parliament and MPs — exercising their oversight role — have acted as a check and balance on the executive that has, in the process, delayed development in the state.
At the Union Parliament (Pyidaungsu Hluttaw) level, proposals related to Arakan State affairs rarely get a substantive airing. If a proposal has been discussed, its fate has been defeated in votes that, ironically, call to mind accusations of "democratic bullying" leveled by members of the military's proxy party in years past.
When such situations become a repetitive cul-de-sac, Arakanese people see political parties as unable to do anything for the people they are elected to represent. It can be argued that as such disillusionment has grown, armed conflict in Arakan State has intensified as a consequence.
Casualties on both sides and collateral damages increase day by day. Meanwhile, the Myanmar government has cut off mobile internet access in nine townships of Arakan and Chin states where fighting persists.
The internet ban in Arakan and Chin states directly contravenes the Universal Declaration of Human Rights' Article 19 right "to seek, receive and impart information and ideas through any media and regardless of frontiers." That cannot be denied, despite a government spokesperson's insistence last month that the internet ban was imposed in the interests of the people, and was in line with the law.
Article 347 of Myanmar's Constitution argues otherwise, stating: "The Union shall guarantee any person to enjoy equal rights before the law and shall equally provide legal protection." How can it be said that equal rights are being enjoyed by those most vulnerable when they cannot access the internet?
The internet ban's repercussions include hindering rescue processes and evacuations for people trapped by clashes, as information is late in arriving to civilians in conflict zones — or fails entirely to reach some, with sometimes deadly consequences. While people in most parts of Myanmar are surfing the internet freely, residents from eight townships in Arakan State and Paletwa Township in Chin State cannot receive information equally. This can objectively be called discrimination.
Myanmar is a country suffering civil war for more than seven decades. A few months after the U Thein Sein government took office, armed conflict intensified in Kachin State. After that, fierce fighting occurred in the Kokang region of northern Shan State. But in neither of those cases was an internet ban imposed. Attempts to block information under this civilian government, elected by the people, cannot be blamed solely on the military for security reasons. Under these circumstances, can those who have been discriminated against for decades believe in high-minded rhetoric and notions of national equality, reconciliation and solidarity?
The government is responsible for protecting vulnerable populations. But the government has been weak in providing relief aid for internally displaced people in Arakan State. Moreover, it has hindered donors through various limitations and justifications, resulting in war refugees at IDP camps suffering food shortages, livelihood woes and numerous other hardships. Many have neither a proper roof over their head nor sturdy walls around them.
To overcome these challenges optimally, all participants must choose the path of negotiation rather than armed conflict. Currently, the number of IDPs in the region has surpassed 120,000. This is the time for the government to show its stated commitment to equality, in this case most urgently with respect to war-affected populations.
If the government neglects them, their lives will be worse off and the sense of being discriminated against will grow. If they cannot enjoy basic rights such as equality of access to the internet, doubts will fester about the government's stated commitment to national solidarity. With this in mind, if the government truly prioritizes national solidarity, it should ensure that all citizens have equal rights, regardless of race, religion and class.
Peace is peace; it is not defined by the clauses of an accord between warring parties but rather by the totality of the lived experiences of those inhabiting conflict-affected areas. If the government wants to build national solidarity, it needs to first achieve a genuine peace, and foremost among the prerequisites to peace in Myanmar is the establishment of equal rights for all.