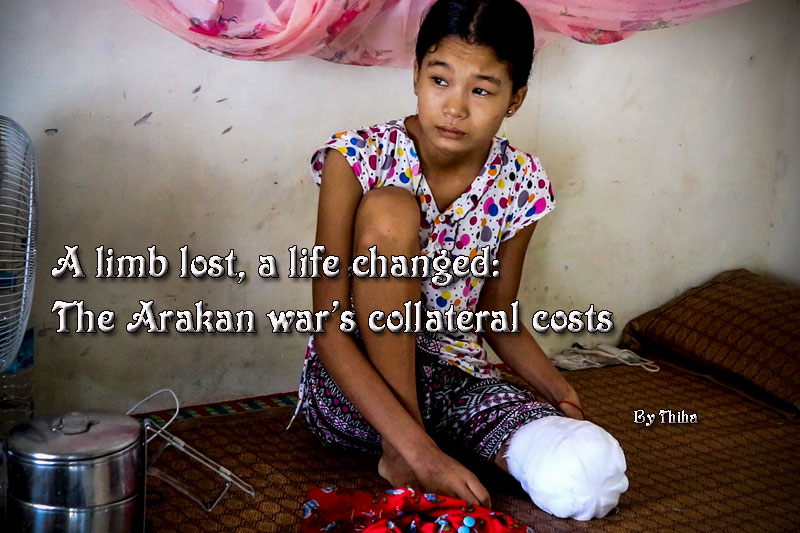 By Thiha | DMG
"I hate those who did this to me; made me disabled," said the 17-year-old Dainet woman, Ma Moe Moe Nwe.
She is still upset, understandably, about the tragedy that visited her earlier this year, when she lost her left leg and more.
"Wars and conflicts in many parts of the world have contributed to higher levels of disability through physical and mental trauma," notes a thematic report on disability in Myanmar based on the country's 2014 census. 
Ma Moe Moe Nwe's story is one such case.
The eldest child born of U Kyaw Mya Aung and Daw Mae Bu Sein, residents of Thinbaw Kway village in Arakan State's Kyauktaw Township, Ma Moe Moe Nwe's childhood was good preparation for the hardship that has befallen her in recent times. Her father is a deafmute and her ailing mother died when she was just 5 years old. Ma Moe Moe Nwe's little brother was just 5 months old at the time.
After Daw Mae Bu Sein's passing, the children found someone who has been able to love them as their own mother would have — their father's elder sister.
"As an aunt, I adopted them when my younger brother lost his wife because he cannot raise them as a person with a disability," said 60-year-old Daw Ma Yin.
A few years later, when she was in Grade 3, Ma Moe Moe Nwe dropped out of school to help her aunt bringing in money for the household, cutting firewood and collecting vegetables in the forest for a living.
She plucked and sold watercress from age 10. It was her big earner during the rainy seasons of her preteen years. She earned money cutting and selling firewood in the summers.
She had been the main breadwinner of the family for the past two years, said Daw Ma Yin, explaining changes to the nature of Ma Moe Moe Nwe's breadwinning activities. 
"She worked as a construction worker in Kyauktaw town in the rainy season and worked at brickfields in summer. She earned money for the household as much as she could ever since she was young," Daw Ma Yin said.
In fits and starts, it seemed Ma Moe Moe Nwe's life had settled into a period of relative peace and stability as she entered young adulthood. Then, out of the blue, tragedy struck. 
War at the doorstep
Clashes in Arakan State between the Tatmadaw and the Arakan Army, which started in December 2018, eventually reached her village in Kyauktaw Township.
When they heard that Tatmadaw columns were arriving at nearby Thayet Oak village, Ma Moe Moe Nwe's family worried about the potential for fighting closer to home and temporarily relocated to Kyauktaw town, where they thought they would be safe.
April 1 was a day she will never forget. Ma Moe Moe Nwe's left leg was hit by stray bullets while she was inside the family's new temporary residence in Kyauktaw town.
It started with the sound of gunfire at about 5 p.m. while members of her family were conversing after dinner.
"We did not notice when three vehicles arrived there. We crouched in our house when we heard a blast. And we heard gunfire from the road," said Ma Moe Moe Nwe. "Then I felt heat at my left thigh."
Daw Ma Yin noted that their house's location beside the road made it vulnerable to any errant firepower coming from vehicles.
"I was hiding behind a large wooden board and praying to be safe because the bullets were hitting houses like it was raining. She [Ma Moe Moe Nwe] called for me but I did not go near her because I was worried about who would help if both of us were hit by bullets," she said.
The gunfire in Kyauktaw town that day killed five people and injured eight others including Ma Moe Moe Nwe.
She was not provided medical treatment immediately due to security concerns and was admitted to Kyauktaw Hospital at around midnight, several hours after she was shot. The next day she was transferred to Sittwe Hospital due to the severity of her injuries.
"We did not have money when we needed to transfer her to Sittwe Hospital. So, I sold her golden ring that she had bought with her savings and my golden necklace, which my husband bought for me," Daw Ma Yin said.
"Two bullets came out from her wounds," she added.
A turn for the worse
Almost three weeks passed and Ma Moe Moe Nwe was in recovery when her injury became swollen and she registered a fever on April 19. 
The orthopedic specialist at the hospital in Sittwe tried to remedy her condition by other means but ultimately resorted to amputation, taking her left leg at the knee. 
"The doctor said her leg was swollen because of the poison of the bullet. If we did not amputate her leg in time, she might have died," said Daw Ma Yin.
The 2014 census found that 49,980 people in Arakan State reported a walking disability, with difficulty levels rated from "some" to "a lot" to "cannot do at all". 
Ma Moe Moe Nwe is not included in that data but rather she is among the growing ranks of a disabled demographic not captured in the 2014 survey, which was conducted too long ago to have scratched the surface of the current conflict between the Tatmadaw and the Arakan Army.
This story pointedly does not assign blame to either of the warring parties because, as is so often the case, the "fog of war" allows both to accuse the other, with accountability sorely lacking in the aftermath of collateral damage to property or bodies; livelihoods or lives.
In order to walk these days, Ma Moe Moe Nwe uses a crutch generously donated by wellwishers. Whether that puts her in the category of "some" or "a lot" of difficulty is an open question. 
What is clear is that it is impossible for the 17-year-old to return to her former jobs on construction sites and in brickfields.
Daw Ma Yin said she doesn't know what to do now. In the aftermath of April 1, the family may never regain a proper sense of safety, and now economic security is also a concern.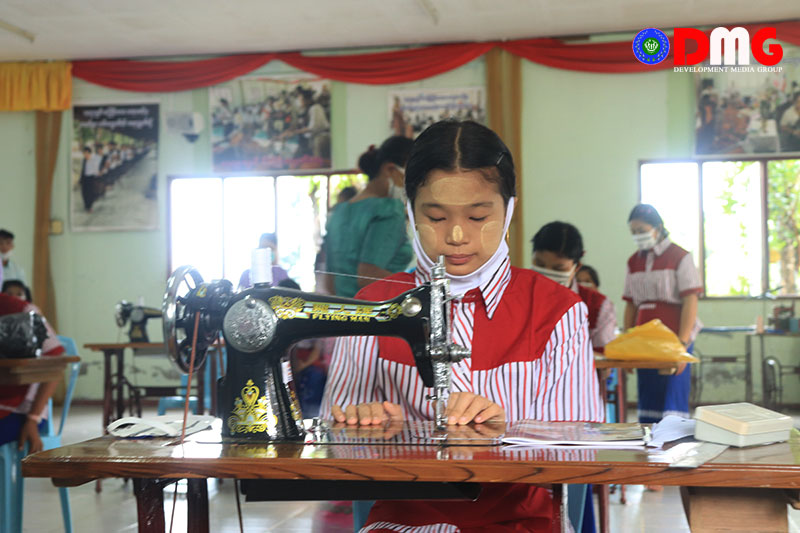 Ma Moe Moe Nwe is convalescing at a temporary camp for war refugees at Aloedawpyae Monastery in Sittwe, where she is learning to tailor.
It's a new trade for a new, more challenging set of circumstances. In a war where life and limb are not to be taken for granted, Ma Moe Moe New still has life, which is more than some can say.