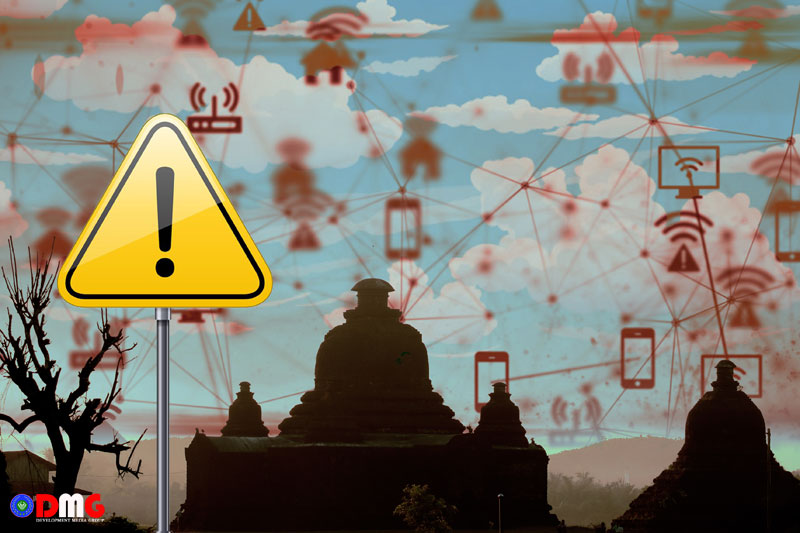 By Nay Win San | DMG

As a feature that sticks out and is scattered around town, bamboo gives a different look to Mrauk-U, the seat of Arakanese kings from the early 15th century to the late 18th century. Today many long poles made by lashing bamboo rods together dot high-rise buildings and other edifices across town. Typically they form a kind of scaffolding for construction projects and the like, but in Mrauk-U the local residents have also deployed the poles in an effort to address a very 21st century problem.
Mrauk-U is located on the Kaladan River in northern Arakan State, about 60 kilometres inland from the state capital Sittwe.
In June 2019, the central government imposed an internet blackout in eight Arakan State townships, including Mrauk-U. 
Maung Nyein Min Hlaing from Mrauk-U was studying at the University of Medicine in Yangon when the government closed universities, colleges, and primary and secondary schools to prevent the spread of COVID-19. He returned from Yangon to his native town in March of last year. 
The university started providing online lessons in June, but Maung Nyein Min Hlaing had no internet access to allow him to join the virtual classroom. Still, where there is a will, there is a way — and where there were surrounding hills, there was a chance to connect to the internet.  
After the government cut off internet access in Mrauk-U, local residents explored various ways to get online amid official deprivation. Because there is internet access in bordering Sittwe and Pauktaw townships, Mrauk-U residents tried out the idea of climbing up hills and looking for cellphone signals at higher elevations. 
The idea worked in some cases, one such place being Three Pagodas Hill on the outskirts of Mrauk-U. The internet is also accessible on other hills nearby. Thus were born the hilltop "internet cafes" for residents of Mrauk-U.   
But surfing the internet amid the lush hills of Arakan is not always fun and games. Ever present in the back of many minds when venturing off the beaten paths of local villages is the risk of stepping on landmines or encountering other explosive remnants of war.
The internet shutdown has also made learning difficult for Ma Mrat Noe Zin, a student at Yezin University of Agriculture in Nay Pyi Taw. The internet was cut off in Mrauk-U one month after matriculation exam results were released in 2019. The lack of online access forced her to climb a hill to email her application for enrollment in university. In the months since, she has had to frequent the hills around town to use the internet for her studies.           
She once faced artillery fire while heading for a hilltop with companions in search of internet connections one afternoon in 2019, she said.        
"My family members phoned me to come back at once, when they heard artillery fire," Ma Mrat Noe Zin recounted.  
Before long, mobile data users were reaching for elevations higher than the hilltops. Mrauk-U residents erected two 45-foot-long bamboo poles, the tops of each equipped with a mobile phone turned Wi-Fi hotspot. 
At heights greater than the hills themselves, the pole-affixed phones are able to connect to the internet, which sends a signal via the hotspot to the ground and cellphone users below.
A military spokesperson has said the internet restrictions were implemented due to the leaking of sensitive information such as Tatmadaw troops movements in Arakan State. More generally, government and military authorities have cited "security concerns" in attempting to justify the internet deprivation. 
"Military information such as which military column is moving from which location to which area is uploaded on social media," the Tatmadaw spokesperson said at a press conference on June 23, 2020. "And there is some information that makes people in the country and abroad misunderstand the Tatmadaw. So, we have to shut down the internet in the region for security reasons."
In addition to Mrauk-U, the government has restricted mobile internet services in seven other Arakan State townships: Ponnagyun, Kyauktaw, Minbya, Myebon, Rathedaung, Buthidaung and Maungdaw, as well as in Paletwa Township, Chin State. According to the 2014 census, more than 1 million people living in these townships are affected. 
Domestic and international organisations, and some foreign embassies, have called for the restoration of full mobile internet access. 
In early May 2020, the government restored internet access in Maungdaw Township, claiming peace and stability had been sufficiently re-established to warrant the move. And more than a year after the first cutoff, the government on August 1 restored internet services in the rest of the townships, including Mrauk-U, but only allowing access to a 2G network. 
This is important, as critics have noted that 2G connectivity can be functionally useless for internet users attempting to execute even basic online tasks. 
Sending an email on the 2G network takes more than 10 minutes, said Ko Kyaw Tun Lin, information officer for the Mrauk-U Youth Association. He is a computer trainer for young people in Mrauk-U and is also studying advanced technology.
The speed of the 2G connection is so slow that it takes five to six minutes to see a photo on Facebook, said Ko Kyaw Tun Lin. He added that connections can be a bit faster late at night, when fewer users are attempting to access the network.  
"When applying for a job by email, when companies are hiring, the website does not come up every time and it just shows an error. I gave up without applying for a job because of a bad internet connection," he recounted.
"We are far behind," he said, explaining that while young people from other areas were using 4G internet, the shortcomings of 2G connectivity were limiting the opportunities available in Arakan State.
Athan, a Yangon-based freedom of expression advocacy group, released a report last month on findings related to the internet shutdown and other digital rights abuses in Arakan State.
Ongoing internet restrictions have negative impacts on health, educational and social aspects of people's lives, said Athan research officer Ko Ye Wai Phyo Aung. 
"It is critically important to immediately lift internet restrictions and resume full internet services. I would like to suggest that internet services be resumed today," he said last month. "And it is important that the government does not just nominally resume internet services, but rather provides full 4G mobile internet services."
The ruling National League for Democracy (NLD), which won a landslide victory in Myanmar's November 2020 general election, may restore internet access if security improves in northern Arakan State, according to Dr. Myo Nyunt, a spokesperson for the party.
"We are very sorry that some basic human rights are denied due to security concerns. It will be possible to resume [internet] services if and when security improves," the NLD spokesman told DMG on November 24.
Internationally, the right to information is increasingly recognised, but that is far from the case in Arakan State.
"We have to go to the top of a mountain to send an email. It is risky to go to that area amid regional instability," said Ko Shwe Than Kyaw of the Mrauk-U Youth Association, reacting to warm words sent to the people of Arakan by Myanmar's civilian and military leaders on Arakan State Day, December 15. 
"Lifting restrictions on internet access is more useful for the people than sending messages of greeting."