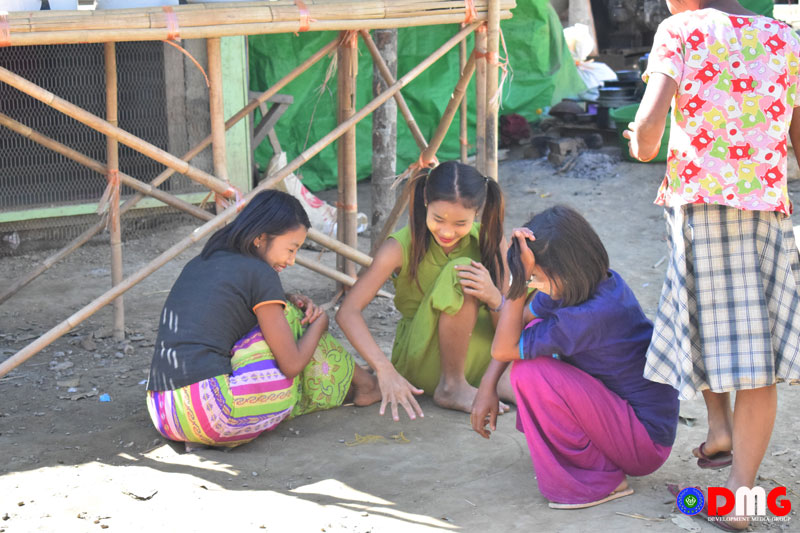 By Dani | DMG
Ma Than Soe sits quietly in front of the house and stares vacantly into the distance. She was once known as an active and happy girl. Now, she looks like another person; her smile and friendliness are not seen in her.
Her parents had high hopes for her and her sister. Ma Than Soe is a clever student. But now, she cannot go to school. And, they do not have a house to live in.
Their family has lived at an IDP camp in Kyauktaw Township, Arakan State, since last year. Almost all the people from their village are sheltering at the camp. However, she said she has not seen all the villagers there, and does not know the whereabouts of some of the villagers.
She did not want to take refuge at the IDP camp and she left the camp and was working in Yangon. But she became a person without a home in the nation's commercial capital as well because her job was suspended due to the COVID-19 pandemic, she said with a laugh. 
Then, the smile left her face.
"I am jobless now," she said softly.
Ma Than Soe said her younger sister would come to Yangon to work, but they could not meet each other because her sister was to stay at another house.
"I want my sister to keep going to school. And, I want to return home," she said with a sigh. 
First, she said she wanted to pursue her education. Then, she asked if she could change her answer, and that instead first and foremost she wanted to get a job.
The residents of small villages in remote parts of Arakan State faced poor transportation and limited access to quality education even before there was an armed conflict. When clashes broke out, some of these villagers became IDPs and lost their houses and property as an effect of the war. They are also facing unemployment.
Despite Arakan State playing host to multiple large-scale development projects, job opportunities are rare for people at the grassroots level, with many migrating to Yangon to work. Among them, most Arakanese women are to be found labouring at factories and workshops in Myanmar's largest city.
Young women who are working without having finished their education find it difficult to pursue their education because they have to prioritise their livelihoods.
Ma Khaing Khaing Wai is one of those young women who could not pursue her education. She was a Grade 11 student and says she was a clever student. Her mother and elder sister wanted her to be a graduate.
After primary school in her village, she went to secondary school at a village seven hours' walk from her village. Her parents are farmers, but they wanted her to be educated. She went to school from the home of her mother's elder sister, living in the school village. She could not return to her home village very often because of poor transportation. When clashes began to break out in Arakan State, she faced difficulties continuing her education.
"I had to run from the school to my aunt's home if I heard the sound of gunfire, or saw smoke and flame at a distance from the school. We had to run from our classroom during studying time. We had to run quickly from classrooms and hide in shelters when villagers had cried that the navy force was coming. Sometimes, I had to run and hide for safety when I heard the sound of gunfire while studying at home," Ma Khaing Khaing Wai said.
"We had to study amid armed conflict and our courses were not finished at school. So, I was worried that I couldn't pass my matriculation exam because I could not learn all the lessons. I would cry when I thought about it," she said.
She added that her studies were notably disrupted when her home village, Mone Than Pyin in Kyauktaw Township — where her parents were still living — was burnt to the ground. She received the terrible news two days before she was to sit her matriculation exam.
When the names of those who had passed the exam were posted, her name was not included on the list.
"I do not feel sad though I did not pass the exam. I think it is because of my life, which has faced situations worse than it. I want to pass the exam because I want to see my parents and elder sister happy," she said.
Ma Khaing Khaing Wai said she wanted to sit the matriculation exam again, but did not want to leave her job to study as she worried that she might not get the job back after her exam, she said.
There are about 79,000 IDPs at camps in Arakan State and more than 100,000 IDPs who are taking shelter outside designated camps due to hostilities between the Tatmadaw and Arakan Army. According to figures from the Rakhine Ethnics Congress (REC) released in November, the number of female IDPs is 15% higher than male IDPs.
Some IDP camps in Arakan State are provisioned by the government, while others do not receive government aid. Thanks to a halt in fighting between the Tatmadaw and AA currently, IDP camps are receiving aid from the International Committee of the Red Cross and World Food Programme that had previously seen deliveries suspended, according to the REC.
However, IDPs need a lot of things. Among other concerns, they face accomodation difficulties. Tiny rooms crowded with people are not ideal for young women. So many come to Yangon with the help of their relatives, and are working at factories. Though life may be hard in Yangon, they do not want to return to the IDP camps.
"My situation here in Yangon is better than living at IDP camps in Arakan State. I can send some money to my family. I am facing some difficulties now because of the COVID-19 outbreak, but I cannot return home. If I return home, I will have to stay at an IDP camp," said Phyu Ma Chay, who left an IDP camp in Kyauktaw Township and is working in Yangon.
"I fled from home but I did not know where I was going. I followed other people. I saw my friend's little brother was crying on the way. So, I was running while holding his hand. I did not see my family. I did not know whether my younger son was still alive or not, at that time. I had to walk from 1 a.m. to 4 a.m.," she said.
A middle school was built in Mone Than Pyin village just before all its houses were burnt to ash. Now there remains a primary school but children have to go to other villages to attend middle school.
Ma Than Than Wai, a resident of Mone Than Pyin in Kyauktaw Township, said the middle school was built on self-help, adding that she felt sad when the school was burnt down.
"Children were happy as they did not need to go to other villages for middle school education. I completed primary school and could not pursue middle education because I could not go to school in another village. I felt much sadder when the school was burnt though my home was also burnt to ash," she said.
A women's rights group based in Yangon said children in rural villages often struggle with access to education because they also face livelihood considerations and a majority cannot attend middle school after primary school due to poor transportation.
Women rights groups, charity organisations and other donors are working with the government to provide professional training for those who are lacking in education, but most young women go on to work in Thailand after their training, the Yangon-based women's rights group said.
Some young women from IDP camps are working in Yangon while others are working abroad. Most Arakanese women can do tailoring, and are working at garment factories in Yangon with the help of relatives and friends. Others are working as assistants at sewing lines and some are working as accountants. However, they do not want to do these jobs. They are working there to help their family, but in doing so many have buried their dreams.
Ma Khaing Khaign Oo said: "I want to become a nurse. I volunteered in the village's healthcare activities. I might not be a nurse, according to my education. If I have a chance to be a nurse, I want to work as a nurse. If I am not paid, I wanna be a nurse."
She added that she hoped she could become a health worker at the village someday, because she was a volunteer at the village's healthcare centre. But all villagers have been displaced from their homes and are taking refuge at IDP camps after their houses were burnt to ash due to war in March 2020.
Ma Khaing Khaing Oo was working at a garment factory in Yangon when that occurred, but she still wants to join in training related to healthcare if she has the chance, she said.
"I do not have a wish for my people or the other side to win the war. All IDPs have the same opinion, I think. I feel sad when I see people affected by war, and I never read news about war. Whoever wins in war, we people lose everything. Nothing is left for us," said Ma Than Soe.