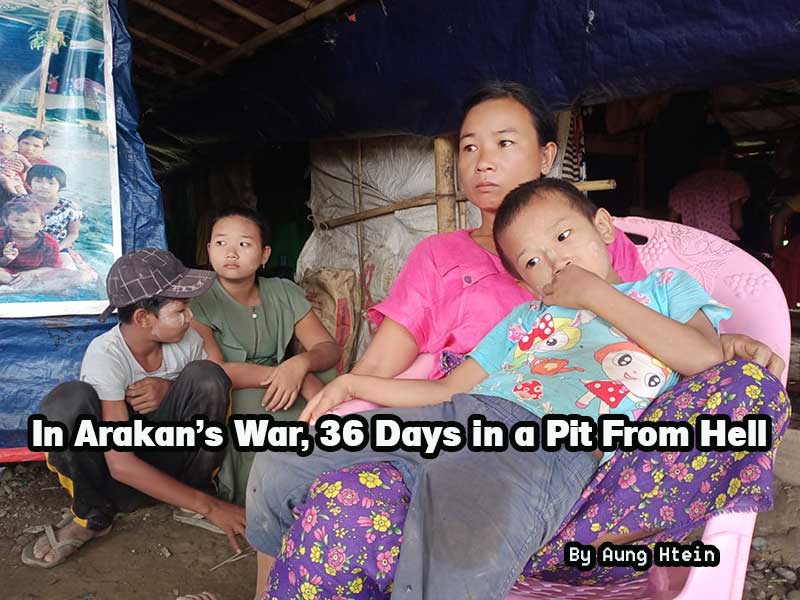 By Aung Htein
"Bullets are falling like rain. Artillery shells are landing; it looks like earthquakes are rocking. I have never seen such a situation in my life," Daw Hla Yin Oo, a woman in her 40s, recalls of her experience last March in Arakan State's Kyauktaw Township.
Clashes between the Tatmadaw and Arakan Army in the Mee Wa region last year raged for more than 40 days. It marked some of the fiercest fighting in Arakan State over the two years of active conflict.
People from different villages such as Tinma, Marlar, Mont Than Pyin, Pyaing Taing, Kyauktan, Myauk Taung and Mee Kyaung Tet were displaced from their homes due to those extended hostilities.

Daw Hla Yin Oo did not flee her Tinma village home because she could not leave her elderly mother, who was not unable to walk well, and because at the time she did not dare to run with her young children in tow.

Going to Ground
Daw Hla Yin Oo, along with her 65-year-old mother, 14-year-old daughter and three sons ages 12, 9 and 7 years old, stayed in a 6-ft wide and 4-ft deep pit for more than a month.
The pit, dug under Daw Hla Yin Oo's house, is roofed with logs and tarpaulin. There is only one hole where a person can enter. There they hid for 36 days to prevent from being hit by bullets and shrapnel during the fighting, Daw Hla Yin Oo said.

She thought the clashes would end within a few days, but her reckoning proved wrong. The fighting intensified and reportedly occurred every day.
From Tinma village were heard the sounds of small arms and heavy weapons fire, as well as the flying of fighter planes. The family has found it difficult to describe the family's fear over the course of those days and weeks in the pit.
Daw Hla Yin Oo arranged to get food for her family while they were in hiding. She came out from the pit to cook when there was no sound of gunfire. The family ate their meagre meals in the pit.
"I cooked rice when there was no sound of firing weapons. We had to eat rice with salt, no curry," Daw Hla Yin Oo said forlornly.
Some days, the fighting lasted the whole day. On those days, she was able to cook at midnight or sometimes later, she said.

She tried to conceal the light from her stove when she cooked at night because she worried that they would be shot at if the light was seen.

"We could not eat rice every day," she said, adding that on mornings into evenings when the gunfire seemed without end, the diet was "water only" for sometimes "whole days."
The fighting at Meewa brought significant casualties for both sides, according to statements issued by both the Tatmadaw and the Arakan Army (AA).

As days of fighting turned into weeks, the family ran short on food. Eventually, calculating the risks of staying put to be greater than the risks of fleeing, Daw Hla Yin Oo decided that they would leave their village, charting a vague course to wherever they might find greater safety.

With her husband working abroad, Daw Hla Yin Oo describes feeling responsible for protecting her family. So on March 21, 2020 — the family's 36th day in the pit — they left the village.

"I thought we should not stay there anymore because people were arrested and villages were set on fire. If we were to continue staying there, we would die. So, I decided to flee," she said.

Flight
Daw Hla Yin Oo took her elderly mother and four children on a boat that moored for a time in another village's creek. They left that village at midnight, and Daw Hla Yin Oo eventually rowed the boat toward the other side of the Kaladan River, east of Tinma village.
They stayed at Thar Pone Kan (Mro) village that night and continued their fleeing in the morning as they heard more gunfire. They eventually reached Pi Chaung Thae Pone (Mro) village, where Daw Hla Yin Oo planned to temporarily stay, until the fighting near her village stopped and the family could return home. But when heavy weapons fire landed in the village two days after they arrived, the family left another village.
The family continued fleeing until they reached Kyauktaw town.

"My mother couldn't walk anymore. So, I told my children to run first. I was in the middle, and crying as I looked at my mother in the back and my children in the front," she said, wiping away tears.

The family's journey from Tinma village to Kyauktaw town took five days. And when Daw Hla Yin Oo looked around and felt unsafe in Kyauktaw too, she fled to the Arakan State capital Sittwe, where there was no sound of gunfire. There they have taken shelter at the Shwe Parami Monastery IDP camp.
The family are staying in a tiny room — once again roofed with Tarpaulin — at a row of buildings in the IDP camp. They say they plan to remain there for a year.

No Return Ticket Booked
Active conflict between the Tatmadaw and AA in Arakan State lasted about two years, resulting in more than 200,000 IDPs.

But in the lead-up to the November 2020 general election, the two sides came to an unofficial ceasefire that will be about five months old this month. Tatmadaw and AA representatives have met and talked in various ways on at least three occasions during that time.

The junta's State Administration Council on March 11 announced that it was rescinding its designation of the AA as a terrorist group.

Daw Hla Yin Oo now expects to return home when there is stability in and around her village, but her timeline for return remains vague.

Due to the fighting, many houses in villages east of the upper Kaladan River, including Tinma, have been destroyed.
Before the clashes that rocked her village and uprooted her family, Daw Hla Yin Oo owned four cows and some farmland, but all that is gone now. Many other villagers also abandoned and lost their property, likewise fleeing the war.

In the cruelest of coups de grâce, much of Tinma village went up in flames on March 22 of last year in conflict-related fires that burned down more than 500 houses. The military denied allegations that its forces were responsible for setting the village alight.

"If I were to return home now, there would be no home to stay in," Daw Hla Yin Oo said. "However, if I have a chance to return home, I will. I'll be satisfied if I can stay at my place by building a small hut with tarpaulin, like now."