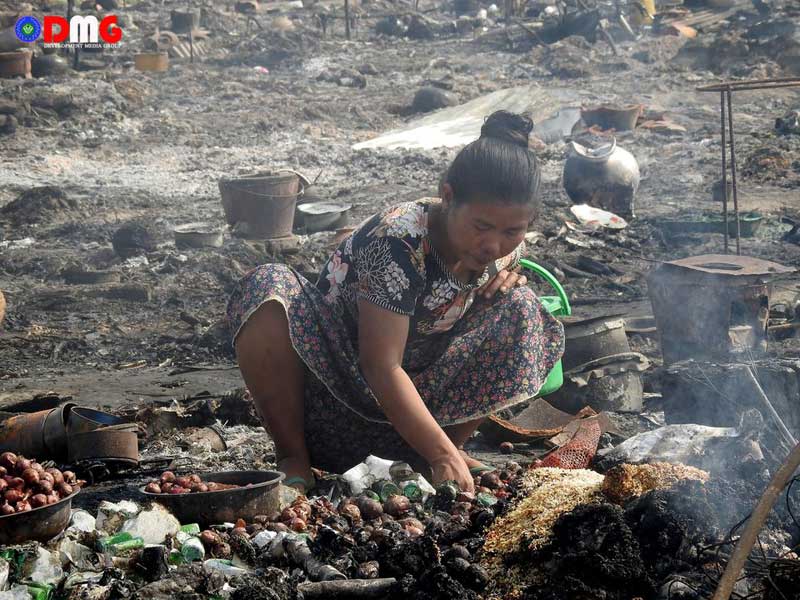 By Aung Htein | DMG
People were searching the wreckage, looking for anything still usable. The air was filled with a smoky smell as kitchenware and boxes could be seen scattered across the scorched earth. 
This was the scene of a displacement camp at Tin Nyo village, in Arakan State's Mrauk-U Township, after a massive blaze on March 17. The roadside camp is just 10 miles outside the former seat of the Arakanese kings of Mrauk-U, providing shelter to more than 3,000 internally displaced people (IDPs). 
The camp was largely reduced to ashes due to a candle fire on the night of March 17. The blaze burned down 663 out of 875 shelters at the camp, leaving more than 2,560 people homeless.
Twice Victims
Displaced by fighting between Myanmar's military and the Arakan Army (AA), locals from 10 villages including Lekka, Paukpinkwin, Auk Thakan and Buywetmanyo in Mrauk-U Township have been sheltering at the Tin Nyo camp since early 2019.
Ma Khaing Soe Win, who is in her 30s, fled from Lekka village along with her family in April 2019. Her home was destroyed when over 200 houses were torched in an arson attack in Lekka in May 2020. 
So it was that again fire-related hardship visited her on March 17, when the temporary shelter at the Tin Nyo camp, where she was living together with her family, burnt down.
Ma Khaing Soe Win said she could do nothing but watch her hut burn, along with about K800,000 that she had saved over the years. 
"When I came out of the hut, there was fire all in front of my hut. I had no time to take any belongings, but had to hurry away with my daughter," she said.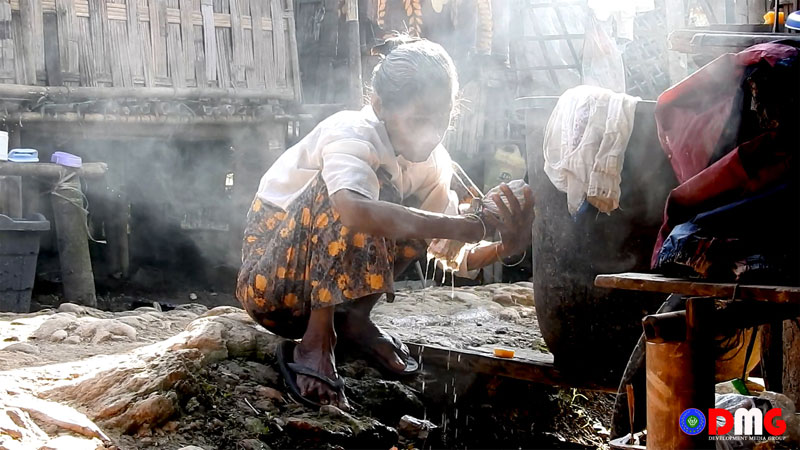 Daw Tha Nu Sein, 60, from Paukpinkwin, had saved K400,000 to repair her collapsing hut. But like Ma Khaing Soe Win, the fire engulfed not only her dilapidated shelter but also her money.
"That was all we had," Daw Tha Nu Sein said in despair. "We were first hit by fighting, and now hit by fire. I told myself, it is a fate worse than death."
The fire victims are currently taking shelter at the local monastery in Tin Nyo village.
Will IDPs Be Able to Return Home?
The chairman of the Arakan State Administration Council, fellow members and the commander of the Tatmadaw's Western Command visited the camp on March 18, the day after the fire.
Against their expectations, displaced people were urged to return home and told that new shelters would not be built for them at the camp. "If you return, we will provide food supplies for one month," said the military-led council's chairman.
The council told the IDPs that it would build temporary shelters and help them rehabilitate if they returned home. But the risk of landmines and unexploded ordnance, plus military deployments near their villages, is discouraging them from returning.
The commander of the Myanmar military's Western Command, Major-General Htein Linn Oo, told the displaced people not to worry about troop deployments near their villages, promising to punish any soldier who abuses local villagers.
"What is the problem with troop deployments? Do they come and torture the villagers? If they do, I will take action against them," Maj-Gen Htein Linn Oo told IDPs at Tin Nyo. 
The commander, however, warned people not to venture into the forests and mountains surrounding their villages, saying landmines have not been cleared there. The majority of rural populations in Arakan are dependent on farming and forests, however, and they still have no idea what to do for a living if they are not allowed to go into the forests after returning home. 
"We don't feel safe returning to our village. We have nothing to eat there. We have no abode to live there. And we have no livelihood to make there. We have nothing to rehabilitate," said 50-year-old Daw Sein Sein Htay from Auk Thakan village.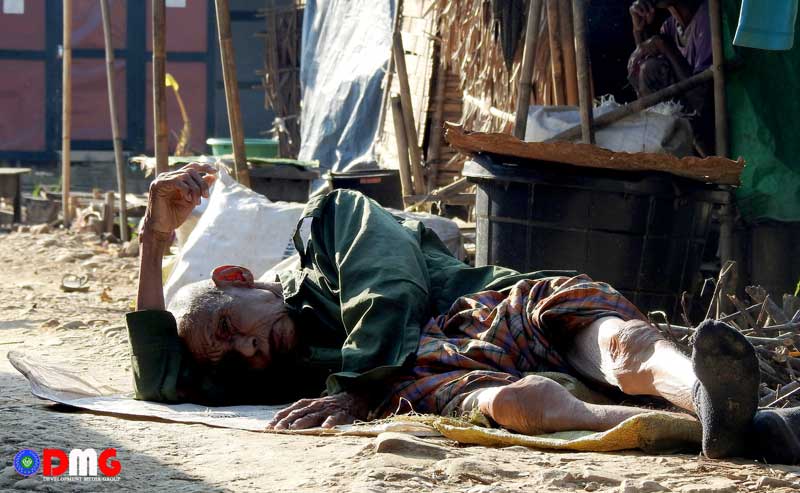 U Kyaw Kyaw, who fled from Paukpinkwin, said it is still impossible for them to return home given the current situation.
"Throughout our lives, we have made a living by farming. We have nothing left now except that we are still alive. It is still impossible for us to return to our village and do farming under the current situation," he said.
Camp managers have decided to build new shelters for IDPs affected by the fire at the camp, according to their wishes.
"We told them that they could go back to their homes, but if they didn't want to, that we would arrange accommodation for them. They replied that they wouldn't return and would stay at the camp," said camp manager U Soe Naing.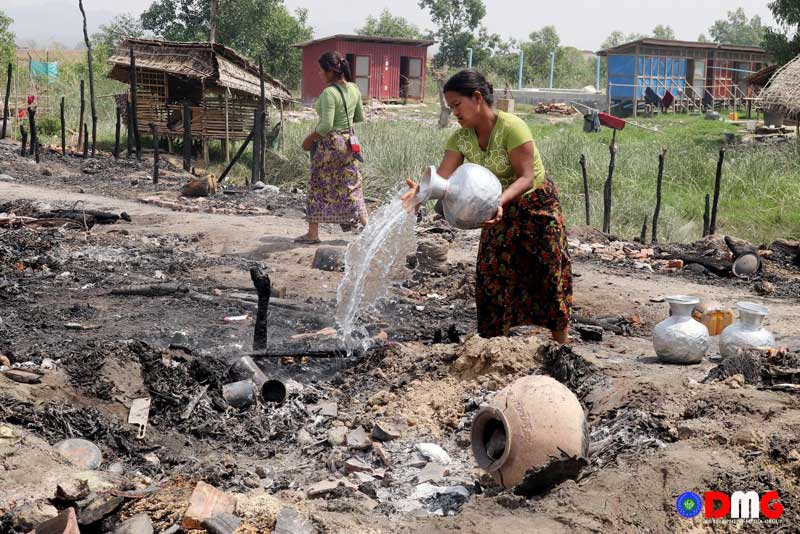 Fire victims are concerned that new shelters may not be built ahead of the rainy season, which starts in mid-May.
More than 200,000 people were forced from their homes during two years of Tatmadaw-AA hostilities from late 2018 to November 2020.
The fighting has ceased as of November but there is still no guarantee of a permanent peace, as the two sides have not yet signed an official truce.
Some IDPs have returned home in the clash-free months since October, but the majority remain in displacement camps.
"We don't know if we can stand up again. Currently, we don't even have money to buy snacks for my 6-year-old daughter," said Ma Khaing Soe Win.