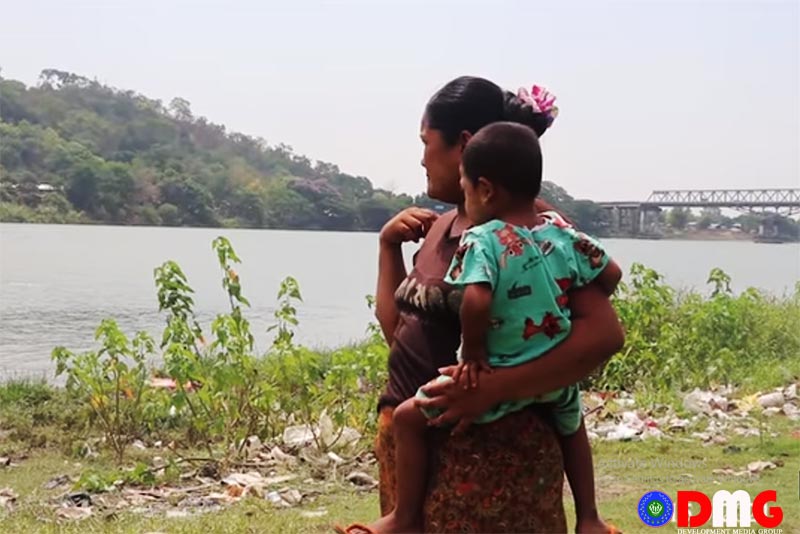 By Khin Tharaphy Oo 
The Kaladan River is a place full of memories and longing for Ma Su Chay. The memory of her husband's severed body parts washed up along the banks of the river will not soon leave her, in a world that is so different — marked by added hardship and sadness — than it was a year ago. 
Whenever Ma Su Chay especially misses her husband, she goes to the bank of the Kaladan River with her daughter, who is now without a father. 
Ma Su Chay, 22, and Ko Oo Kyaw Hlaing, 31, were married in 2015 and lived their life together in Kyauktaw town's Paikthae ward along with their toddler daughter. 
Ko Oo Kyaw Hlaing worked hard to make ends meet; collecting empty cans, selling water, and digging latrine pits were among the ways he earned a living for the family. For Ma Su Chay and her daughter Su Hlaing Win, Ko Oo Kyaw Hlaing was the man they had relied on for much and all of their respective lives. 
But one day, Ko Oo Kyaw Hlaing suddenly and unexpectedly went missing. That day was July 2, in the middle of the 2020 rainy season. Ko Oo Kyaw Hlaing disappeared after reportedly being taken into the custody of a Tatmadaw convoy while visiting the house of U Aung Kyaw Oo in Pyitawthar ward, where he was dealing cans and scrap metal. 
U Lwan Thar Oo, an eyewitness in Pyitawthar ward, said Ko Oo Kyaw Hlaing was taken away by a 60-strong Tatmadaw contingent. 
"Here he was choosing bottles and pieces of iron," he said. "During the selection process, the military followed this route, and when asked what he was doing, he apparently said he was choosing a bottle. I didn't hear clearly what he said. The military arrested Ko Oo Kyaw Hlaing and took him to Shwe Kyaung Dhammayon [a local religious building]."  
As usual that day, Ma Su Chay asked her husband where he was going to work. There was nothing unusual about his reply; that he would be off selling cans. 
"I was cooking that day. After cooking, a boy from our neighbourhood came to me at around 5 p.m. and told me that my husband was seen together with soldiers at the religious building. So I went to the religious building," she explained. 
When Ma Su Chay arrived there, she didn't find her husband but did see the soldiers. The local Sayadaw U Sandimar, who lives in Shwe Kyaung Dhammayon, said he came out of the shower on the morning of July 3 and saw a man with his hands tied behind his back under a jackfruit tree. The man was thought to have been beaten. 
"His face was swollen and I could not recognise his face. He called me 'Sayadaw' two times. I did not say anything because the soldiers were watching him. ... I heard him screaming each day. I didn't see him the next day," the monk said. 
For two days in a row, the man screamed day and night. On July 5, when Sayadaw Sandimar returned to the location where he'd been tied up, he found only a warhead under the jackfruit tree. 
In the days following her husband's disappearance, Ma Su Chay struggled to eat or sleep as her anxiety grew. 
Then on July 7, part of Ko Oo Kyaw Hlaing's right leg was found on the east bank of the Kaladan River near the Shwe Kyaung Dhammayon. 
When she first saw the severed limb, she prayed that it would not be her husband's. But her prayers were not answered. Ma Su Chay saw a hairband tied to the leg, and came to an undeniable conclusion. 
"My husband works hard at digging and carrying wood. His work is exhausting and he gets cramps. That's why I put a hairband on his right leg and knee," Ma Su Chay explained. 
A plastic bag containing several of Ko Oo Kyaw Hlaing's other body parts was found on the bank of the Kaladan River on July 8. 
A case has been opened with local police but the crime has gone unpunished to date. 
"The police station has opened a case under Section 302 of the Code of Criminal Procedure and Section 114 of the Penal Code. However, there was no indictment or arrest of any of the perpetrators of the killing. That's why I want the government to bring the perpetrators to justice," said U Kyaw Hla Myint, who has helped the family of the victim through their ordeal. 
There have also been complaints to the Arakan Human Rights Defenders and Promoters Association in Sittwe, but nothing has changed in the case. 
Ma Su Chay, who used to not worry about her safety or well-being while in her husband's care, is now struggling to make ends meet. 
"One cannot borrow money from a lender every day. How can I borrow money from them all the time if I am not related to them? When I could no longer stand the hunger, I went to work. I got a job but earn only 4,000 kyats a day," she said. 
What's more, Ma Su Chay suffers from asthma and is unable to work every day. She was able to take medication and visit the clinic regularly when Ko Oo Kyaw Hlaing was alive, but now she cannot afford to pay even K350 ($0.21) for a single dose. 
Seeing the perpetrators brought to justice will not bring Ko Oo Kyaw Hlaing back, nor will it put food on the table or medicine in the cabinet for the widow Ma Su Chay and her children. Still, justice is what she wants.