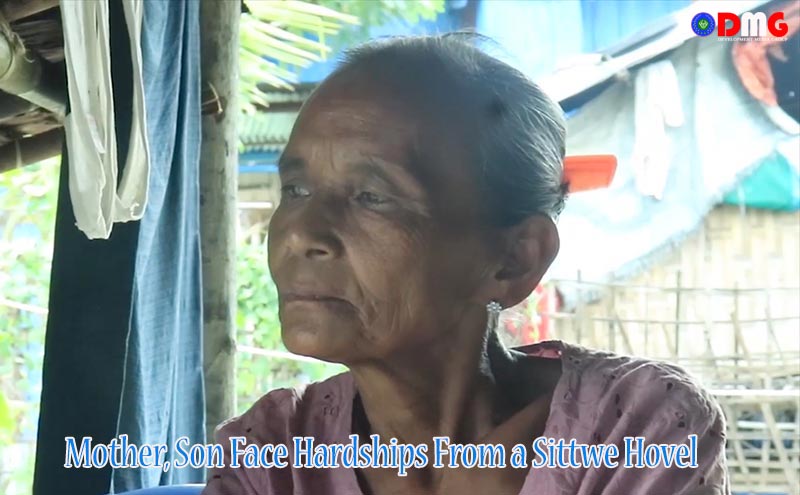 Written By Mrat Swe

There is a shabby hut down a lane in Sittwe's Sat Yone Su Ward. A dilapidated trolley sits in front of the hut with old plastic and glass bottles piled high on it, giving the appearance of a small garbage dump. A woman in her 70s and her 35-year-old son, who suffers from mental illness, live in the hut.

The woman, Daw Ma Than Shwe, has three sons and three daughters. All of her children are married except for her youngest, Ko Maung Pu. Together they have struggled in various places, in various ways. Daw Ma Than Shwe says that her married children cannot support her as they struggle to eke out a living and support their own nuclear families.

Thus, she struggles for survival along with her son. To earn money, Daw Ma Than Shwe washes clothes at others' homes. Sometimes, she also looks after children at the houses where she works. Her son, Ko Maung Pu, collects discarded bottles from garbage dumps, and sells them at buying centres for a pittance.

Their income is rarely enough to cover their living costs, says Daw Ma Than Shwe. They have lived this hard-scrabble existence in the Arakan State capital for nearly a decade.

"As we cannot afford the rental fee, we live in a roadside hut built by nearby villagers," she said.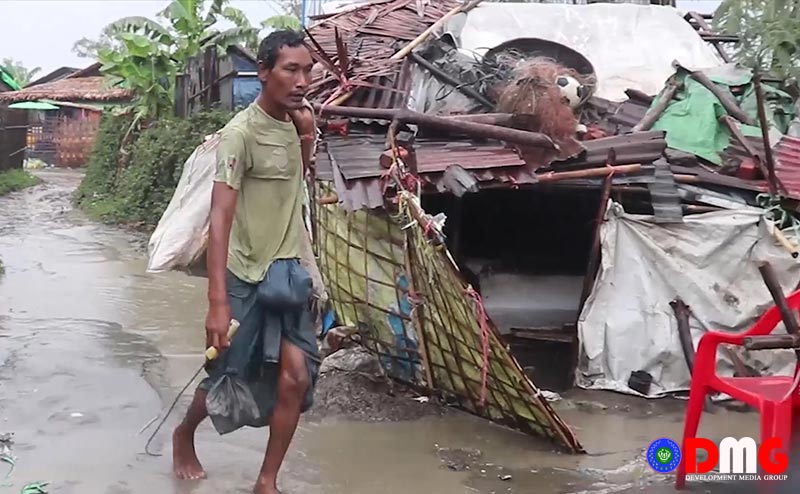 Daw Ma Than Shwe suffers from hypertension, which at its worst can result in temporary unconsciousness for the septuagenarian. She cannot afford to go to the local health clinic, however, and instead has to rely on medicines from mom-and-pop drug stores.

When she suffers from high blood pressure, she cannot go out for work and has to stay inside their hut until the symptoms pass, typically within four or five days. It's on these days of convalescence that she must fully rely on her son's work, and these are days when they must tighten their belts.

"We have to have just one meal, in the evening. I cannot work much as I have high blood pressure disease," she said.

"My son has no regular income. As my son suffers from mental illness, he doesn't go to work if he doesn't want to. When he does not go to work, he begs for meals from the monasteries. I have to eat at the houses I work at," she said.

Ko Maung Pu usually goes to the Ar Kyate Taw Kone dump site in Sittwe at about 5 a.m. to collect empty plastic and glass bottles. He earns between K500 to K2,000 per day selling these bottles, said Daw Ma Than Shwe.

She said because her son suffers from mental illness, he does not go to the dump some days. There are other variables as well: Sometimes, Ko Maung Pu collects items that cannot be sold; sometimes, other garbage pickers bully him.

Several years ago, Daw Ma Than Shwe lived in Sittwe, but she moved to Buthidaung town along with her children after her husband passed away. She returned to Sittwe due to the communal violence that that wracked Arakan State in 2012.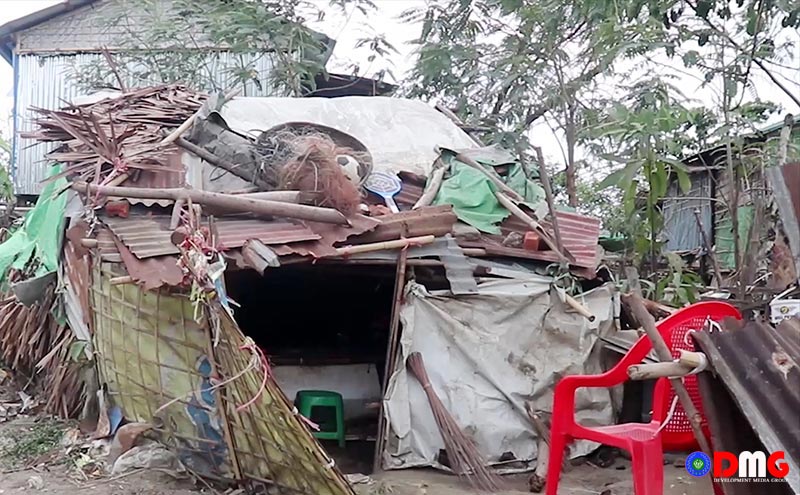 During the 2012 riots, her family fled from one place to another, and Daw Ma Than Shwe traces her son's mental troubles to the trauma of that experience.

"We had to flee during the conflict," she recounts. "One year later, my son started suffering from the disease. We hid at cemeteries and in the forests. I had to borrow money to pay for his medical treatment and he received treatment at the hospital for about 18 days. However, he didn't get back to normal. Now, it has been nearly nine years that he has suffered from this disease. He works depending on his health condition."

With mother and son both facing medical challenges, their meagre income looms as a major obstacle to wellness.

"I'm getting old and my health is not good. I have no money to treat my [hypertension] disease. If donors were to help us, I would thank them very much. I want my son's disease to be cured. I hope that it is his fate to get well, but I don't see any progress. I want to treat him at the hospital, but I have no money," she said.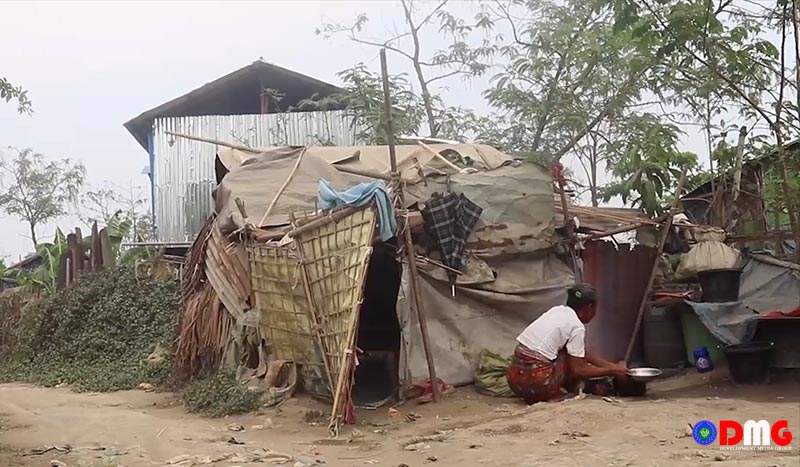 Another wish of Daw Ma Than Shwe is that they get a proper house of their own.

The monsoon season can be particularly difficult in their ramshackle hut, which does little to protect them from the harsh weather conditions that characterise this time of year. They are constantly worried that strong winds might demolish the flimsy dwelling they call home.

"When rain falls, we have to put up umbrellas in our hut," she said. "We need thatch and tarpaulin. Our hut needs to be amended. We need bamboo and timber. I have no money to buy them. I'm living with my mentally ill son. It is very important to have a house."