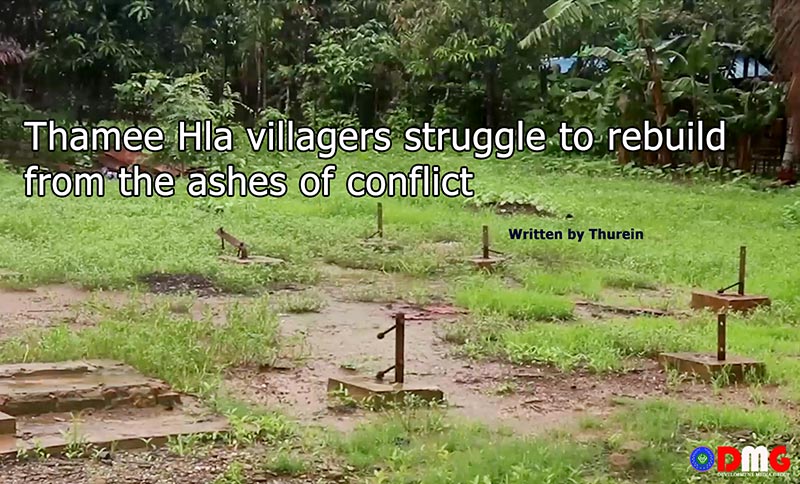 Written by Thurein

As soon as I entered the village, I saw green trees and grass growing, their verdance due to the fact that it was the rainy season. I also observed burnt corrugated iron roofs and fire-ravaged, leafless trees, as well as blackened stumps.

Currently, only about half of its residents are living in Thamee Hla village, where several houses were burnt to ashes more than a year ago. A small village on the eastern side of the Mayu River in upper Rathedaung Township, Thamee Hla has seen the trauma and devastation of war.

Those residents of Thamee Hla who are still living in the village are mostly engaged in farming, while some are unemployed. U Hla Kyaw Thar, who lost his home to the flames of conflict, said life and livelihoods in the village are difficult.

"We have a real problem living here," he said. "Many families have no shelter. My wife is also mentally ill and has had to go to the hospital several times because our house was set ablaze. At the moment, I don't have a job and I am facing such livelihood hardships."

The Thamee Hla villagers are only able to farm, losing out on other livelihood opportunities. The schoolchildren in the village have at times had to study in the rain, since the roofs of village schools were damaged by heavy artillery shells during the fighting last year.

More than once, Thamee Hla village has found itself caught in the crossfire of the conflict between the military, or Tatmadaw, and the Arakan Army (AA). Villagers said that on February 8, 2020, soldiers from a Tatmadaw column set fire to their homes as locals fled clashes near Thamee Hla.

Village resident Daw Khin Aye Nu said that as a widow, her future is uncertain after her property was set ablaze and destroyed by Myanmar soldiers.

"I lost everything because my house was set on fire. Fifty baskets of paddy and household items were reduced to ashes in the fire. All of my children are women so I don't know what to do," she said.

Daw Ma San Aye said her house too was set on fire.

"We have such difficulties and we need help. We want support from anyone because we are in real trouble," she explained.

It is hoped that the Tatmadaw-AA conflict is a thing of the past. An informal ceasefire has meant that active hostilities have not been reported in Arakan State for more than eight months. But the damage left in the conflict's wake is hard to quantify.

Still, some have tried, in various ways: For example, many houses were damaged or destroyed by fire during the fighting, with more than 1,000 reduced to ashes, according to data compiled by the Rakhine Ethnics Congress (REC).

For the still-displaced former residents of Thamee Hla and other villages affected by the fighting in Arakan State, another concern is the risk of landmines if they were to attempt to return home.

Nonetheless, many villagers have returned to their homes, out of love for their community. They are trying to rebuild their lives under various challenging circumstances, but as they do this much has become clear: It's not easy for a war-ravaged village to restore its former dignity, let alone achieve prosperity.