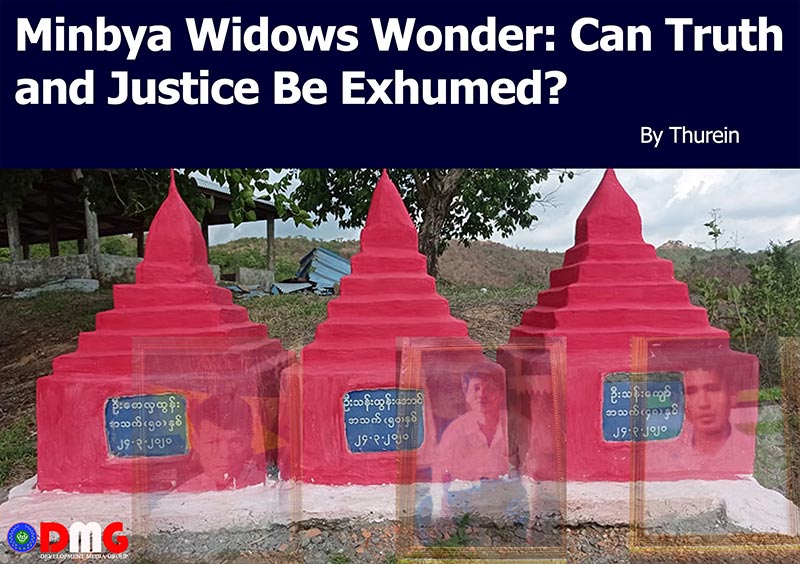 By Thurein

Painted red, three equal-sized graves are situated together on a mound at a village cemetery. The names and ages of the deceased are on each headstone, written in white on blue backgrounds.

When these bodies were initially buried, elsewhere, there were no gravestones. Worse still, the three bodies were buried in just two holes dug in the ground; one in one hole and the two others in the second.

Exhumed months later, a second burial afforded each body its own grave and gravestone at Min Ywar village's cemetery in Minbya Township, Arakan State. The deceased had once lived in that village, where they each had families and were neighbours.

They were killed after entering a forest situated east of Min Ywar village to look for firewood in March 2020, during a period of intense fighting between the Tatmadaw and the Arakan Army (AA) in northern Arakan State.

U Than Kyaw, 48, U Saw Hla Tun, 50, and U Than Tun Aung, 50, disappeared on March 24 of last year. Their family members tried to find out their whereabouts, and eventually heard that the three men had been arrested by the Tatmadaw.

However, the families could not find them. They did not hear further news of the missing men's situation, and fighting in the area was fierce. Their family members hoped that they would be released when their captors determined that they had done nothing wrong. People deemed "suspect" by the Tatmadaw were frequently detained at that time, in Minbya Township and elsewhere in Arakan State.

About nine months after the men's disappearance, residents of Gwa Sone village found three adult skeletons on a hill west of their village. They found out that the clothes on the skeletons belonged to the missing men of neighbouring Min Ywar village.

"Two bodies were buried in one hole and another was buried separately," said Daw Than Mya Yee, the widow of U Than Kyaw.

That was the first but not final resting place of U Than Kyaw, U Saw Hla Tun and U Than Tun Aung. The three men's remains were brought to Min Ywar village and buried a second time at the village cemetery.

All three men were husbands, and their families have faced difficulties in their absence.

It has been over a year that the widow Daw Than Mya Yee has been struggling, along with her three daughters and one son. She can no longer afford to send to school her daughter, who would be attending 10th standard, and her son, who would be attending fourth standard.

"My husband died and I have no work to do now. I can no longer afford the school fees for my daughter and son. It requires K1 million or K2 million for my daughter to attend 10th standard. I cannot afford it," she lamented.

Another story of struggle is that of U Saw Hla Tun's family. U Saw Hla Tun's wife, Daw Ma Kyaw Oo, cannot afford to send her son to school as she cannot do any work. Instead, she has had to send him off to work.

"My son is just 17. So, he cannot do hard work. I'm sorry for it. He arrives home very late as he works at a factory. I'm worried about him," she said.

Daw Ma Kyaw Oo relies on her son's wage. Now the family breadwinner, Maung Khaing Kyaw earns between K3,000 and K6,000 per day.

With fates disturbingly similar to the three villagers from Min Ywar village, two villagers from Minbya Township's Thin Pone Chaung village were also buried twice. U Maung Than Myint, 45, and U Win Maung, 32, disappeared while they were on their way to a fish farm by motorcycle on January 7, 2020.

Locals found two bodies on Kyat Yat Say Ti Mountain, near the Yangon-Sittwe road, on April 26. Tatmadaw troops had been stationed on the mountain, and the bodies were found after the soldiers withdrew from the mountain outpost.

One of the two bodies was buried in a bomb shelter, and the other was buried nearby. Like the families of the dead men from Min Ywar village, the families of the Thin Pone Chaung villagers have faced difficulties since they disappeared.

They have come to the conclusion that the bodies on Kyat Yat Say Ti Mountain were those of their loved ones, similarly matching the clothes found on one of the skeletons to clothes owned by U Maung Than Myint. Because the bodies were found at a place where Tatmadaw troops were stationed, they suspect military personnel were responsible for the men's demise.

"We found skeletons and clothes. The place where we found these things was the Tatmadaw's temporary camp. We found military items there," said Daw Nyein May, the widow of U Maung Than Myint.

She said she was furious that her husband was killed.

U Hla Thein Aung, a former Arakan State Hluttaw MP for Minbya Township, said: "People who have lost their family members have resentment not because of the fighting, but because of the armed forces."

Resentments have been further stoked by a sense, in both the Min Ywar and Thin Pone Chaung villagers' cases, that the truth has been buried.

The Arakan Human Rights Defenders and Promoters Association has complained about these cases to the Myanmar National Human Rights Commission, but no response has been made. Although complaints were filed at the Minbya Township police station, to this day no one has been arrested in connection with the men's deaths.

Three gravestones painted red at a cemetery in Min Ywar village stand testament to a story without resolution; truth and justice buried for now but, their loved ones hope, not forever.