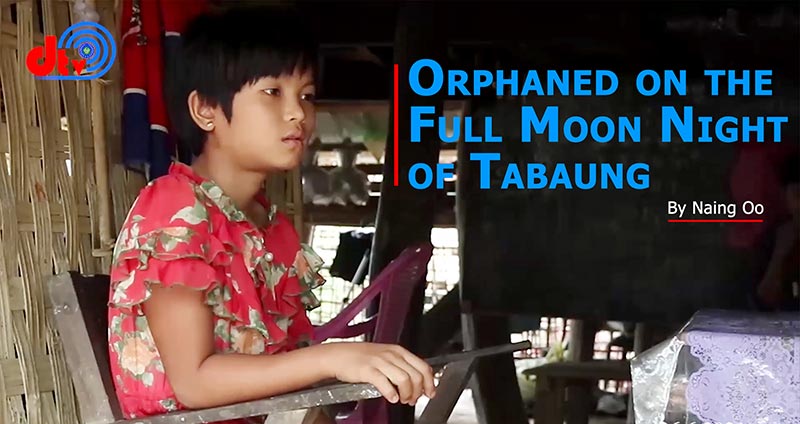 By Naing Oo 
A family is critically important for students and youths, especially as a support for those who are working hard for their future. 
When schools reopened in early June, students in green and white uniforms marched with purpose to their schools. Some were accompanied by their parents or siblings, while others went with groups of friends. 
Ma Khaing Zar Tun, 12, is a Grade 7 student staying at her relatives' home. She mostly goes to school alone, but sometimes with friends. 
She is determined to do well in school and eventually graduate, to make her parents proud. Parents who died in the Arakan State conflict more than two years ago. 
"I miss my father and my mother. I am so sad as I cannot stay together with my parents," she said with evident grief. 
She was able to live with her parents and enjoyed the warmth of a nuclear family for a decade. Her parents died on March 20, 2019, on the full moon day of Tabaung, a holiday of Buddhist significance in Myanmar. 
On that day, troops from the Myanmar military entered Si Taung village in Arakan State's Buthidaung Township, where Ma Khaing Zar Tun and her parents were living. The soldiers opened fire, with both guns and heavy weapons, and villagers were forced to flee. She was separated from her parents during their flight from the village, and ended up hiding at a bomb shelter. 
The gunfire lasted almost the whole night of the full moon day. Ma Khaing Zar Tun was crying amid the sound of gunfire, and she wished for her parents to be safe. 
However, her wish did not come true. The next morning, she searched for her parents. Villagers found four corpses in a bomb shelter, with gunfire and knife wounds. Two of the four bodies in the bomb shelter were her parents.  
Ma Khaing Zar Tun, who is an only child, had suddenly lost her parents. Then, her aunt adopted her. 
Among the dead discovered that day, one was the only one son of Ma Khaing Zar Tun's aunt, Ma Sein Kyawt. 
"My elder sister Daw Than Nyunt, my brother-in-law and my son died in the bomb shelter.  … When I remember that day, I cannot work.  I am so sad for my niece also," said Ma Sein Kyawt. 
Ma Khaing Zar Tun lives at her aunt's home and is attending school, but she is always longing for her parents, and sometimes she cries for them. But her belief that she must get an education pushes Ma Khaing Zar Tun forward.  
Her pursuit of her education is partly an effort to fulfill her parents' hopes for her in their absence.  
"I want to become a doctor. My parents wanted to see me as an educated person. So, I must try hard even though I am sad for my parents' deaths," Ma Khaing Zar Tun said.