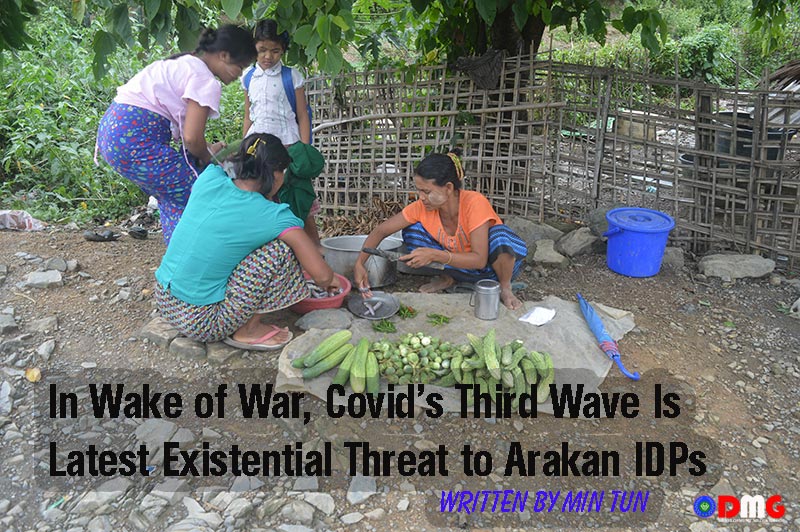 Written by Min Tun 
A woman from the Sinbawkaing camp for internally displaced people (IDPs) in Arakan State's Mrauk-U Township, which has a population of about 4,000, tested positive for Covid-19 on July 14. The same day, the entire IDP camp was locked down and traffic was restricted. 
About 200 IDPs suspected of being infected were tested on July 16, and six were diagnosed with Covid-19. To prevent further spread of the virus, six villages near the Sinbawkaing IDP camp have also barred the IDPs from entering or leaving the villages. 
The Sinbawkaing IDP camp has a population of 775 households and 3,901 people, most of them originally from a handful of villages in Mrauk-U Township.  
Since the third wave of coronavirus hit Myanmar in May, Arakan State had reported 2,236 cases and 104 deaths as of July 25. 
But most IDPs are more concerned about their livelihoods than the dangers of Covid-19. Among them is 33-year-old Daw San Win Nu from Sinbawkaing IDP camp. 
"Due to the pandemic, people can no longer travel from one village to another and all entry/exit is blocked. The IDPs did not die because of Covid-19, but now starve to death," said Daw San Win Nu. 
She added that the discovery of the deadly virus in her displacement camp made life even more difficult for the IDPs. 
Prior to the lockdown of Sinbawkaing, IDP residents including Daw San Win Nu had been working outside the camp to earn extra income, earning a living by fishing and foraging for vegetables. 
At present, the camp is in a state of complete despair as there is only about a week's supply of food left for the IDPs, according to U Nyi Pu, manager of the Sinbawkaing camp. 
"We mainly need food supplies. The IDPs in the camp are dying of starvation, not pandemic," he said. 
U Nyi Pu called on government agencies, charities and international organisations to provide necessary assistance to those displaced at the Sinbawkaing IDP camp. He said he was asking for help from charities in the face of food insecurity.The Ministry of Health and Sports, meanwhile, has urged the public to follow its regulations on preventing the spread of Covid-19, such as not assembling in groups of more than 50 people; not going outside for non-essential reasons; maintaining a social distance of at least six feet; wearing a face mask when outside the home; and washing hands frequently.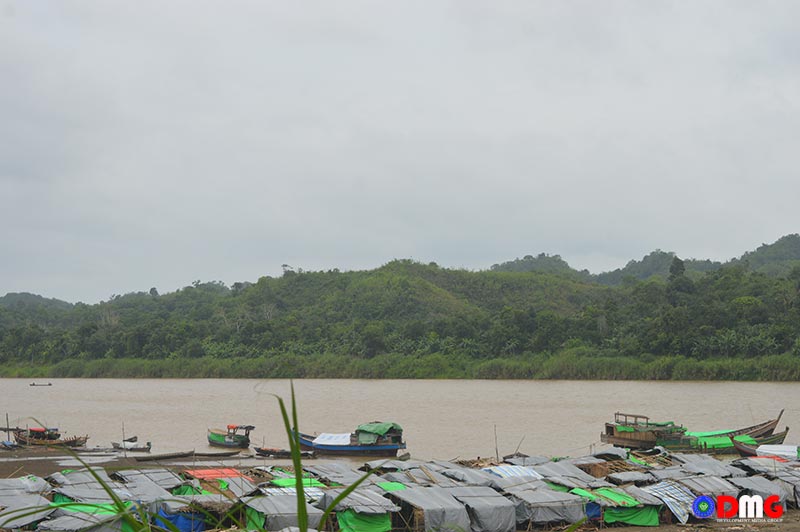 However, many IDP camps are so crowded that it is almost impossible to stay six feet away from one another. Seven people live in a 10-foot-by-10-foot room at the IDP camp where U Saw Thein and family members from Tinma village, Kyauktaw Township, are taking shelter. 
The IDPs, including U Saw Thein, are concerned about the Covid-19 pandemic, but have struggled to comply with the virus regulations issued by the Ministry of Health and Sports. 
"Because of the overcrowding in the camp, there are concerns that we may be infected with the virus. Because we were fleeing the war, there were about seven people living in a 10-foot room," U Saw Thein said. 
Despite these circumstances, he said he takes care to adhere to Covid-19 prevention regulations and best practices as much as possible, and has been systematically following precautions, including wearing a face mask when going out.  
There are about 800 people in the IDP camp where U Saw Thein is taking refuge. Some organisations have come to the camp to conduct awareness about the risks of the virus, and to donate masks and hand sanitiser.  
Local authorities have not done anything since the arrival of the third wave of Covid-19 at the Pi Pin Yin IDP camp in Mrauk-U Township, which houses more than 2,700 displaced people, said U Kyaw Thein, an official from the camp. 
The IDPs are using only the remaining drugs and protective items left from the second wave of the virus. They are in need of Covid-19 preventive equipment because the remaining masks, hand sanitiser and soap will last only about a week, U Kyaw Thein added. 
"We need masks and soaps. We would like to ask the relevant organisations and charities that are assisting the IDPs as we are very concerned about the danger to lives in the camp," he said. 
U Than Tun, a member of the Arakan State Administration Council, told DMG that local authorities in the districts and townships have been instructed to prevent the spread of Covid-19 in the IDP camps.  
"Relevant district and township military councils have been notified to provide Covid-19 prevention and protection for the IDP camps," he said.
Oxygen deprivation and disease control are becoming increasingly important concerns in Arakan State, where the death toll from the virus is surging. There is also a need for tighter regulation and enforcement of those regulations, especially in Arakan State's overcrowded IDP camps.  
U Zaw Zaw Tun, secretary of the Rakhine Ethnics Congress (REC), said authorities should prioritise and prevent the spread of Covid-19 in the state's IDP camps, which still accommodate tens of thousands of people from the conflict between the military and Arakan Army. 
"People living in densely populated areas, such as IDP camps, are at greater risk of contracting the virus. The people in those places are poor in terms of food and accommodation," he said. 
He went on to say that local authorities had been raising awareness about Covid-19 in the IDP camps, but had not been able to provide effective support.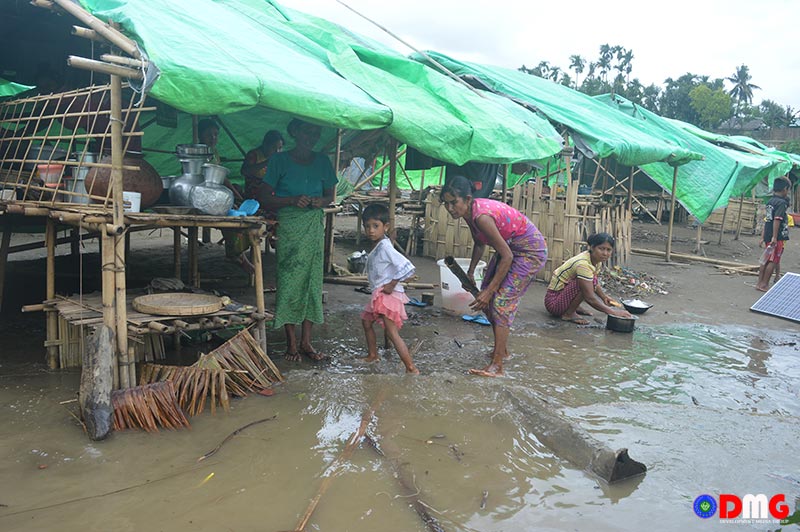 At the peak of the conflict, more than 235,000 people were displaced by the fighting between the Myanmar military (Tatmadaw) and Arakan Army (AA). There have been no clashes for some nine months, however, as the two sides have reached an informal ceasefire arrangement.  
Peaceful times have provided an opportunity for many IDPs to return home. However, there are still more than 100,000 displaced people who have not been able to return to their homes since the fighting stopped, for various reasons; some cannot because their homes have been damaged or destroyed by fire, while others are still afraid of landmines and/or the presence of Tatmadaw troops near their villages. 
Daw San Win Nu from Sinbawkaing IDP camp is among the displaced people who have not been able to return home. She has been living at Sinbawkaing camp for more than two years now, since March 2019. 
One of the main reasons Daw San Win Nu has not been able to return home is the fear that fighting between the Tatmadaw and the AA will resume. 
"The fighting has stopped in Arakan State for the time being, but it cannot be said that there will be no fighting in the future. I am afraid the war could break out again," she said.
Caught between fears of war breaking out and an outbreak of Covid-19, Daw San Win Nu hopes for a return to the days when she could travel from one place to another to earn a living. Until that time, it appears IDPs will once again face the brunt of the latest hardship brought upon Arakan State.