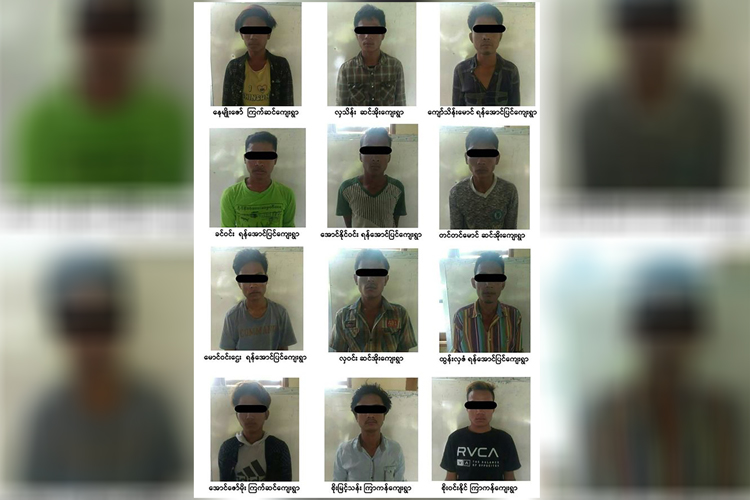 Khaing Roe La | DMG

A student from Kyauk Say Pyin village in Mrauk-U Township was hosting a celebration because he passed his matriculation exam. He invited friends and relatives from the village and surrounding area. So, some people from Kya Kan, Yan Aung Pyin, Sin Ohe and Kyat Sin villages attended the event.
It was on 13 June. While guests were enjoying food at the ceremony, an unexpected turn of events took place. A column of military that included about 600 soldiers, marched from Taung Oo village and entered into Kyauk Say Pyin village. 
Loud music at the social event attracted the Tatmadaw troop, and they set their sights on the celebration where friends and relatives proudly honoured the student. When they arrived at the party, they checked both guests and villagers.  They set up a position at the village school and checked villagers with their household lists and ID cards. Guests from other villages did not bring their ID cards because they came to the feast thinking it was a time for fun and celebrations. So, about 20 guests were arrested because they were under suspicion of being members of the AA.
"The military troop checked out villagers with their ID cards. People from our village could show their ID cards, but the guests from other villages didn't have theirs. So, they have been detained," said U Maung Tun Tin from Kya Kan village. He is the father of Ye Ko Ko, one of five Kya Kan villagers who were detained at the event. He told the DMG quoting from what an attendee of the event said. 
Six people from Sin Ohe and Yan Aung Pyin villages respectively, five people from Kya Kan village and three people from Kyat Sin village were detained. The guests from other villages were also detained that day.
The Tatmadaw made an announcement that a troop conducting regional security patrols in Kyauktaw Township encountered an attack by the AA with about 50 members near Kyauk Say Pyin village on 13 June at about 11: 30 a.m.  When the Tatmadaw returned fire the AA troop retreated to the east. The military column searched for them in the areas they had withdrew to and near Kyauk Say Pyin village.
Then, the Tatmadaw troop found 25 suspicious men in the village, and they were treated as strangers because Kyauk Say Pyin villagers did not know them, the statement said. The detainees were transferred to Kyauktaw Myoma police station on 14 June and the Tatmadaw proceeded to conduct interrogations, it said.
However, the AA's spokesperson Khaing Thukha said that the announcement made by the Tatmadaw was incorrect, and clashes did not occur in Mrauk-U Township and the detainees were not members of the AA.
"I've heard that detained men are from IDP camps. They are not involved with the AA. And, there was no clash on 13 June in that area," Khaing Thukha said.
Sounds of gunfire came from the mountain range located west of the village on that day but he was not sure if the gunfire was from an armed confrontation or not, a local resident from Kyauk Say Pyin village said.
"I heard the sound of gunfire around 8 a.m., I cannot recall how long the gunfire went on for," he said.
Detained villagers from Kya Kan village are farmers and they are not affiliated with any organization, said U Maung Tun Tin, father of Ye Ko Ko, who is one of five detainees from Kya Kan village.
Furthermore, detained men from Yan Aung Pyin village are farmers and teachers and do not have any ties to any subversive organization, their village administrator said.
"They attended the celebration in Kyauk Say Pyin village. They are teachers, private tutors and farmers. They do not have connections to the AA," said U Sein Hla Maung, village administrator of Yan Aung Pyin village, where eight men were arrested by the Tatmadaw.
Six men were arrested at the celebration in Kyauk Say Pyin village. Another two men from Yan Aung Pyin village were arrested but not at the event. U Kyaw Thein Maung and U Tun Hla San are taking refuge in the Yan Aung Pyin IDP camp due to battles in their village Pyi Chaung.
Three men from the camp visited Taung Oo village to register their children at the village school. Both of them were arrested at an area between Kyauk Say Pyin and Taung Oo villages where they met with a military troop, said Ma Wai Tha, wife of U Kyaw Thein Maung. The third man was very old that the Tatmadaw troop released him.
"I'd like my husband to be released immediately. He is an honest man. He is now staying at the camp. He is not involved with the AA. He should be found innocent, I hope to see him back home very soon," she said.
Three detained people from Kyat Sin village are teenagers between 17 to 19 years old. They are Maung Nay Myo Zaw, 17, Maung Aung Zaw Moe, 19, and Maung Nyi Nyi Naing, 19. They failed their matriculation exam, but they honoured their friend at his celebration and were arrested.
"Three people from my village were arrested. They attended the celebration of their friend who passed the matriculation exam. They are teenagers who failed their exam this year," said U Maung Chay, administrator of Kyat Sin village.
The village chief and family members tried to meet the three teenagers at Kyauktaw police station. They tried two times on 15 and 18 June, but were not allowed to see them. They had to return home and waited for news about the trio with a growing sense of anxiety.
"We did not meet them I don't know why. I'd like them released because they are just innocent teenagers. They do not know about politics. Their parents are also worried about them," said U Maung Chay.
U Maung Tun Tin from Kya Kan village wanted to go and meet his son Ye Ko Ko who has been detained in Kyauktaw police station. However, he has financial issues and could not afford to go there. So, he is praying for the immediate release of his son.
"I did not go and meet my son. We are poor. We are just farmers. I can't afford the transportation costs to go there. Anyway, I want him to be released," U Maung Tun Tin said.
In addition, the Tatmadaw arrested men from Pauk Kan Chaung, Shauk Chaung and Saba Sate villages.
The clashes between the Tatmadaw and the AA have been intensifying in Arakan State since December 2018. As battles escalate day after day, the Tatmadaw reinforces its military presence in the region, using aerial strikes in response to the AA's attacks. Meanwhile, the AA has been conducting unexpected attacks and detonating landmines set for the Tatmadaw.
The Tatmadaw has suspected some village members are actually AA soldiers posing as villagers. They question whether some villagers are involved with the AA. They become suspicious that members of the AA have been hiding in IDP camps. Recently, a Tatmadaw troop inspected the IDP camp in Pauk Taw Pyin village in Ponnagyun Township and asked residents if the AA members were hiding in the camp. Eventually no one was arrested.
On 3 May, the Tatmadaw checked Kyauktan village in Rathedaung Township, over 200 villagers were interrogated at the village school. During the detention, seven men were killed and eight others injured because of gunfire from the Tatmadaw. The Tatmadaw said when villagers tried to grab their guns, they shot their weapons as a warning. Contrary to the Tatmadaw's statement, detained villagers said that the soldiers opened fire when a mentally ill person began shouting and ranting.
Over 60 villagers have now been arrested in Arakan State under suspicion of having affiliations with the AA. So, U Tun Tha Sein, Arakan State MP for Mrauk-U Township, said that civilians should not be apprehended or detained based on weak or zero allegations and the Tatmadaw needs to conduct its activities without physically or mentally harming the public.
"When a civilian is interned because of suspicious behavior or actions, they should be detained for no more than 24 hours. Even if it is in a conflict zone, the detainees should be interrogated after custody has been at a proper court. We cannot accept the detentions and interrogations that are above the law," U Tun Tha Sein said.
U Maung Tun Tin, father of Ye Ko Ko, who was detained during the feast in Kyauk Say Pyin village along with other four villagers from Kya Kan village, is hoping not to go through similar incidents that occurred in Kyauktan village where detained villagers were killed during the Tatmadaw's interrogation.
"I am worried my son will be tortured during questioning. I wish my son was safe. I don't want go through a situation similar to what occurred in Lekka and Kyauktan villages," he said.