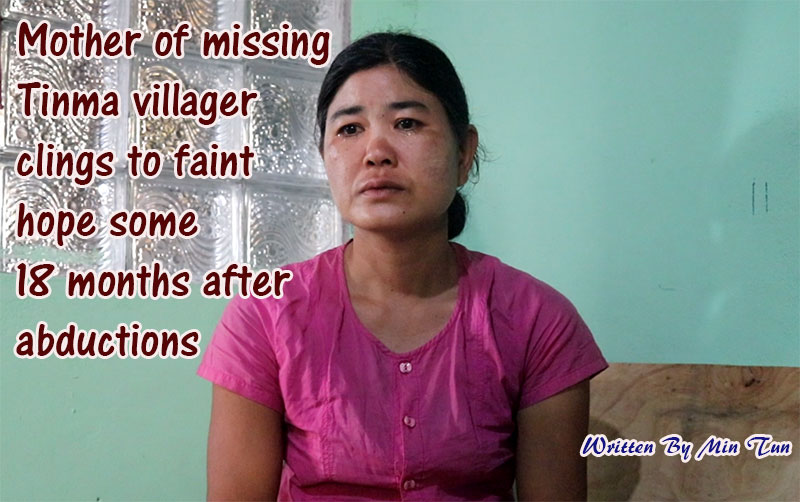 Written By Min Tun

It's been about one year and six months that Daw Aye Yi has waited for the return of her Grade 8 son, Mg Tun Tun Wai.

Daw Aye Yi, in her 40s, is still hoping that her only son will return home one day, despite the many months that have passed since his disappearance.

"I think my son is still alive. I hope he will be released from detention some day," Daw Aye Yi said.

March 16, 2020, broke up several families in Tinma village. Three soldiers arrived at Daw Aye Yi's home after she heard the sound of gunfire at the top of the village at about 5 p.m. on that day, and they searched through her house.

"When a soldier got on the stairs of my house, I told him there was no one in the house. Then, he got off the stairs and saw my son under the house. Then, he pointed his gun at my son and accused him of seeking to leave home," she said.

Since the day her son was taken away by the soldiers, Daw Aye Yi has not known whether he is dead or alive, she said, wiping away tears from her cheeks.

She told the soldiers that her son was not trying to leave home and was only a Grade 8 student, but they did not accept her explanation.

Soldiers abducted 18 people from Tinmagyi and Tinma (new) village in Kyauktaw Township on March 13 and 16, villagers have said, and continue to say.

Family members said soldiers who are stationed at Mt. Taung Shay near Tinma village abducted the villagers right in front of their eyes, but the Tatmadaw has denied those accounts.

When clashes halted in Arakan State in November 2020, the spokesperson for the Tatmadaw True News Information Team said villagers cannot make one-sided accusations saying soldiers abducted their family members, but they can file complaints freely with solid evidence.

Family members of the missing villagers submitted a request to the President, State Counsellor, Human Rights Commission and Commander-in-Chief's Office in March 2020, seeking to resolve the issue of their lost loved ones.

However, the hopes of the family members were shattered by the response of the Myanmar National Human Rights Commission at the end of November. It said the Ministry of Defence had replied to the commission that there was no record of military forces having arrested the Tinma villagers.

Family members of the abducted villagers have said they do not accept that response.

"They [the military] deny that they arrested the villagers, it is committing a war crime," said U Myat Tun, director of the Arakan Human Rights Defenders and Promoters Association.

An investigation team to probe the case of the 18 missing villagers was formed in January 2021, headed by the administrator of Kyauktaw Township, with members being Police Major Kyaw Tura, head of the Kyauktaw Township police force, and a ward elder of Tinma village, U Tun Thein.

When the investigation team invited each family member of the missing villagers and took statements from them, the 55th Light Infantry Division was repeatedly identified by the villagers as the arresting military contingent.

U Tun Thein of the investigation team said nothing has happened so far regarding the missing villagers despite the opening of the probe.

"The investigation team told all family members to sign its conclusion after they heard statements from them. I am not aware of whether the statements will be submitted to superiors or not. Nothing has happened so far," U Tun Thein said.

Family members have sought multiple approaches to getting justice for the missing Tinma villagers, but so far their efforts have been in vain.

"There is no leader to try for it. People are disappointed as they do not see any result from their attempt," said U Maung Kyaw Win, head of Tinma village.

The village head's 25-year-old son, who has been unable to speak since birth, is one of the abducted villagers.

With the 18 villagers consisting of sons and husbands, their families' lives are collapsing gradually.

"I am not an educated person, but I decided to provide for my son to become an educated person. I work hard to provide for my son to pursue his education, but he was arrested without committing any offence," said Daw Aye Yi, the mother of missing villager Mg Tun Tun Wai.

At a news conference, U Hla Thein, spokesperson for the Arakan State regime council, was asked what the state council is doing about the missing Tinma villagers.

"I have not heard about the case of the 18 missing villagers during the time I've been working here," U Hla Thein said.

Sayadaw Ashin Warya Mainda, abbot of the Tinma village monastery, said authorities needed to do something through legal channels to address family members' concerns and to show openly whether the missing villagers are still alive or not.

"Family members want to know if the missing villagers are still alive or not. If they are not alive, authorities need to do something to make family members satisfied," the abbot said.

During the clashes in March 2020, Tinma's residents were forcibly displaced from their homes, and scores of houses were torched after the village was emptied.

According to figures compiled in a subsequent inspection of the village, a total of 132 houses and the village monastery were damaged or destroyed by fire. Many Tinma villagers are now sheltering at IDP camps in Kyauktaw Township.

Daw Aye Yi has sought refuge at Meeyahta Buta IDP camp in Kyauktaw town with her husband. Amid poor food and living conditions, she waits and hopes for the return of her only son.

"I am wishing every day for the appearance of a person who will help find the truth and ensure the safety of my son, and his release from detention," said Daw Aye Yi.