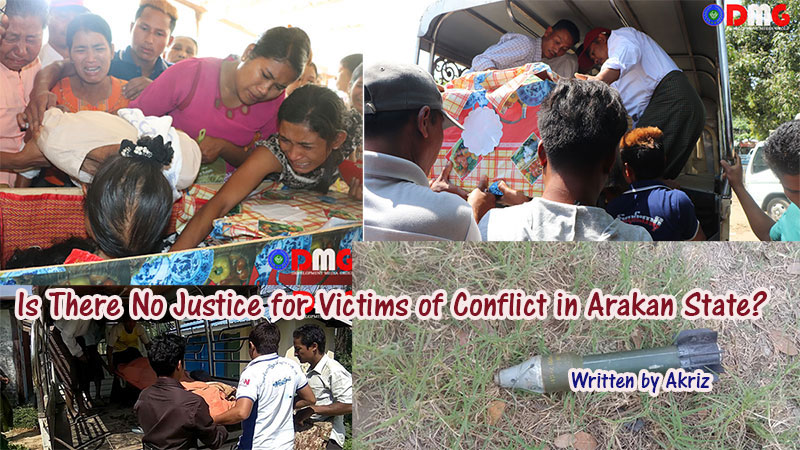 Written by Akriz 
"Mom, do not give me water because I'm going to die soon. Mom, I feel very suffocated," said Ko Zaw Win Hlaing, speaking to his mother at Sittwe General Hospital shortly before his death. A carpenter from Waithali village in Mrauk-U Township, Ko Zaw Win Hlaing was arrested on suspicion of having ties to the Arakan Army (AA) and was subsequently tortured during interrogation. 
The mother did not initially believe she could bear to see Ko Zaw Win Hlaing, who was brutally tortured with multiple injuries, but described how she did ultimately sit beside her son at the hospital. She had tried to give him a sip of water when he uttered the words above. How would a mother feel if she did not care for her son, who was brutally tortured? 
Seventeen people in Lekka village, Mrauk-U Township, were arrested by the Tatmadaw (Myanmar military), three of whom died during military interrogation, but family members were not even allowed to see the bodies of the detainees. One of the victims was arrested while fishing and left behind three children. How painful it must have been for the widow and mother who cried while recounting to the media a story of her children asking her when their father would return!  
Deaths in military custody, sadly, are not unusual. Ko Oo Aye Kyaw, a three-wheeled motorbike driver from Mrauk-U, was arrested one morning and his dead body was sent to Mrauk-U Hospital that evening. The Myanmar military says Ko Oo Aye Kyaw was shot dead while attempting to steal a gun from a soldier. 
Some people do not understand how we felt — in the era of 21st century globalization — due to the internet shutdown in Arakan State from 2019-2020 and beyond.  
A youth from Shilaiphin village in Sittwe Township was shot dead by soldiers on the Minchaung Bridge while returning home for the evening, after selling crabs. The place where he worked and lived is not even a 10-minute motorbike ride away. His wife was waiting for him in a small hut made of bamboo. She was wearing a specific shirt because her husband had told her that he wanted to see her in that shirt. By the time I got to the widow's house, her husband was buried, but she was still wearing the shirt.  
A man who collects plastic bottles was arrested by the military in Kyauktaw, and his body was dismembered and dumped in a polythene bag. The corpse was so disfigured that he was scarcely recognizable. A tattoo of the name Su Hlaing Win, his beloved daughter, was still visible on his severed arm, a tragic way to have to identify a body. 
We have had to live in an insecure place. We've met some scary people. We have fallen victim to suspicion under the watchful eye of the cruel crown wearers. Under their watch, we are skeptical rebels. We could become rebels at any time, and we could be arrested and tortured at any time. In the same way, we could be betrayed at any time. 
There are so many unspoken words in my heart to write this essay. What has really happened is many times more heartbreaking than what I can write. Two children were shot in downtown Kyauktaw and Rathedaung towns. The two children died on their way to Yangon to receive medical treatment.  
Ma Yee Yee Soe, 19, of Min Phue village in Rathedaung Township, was shot in the head and died on the way home after hearing gunshots. The mother of the victim cried while holding her daughter in a pool of blood. To what sea did the tears of the mothers and wives of the innocent victims flow?  
Some families from Sitaung village in Rathedaung Township were shot while hiding in a bomb shelter. In the morning, both the children and the adults were found dead in a pool of blood. Three people died in an artillery shelling in Pan Myaung village, Mrauk-U Township. A matriculation student and two younger children were among the victims killed in the shelling. The parents of the victims were not in the village and were instead working in Thailand. This is what happened when they left their children with their grandparents and looked for a better life. The tears of the 60-year-old grandfather flowed into the Lay Myo River as his wife and daughter were hospitalised too. 
A pot of rice prepared for breakfast was still full of rice, even though it had been hit by shrapnel. A pot of fresh bamboo shoot curry was also still intact. The dead children did not eat breakfast.  
Four people — including a school teacher and her daughter — were killed and 11 others were injured in an artillery shelling in Myebon Township.  
When I lived in my village, five people including my friend's brother were arrested while going to a funeral. The five arrestees were beaten, tortured and interrogated in a military location for three days. My friend's brother and another man were released after three days of detention. "I was beaten because the military accused me of being a captain in the Arakan Army," said my friend's brother. He saw the doctor many times after being released by the military. 
Tinma and Lekka villages were set on fire. Hundreds of homes in Taung Pauk and Phayarpaung villages on the Yangon-Sittwe highway were set ablaze. Two people from the villages were shot dead and many rice sacks were destroyed. The community, which had existed for years, was soon destroyed. For women who shed tears while rubbing ashes off their hands, were not the arsonists the only ones to blame? 
U Maung Tun Sein, 60, of Chainkharli village, Rathedaung Township, was beaten with gunstocks and shot dead by Burmese soldiers in front of his wife in his home. The villagers later found his dead body in a latrine. Who will sympathise with the survivors?  
Twenty-one villagers from Tinma village in Kyauktaw Township were detained by the Myanmar military and their whereabouts are still unknown. Families of the detainees are still waiting in the displacement camps to know if they can eventually return to Tinma with high hopes and their loved ones. 
Ko Zaw Naing Htay, a matriculation student from Kyauktaw Township, was arrested at a patrol station. When he was released, he could not eat, drink or talk due to his condition at the time. When he later saw three or four people gathered, he began to think that the soldiers were coming. What did the actual soldiers do to him? 
We need to empathise with all of these arrests and deaths throughout the war. Thousands of people in Arakan State have been forced to flee their homes and live in camps for internally displaced people (IDPs). These people are hopelessly looking for a monthly supply of rice to be donated by local civil society organisations in Arakan State and international donors. 
We live in an indistinguishable world of right and wrong. Every breath we take is full of skepticism. We do not allow the cries of grief to subside. We cannot find a single towel that will wipe away our tears or our blood. 
Amid all the misery and suspicion, as far as the countryside goes, all were rebels. At the time, I was also a skeptical rebel. So I pray that readers do not shed tears over a letter written by a suspected rebel like me. 
I wondered where to start when writing this essay, due to the fact that there were so many "suspected rebels" who died in the war because we did not have internet access for many months. Many young people and adults died without anyone being able to save them, or even to report their deaths to the wider world. So very little is known about what happened to us.