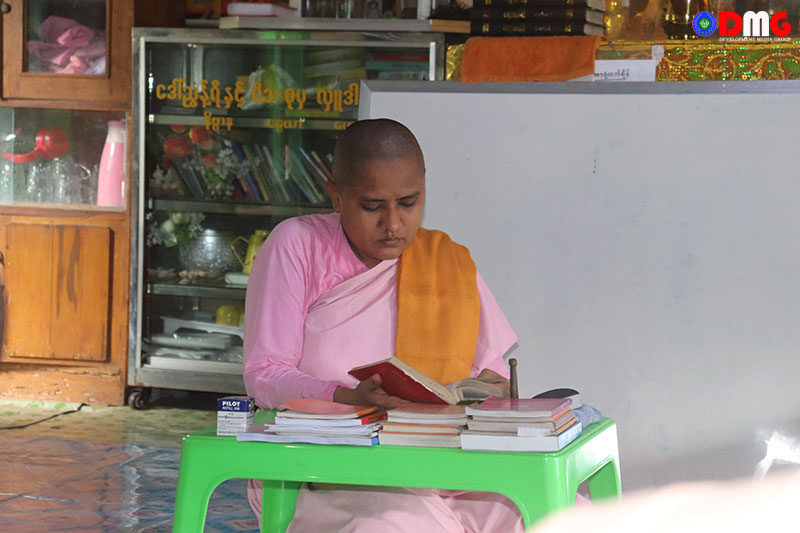 Written By Min Tun

The moss covering the fence wall betrays the latter's age. The original colour of the wall and the letters incised on it have almost disappeared due to the fuzzy green growth.

The name of the convent and the donor of the facility, as well as the year the building was constructed, are inscribed above the door with a width for two people. But the letters made of iron have turned rust-coloured.

The Kyar Yote convent is a small, two-storey building just 20 feet wide. It is a modest structure among the monasteries and big houses near the well-known Phayagyi field in the Arakan State capital Sittwe.

A carpet is laid on the wooden floor of the convent. Daw Sarana Theingi, a Buddhist nun, is teaching five nuns inside the building.

Daw Sarana Theingi is from Thin Pan Kaing village in Mrauk-U Township. She became a nun when she was 14 years old. She is 38 years old now.

Her childhood name was Ma Khaing San Nu. She is the eldest daughter among seven siblings. She studied until Grade 1, just getting a taste of a primary school education. As an eldest child, she had to drop out of school to help her parents.

She became a nun thanks to her grandmother, who was a senior nun in Sittwe. Daw Sarana Theingi said she became a nun because she wanted to continue to pursue her education, and to do so as a "new person."

"I want to observe a new environment as a new person. So, I decided to enter the nun life," she said.
Since she did not complete even a primary education, she faced difficulty studying religious texts that were written in Pali, one of the major languages of Buddhist scriptures and literature.

She had to learn these texts by asking the other nuns if she did not understand, Daw Sarana Theingi said.

"It was very difficult to study religious literature because I lacked basic education in secular education. I had to pass this journey with much patience and suffering to overcome all the challenges," she said.

Buddhist nuns are permitted to go door to door soliciting donations two days a week. However, on the whole nuns are not offered as much in donations as monks because many people do not hold nuns in as high esteem as they do monks.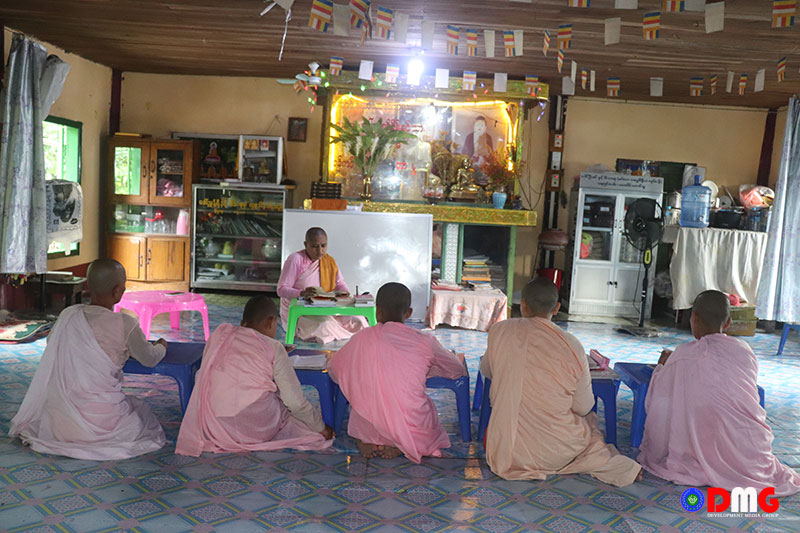 "Some people do offer donations delightedly. But some people donate to us like giving something to beggars," Daw Sarana Theingi said.

Buddhist nuns have to mainly depend on rice donated during these door-to-door rounds. However, the enthusiasm of people in Myanmar society to donate to the nuns is found to be tepid at many doors.

Buddhist nuns often have to spend the money they are offered to pay for food, water and electricity.

The life of a Buddhist nun has many challenges, Daw Sarana Theingi confirms.

"A learner, as a nun, has a lot of stress. She has to worry about her studies and the expenditures. I had to try hard to overcome these challenges. It is not easy to become a senior nun," she said.

They enter the life of a nun by giving up their family life, but they do not receive the level of respect or material offerings that monks do.

There are also certain restrictions in daily life that nuns must observe, but monks need not. For example, if a nun needs to go to a monastery or somewhere else, she is not allowed to go alone. She has to travel with another nun as a companion. If there is a male guest of a nun, she cannot allow him to stay as an overnight guest.

Monks and novices go out for alms round and can have food, but nuns can accept only rice and they have to cook for themselves.

Cooking includes challenges that non-Buddhists might not think of: "We have to take time to pick out rice weevils if they are in the rice. We cannot cook or kill them. We have to be careful when preparing vegetables to cook. We are not allowed to kill a pest," Daw Sarana Theingi explained.

Buddhist nuns have to wake up at about 4 a.m. and have to cook a morning meal after reciting paritta and patthana, she said, referring to two forms of Buddhist scripture.

Since the life of a nun is not easy and is filled with numerous challenges, many nuns leave the nunhood, she added.

"They do not sign a contract, so they leave the nunhood if they are not happy as a nun," she said.

Daw Sarana Theingi has not left, and her dedication has been recognised by being awarded the Dhamma Zariya title, which is offered to senior nuns by the government.

"If you want to be successful, you have to make sacrifices and be patient to overcome the challenges. Any success cannot be attained easily," she said.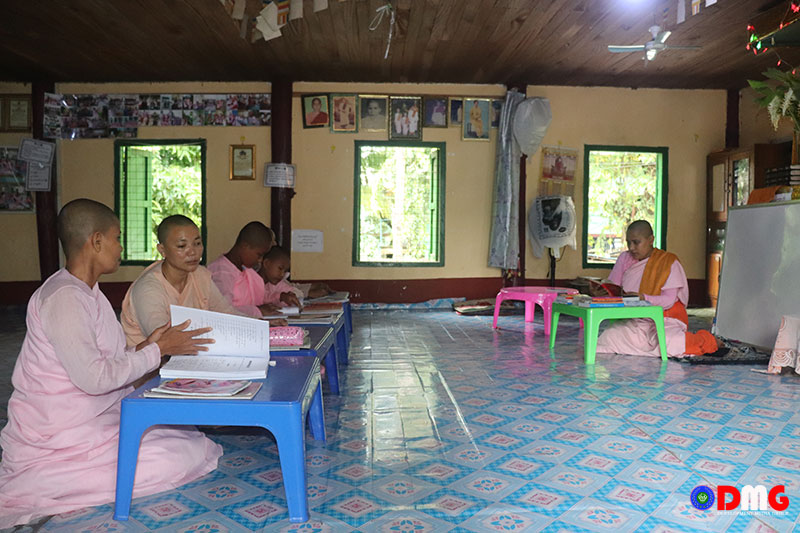 Despite the challenges, Daw Sarana Theingi says she is happy as a nun and has decided to pursue religious teachings and to serve in Buddhist missionary work until the day she dies.

"The life of a layperson has a lot of troubles and worries. The life of a layperson is inferior to that of an ordained person's life. So, I decided not to return to the layperson's life to face those troubles," she said.

There are 20 nuns at the Kyar Yote convent (aka nunnery) where Daw Sarana Theingi lives. Nine of them are studying religious teachings.

In total, there are three nunneries in Sittwe with about 300 nuns.

Daw Sarana Theingi has a wish to someday build a home for elderly nuns where they all can peacefully meditate and share each other's company in one place.

But her biggest goal, for now, is to seek to ensure that nuns receive greater respect because many people do not have much veneration for these female spiritual leaders.

"A nun is a person who is full of virtue. They give up their beauty and hair. I aim to try to [increase] people's adoration of nuns to some extent. I do not hope to receive equal respect as what monks have attained," she said.