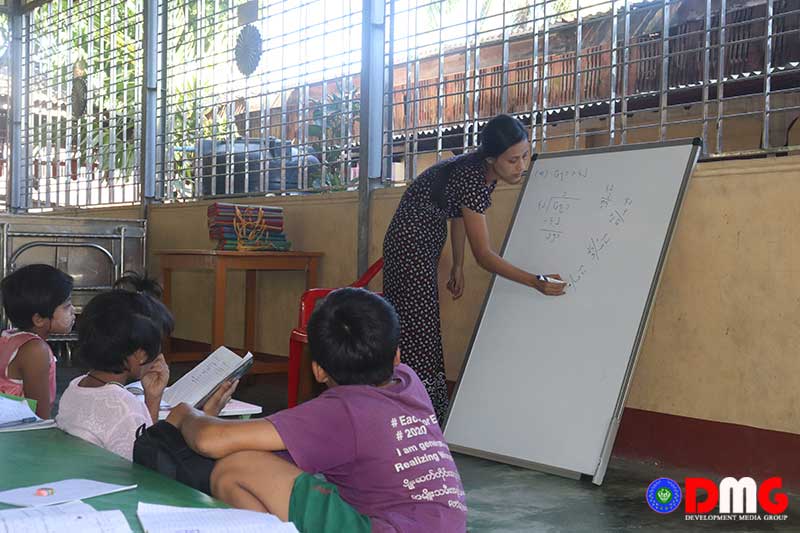 Written By Min Tun 
Seven-year-old children, folding their arms in respect for the classroom they are a part of, repeat loudly what their teacher reads. The children, as well as the teacher, are victims of war, and the classroom is located in an internally displaced person (IDP) camp.
They left their homes and fled their villages during the two-year conflict between the Myanmar military and Arakan Army (AA) in Arakan State. They have not been able to return to their homes and are still in displacement camps.
Ma Htet Htet Zaw, a 21-year-old teacher, is one of the IDPs who has not been able to return home, and she still takes refuge at Alodawpyei Monastery in the Arakan State capital Sittwe.
Ma Htet Htet Zaw is from Chaung Gyi village, in Arakan State's Myebon Township. She arrived in Sittwe seeking refuge with her parents in June 2020, fearing for their lives due to the landing of artillery shells near their village.
"Heavy weapons were fired near the village. I saw bombardments from a plane. We take refuge here as we dared not stay there," she said.
Ma Htet Htet Zaw started what she described as her "dream job" as a teacher in 2016, after she passed the matriculation exam. One of her former teachers asked her to help him, and she agreed to teach mathematics to Grade 11 students for three months. She subsequently taught especially math and English to middle school students in Chaung Gyi village, as a private tuition teacher. 
These days, she seems to miss her time teaching children in her village, but the students in the IDP camp classroom inspire similar feelings of fulfillment and strong teacher-student bonds. Ma Htet Htet Zaw said she accepted the task of teaching students in the IDP camp without thinking twice when the responsibility was presented to her shortly after she arrived at the camp.
"I love teaching, so it was the right thing to do. I decided to teach the IDP students because I want to share what I know."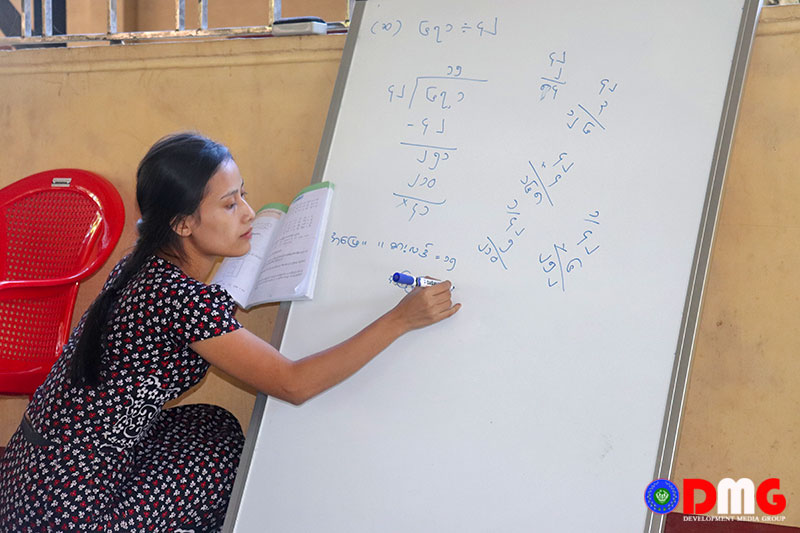 Approximately 280 IDPs from Rathedaung, Kyauktaw, Myebon and Paletwa townships are taking shelter at the camp where Ma Htet Htet Zaw is staying. About 50 of them are students, from kindergarten to university levels. For students from kindergarten to Grade 9, Ma Htet Htet Zaw and Ma Hnin Wai Chay from Avada village in Rathedaung Township are teachers. 
According to the Education Department in Arakan State, there are 7,714 IDP students in the state.
Ma Htet Htet Zaw believes that her work is for the improvement of the lives of the students, many of whom have fled battlegrounds. She does not get enough sleep and typically feels a bit tired, she acknowledges.
"However, I am helping the students as much as I can. I aim for the best interests of the children, so I do not see it as a problem even though I do not get enough sleep," she said.
A once-fierce conflict in Arakan State has been quelled for more than a year. Over 100,000 IDPs have returned to their homes, but tens of thousands more remain in displacement camps like Alodawpyei. Those who remain in IDP camps cite the risk of landmines or ongoing troop deployments in and around their villages as reasons for not yet returning.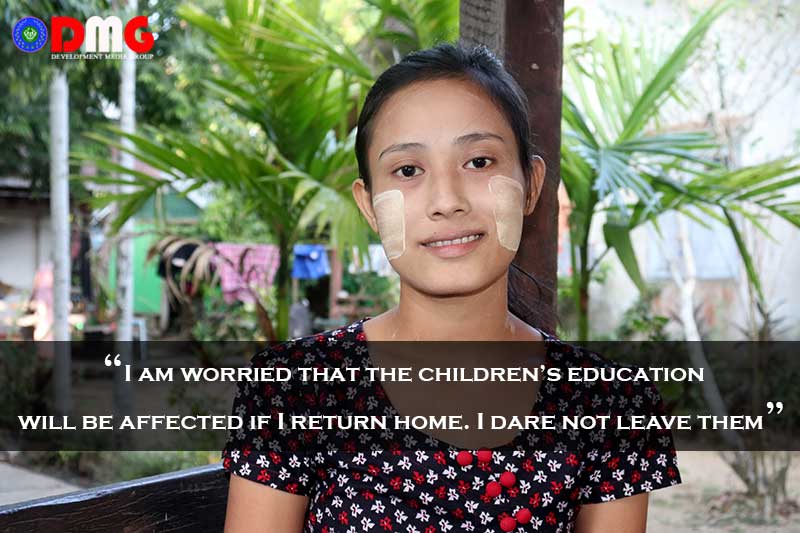 Some IDPs from Chaung Gyi village have returned to their homes, but Ma Htet Htet Zaw has not been among the returnees so far.
"I am worried that the children's education will be affected if I return home. I dare not leave them," she told DMG, adding that she will go back to Chaung Gyi when all other IDPs from the camp have returned home safely themselves.