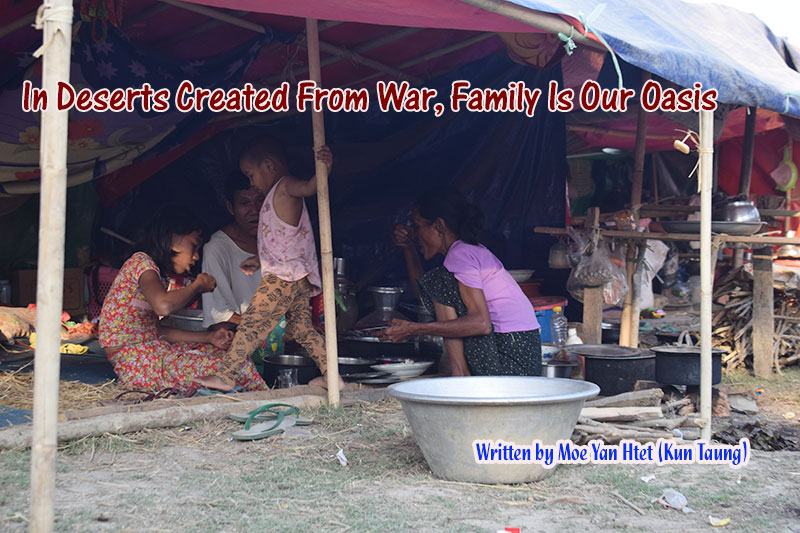 Written by Moe Yan Htet (Kun Taung)

Kun Taung village, which lies in south Buthidaung Township, Arakan State, is the village where my family's ancestors lived. Today, there are more than 70 houses, and virtually all of the villagers are relatives. Agriculture, horticulture and livestock rearing are the village's main enterprises.

There is no market, but villagers can get vegetables, fish and meat easily enough without spending money. There is no access to grid electricity, but the whole village is well-lit by solar powered lights. There is no noise from vehicles, and rather the air is filled with sounds of children playing, neighbours conversing and mothers' cradle songs.

As our village is peaceful and pleasant, our family life is also peaceful. There are nine people in my family. I am the fifth son and among the seven siblings, only my younger brother and sister are single.

Our household is an extended family residence: My parents, grandparents and married siblings are all living in our parents' home happily. But our family life was rocked to its core by a war that started with an explosion near a pagoda in Buthidaung Township on December 6, 2018, at about 11 p.m.

By early 2019, our family and many others in northern Arakan State were displaced. Some houses were torched, some people were killed or wounded by the war, and some were arrested.

By mid-2019, our wishes came true: The armed conflict in our area decreased and we could return home. Despite our losses, we prepared to cultivate our farmland. Some families could not return home in some areas. Some families lost family members, and many families also worried for loved ones who were wrongfully detained.

Among war-displaced people, we considered ourselves relatively lucky, and happy. But that did not last long. We thought that the situation would be peaceful, but that belief disappeared soon after we returned home.

Clashes resumed and the sound of exploding artillery shells could again be heard. Villages north of us were gradually deserted. More clashes occurred, with increasing regularity. Meanwhile, internet access was cut on June 21, 2019. Our village and our home, once the safest and happiest place we knew, was no longer secure. Facing no good options, we abandoned our home on July 14.

I cannot forget the events of that day. A fierce clash broke out near Nwa Yone Taung village, about one mile north of our village. Artillery shells and bullets from the fighting landed and exploded near our house. We hid in my uncle's two-storey house, which was under construction. Eventually, we fled our village at my father's order.

Luckily, we got a chance to take the last motorboat leaving from our village. It was raining heavily as the boat left the village jetty. The boat stopped at Zedi Taung village to seek refuge there, but we had to continue our trip as there was no vacancy for us.

It was raining continuously. Finally, our family was allowed to take shelter at a relative's home in Sin Khone Daing village, Rathedaung Township. Inside the house, there was only enough space to sleep for elderly people and children. Regardless, we were all safe there. But I could not contact my father, who had stayed behind in our village. I was worried about him, but I could not do anything other than wishing him well.

On July 15, my father arrived at Sin Khone Daing village with a group of other people. The anxiety of our family was relieved when we saw my father. But we could see the grief etched on his face. His hopes of protecting our home and village were in vain.

July 16 was the Full Moon Day of Waso, a date of religious significance for Buddhists, and typically a joyful one. But it was a sad day for us, being on the run for our safety and not knowing when we might return home. The sound of small and heavy weapons replaced the sound of celebratory firecrackers.

Our extended family became separated thereafter, because we could not all stay in a small hut measuring just 6 feet by 9 feet. Some of us, including my own nuclear family, stayed at Mya Taung IDP camp in Buthidaung town, while my parents and some of my siblings' families took shelter in Zedi Taung village.

IDPs face livelihood difficulties these days because the absence of clashes since late 2020, combined with the Covid-19 pandemic, has reduced donor support. They've sought to solve their troubles by working any available jobs, but job scarcity and high commodity prices weigh heavily on them. Thus some families, including our own, returned home.

The village became a jungle in the 18 months since we'd left. Bushes and weeds covered the houses and roads. Worse still, some homes were burned down, or had collapsed.

We are grateful to be able to stay in our village, but our future is not clear.

We do not know if or when the clashes might resume. We do not know how we will earn a living. Our children do not know when they can return to school. We do not know where the explosive remnants of war are. Not even the best of astrologers could foretell our future. Everything looks like traveling in a desert.