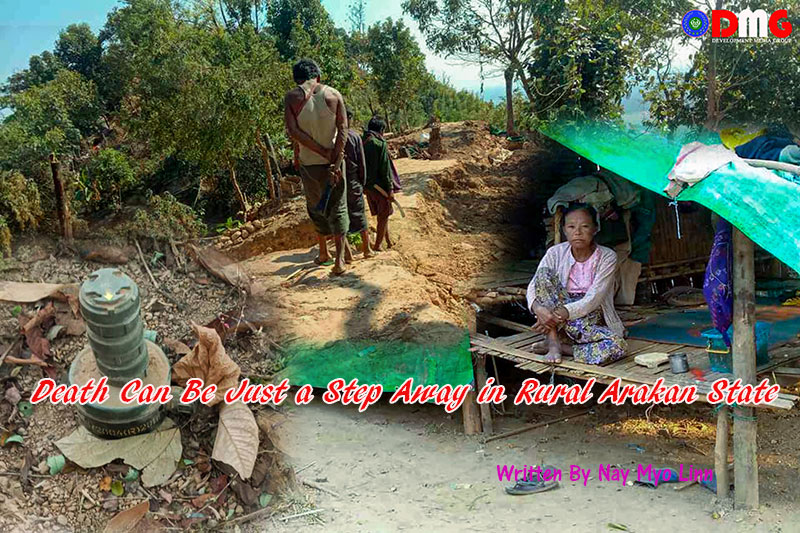 Written By Nay Myo Linn 
Daw Aung Sein Khaing grew worried when she heard three rounds of explosions from the direction of the mountain where her husband had gone to collect firewood last month.  
"I was cutting firewood pieces at home. I heard the blast and the machete in my hand dropped. I felt sick to my stomach," Daw Aung Sein Kahing, 67, said sorrowfully. 
U Maung Than Tun, 55, who was a resident of Thalu Chaung village in Minbya Township, went to forested Min Phoo Mountain on the morning of February 7 to gather firewood. He and his wife sold firewood for a living, and the couple typically went to the mountain together. But he went alone on that day. 
When U Maung Than Tun did not return home that evening, his wife's anxiety increased. 
"I had to ask people in the village if they'd seen him. I also went to nearby villages to ask about him. However, I did not get any information about him," Daw Aung Sein Khaing said. 
Thalu Chaung villagers searched for him in the forest the following day, to no avail. The next day they did the same, with the same result. On the third day, they found U Maung Than Tun's body in an area that was the scene of fierce fighting between the Myanmar military and Arakan Army in 2019 and 2020. Ko Oo Hla Than, a nephew of U Maung Than Tun, said the body was badly mangled, missing both an arm and a leg. 
U Maung Than Tun was buried at the spot where he was found. Tragically, his wife could not reach the burial site, given her advanced age and the rugged terrain she would have had to navigate to reach it.  
Risking Life for Livelihood 
Clashes between the Myanmar military and Arakan Army began in late 2018, with fierce fighting taking place in Arakan State's Kyauktaw, Minbya, Mrauk-U, Rathedaung, Ponnagyun, Buthidaung and Ann townships, as well as Paletwa Township, Chin State, over the next two years. The conflict came to a halt in the first week of November 2020, when an informal ceasefire between the warring sides was reached. The situation has since remained stable in the state, apart from a handful of small clashes. 
Tens of thousands of IDPs returned home in the months after the ceasefire was made known. But with most of the past clashes having occurred in the forests and mountainous terrain surrounding villages, the legacy of conflict lingers: Many villagers in the state depend on the forests and mountains near their villages for their livelihoods. 
Residents of Thalu Chaung village, for example, know that they are surrounded by dangerous unexploded ordnance (UXO), including landmines, which often cannot be seen by the naked eye. However, scarcity of firewood and vegetables in such locations' well trodden paths force them to venture into ever-riskier areas for their livelihood.  
U Maung Hla, the head of Thalu Chaung village, said villagers know the peril but have few other options.  
"What do they do for their livelihood if they do not go to the forests?" he asked. 
Residents of Kyaung Taung village, Mrauk-U Township, similarly depend on cutting wood and foraging vegetables in forest or on mountainsides for their livelihoods. Clashes were fierce on the mountain range near the village in previous years, but villagers must go to the mountain as they have to give priority to their livelihood. 
On February 1, seven young people, including Ko Soe Lin Tun, 18, went to the forest near the village to cut firewood. Ko Soe Lin Tun and two other young men were injured after an explosion of explosive remnants of war. Ko Soe Lin Tun sustained severe injuries to his abdomen. His family has depended on Ko Soe Lin Tun's daily wage work earnings, so they now face financial difficulty, struggling to afford his medical treatment. 
Landmine Clearance for Whom? 
More than a year ago, as the informal ceasefire looked increasingly durable, the Myanmar military cleared landmines in some parts of Arakan State, such as along the Yangon-Sittwe, Ponnagyun-Buthidaung and Angumaw-Maungdaw roads. But they did not clear landmines in many of the forests and mountainsides where civilians like Ko Soe Lin Tun make a living, according to residents and civil society organisations (CSOs). 
"We saw them clear landmines along roads and highways. They did not clear landmines at villages, especially locations far from roads," said Ko Zaw Zaw Tun, secretary of the Rakhine Ethnics Congress (REC). 
The REC is a Sittwe-based CSO that was a major provider of relief aid to IDPs during the armed conflict between the Myanmar military and Arakan Army, and has continued to compile information about IDPs in post-conflict Arakan State. 
Ko Zaw Zaw Tun posited that landmine clearance is a critical component of any large-scale IDP return plan. 
"We want authorities to clear landmines near villages," affirmed a resident of Thalu Chaung village. "We have children and they might face landmine explosions when they follow their parents during summer holidays, after their exams." 
According to the REC, dozens of villagers have been killed and more than 100 others have been injured by landmine and ERW explosions in Arakan State since the end of 2018. 
Dangerous Terrain, Uncertain Futures 
Residents across the conflict-affected parts of Arakan State do not know when, or even if, the landmines will be cleared from around their villages.  
Daw Aung Sein Khaing is a widow now, and her life is forever changed by her husband's death last month. 
"I do not want to do anything. I miss him," she tells DMG. 
"She is different now," worries Ko Oo Hla Than, a relative. "She does not know what to do. She does not sleep at night either. Her health will deteriorate as time goes by." 
Daw Aung Sein Khaing knows the landmines outside Thalu Chaung village are an existential threat, but so too is poverty. 
"I will face starvation," she replies, when asked about what life might be like if she were to stay away from the surrounding forests that were her husband's undoing. 
"There is no other job for me to do," she says. "I must go and cut firewood in the forest."