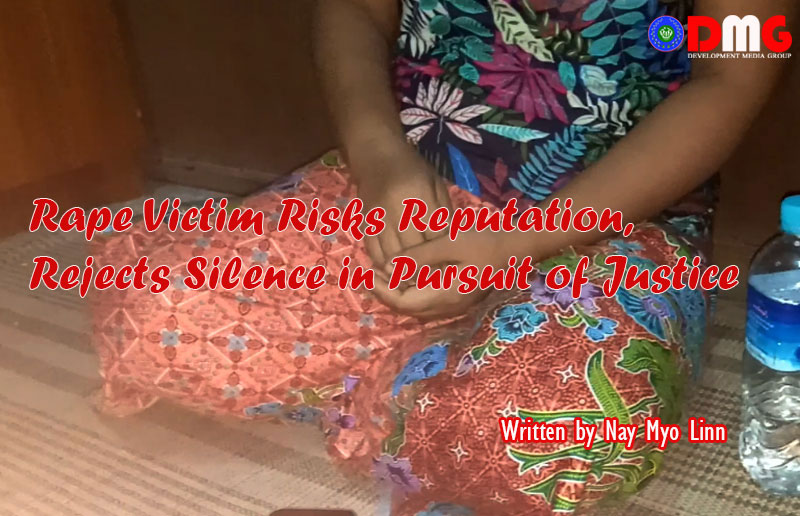 Written by Nay Myo Linn 
"Time heals all wounds," or so the saying goes. But almost two years on, Daw Khin Khin is still haunted by traumatic memories of the ordeal she went through in 2020. 
It was the evening of June 29 that year in Ugar village, Rathedaung Township. Myanmar's military and the Arakan Army (AA) were still engaged in fierce fighting in parts of Arakan State. By 6 p.m. on that Monday, the village streets were empty as local residents stayed inside their homes amid clashes in surrounding villages. 
Suddenly, the sound of gunfire threw local residents into a panic. The gunshots came from a military column whose soldiers fired their guns as they entered the village and searched one house after another. 
Daw Khin Khin (not her real name), a mother of four in her 30s, took her family and hid in a house that she thought would be safe. As they hid in the dark, a scream from her newborn grandchild pierced the silence — and was immediately noticed by the raiding soldiers. 
Even before the newborn had stopped crying, soldiers arrived at the house.  
"Anybody home? Open the door. Everybody come out!" shouted one of the soldiers. Daw Khin Khin opened the door, not realising that her ordeal had only just begun. 
The soldiers demanded their names and ages, and asked for their national registration cards (NRCs). Except for Daw Khin Khin, none of them had a NRC. The soldiers ordered Daw Khin Khin to follow them to another house for further interrogation. She insisted that she be interrogated right then and there, at that house. But grabbing her by the arms, the soldiers "dragged me away, though I didn't want to go," Daw Khin Khin said. 
At the next house, the soldiers checked her NRC and warned her that they could find fault with her ID if they wanted to. The soldiers did not wait long to reveal their lustful intent.  
"You have two options," one said threateningly. "You may run, but if you do so, we will label you as an insurgent and shoot to kill. Otherwise, you have to give in to our demand." 
When asked what they wanted, a soldier brazenly replied, "Your body."  
Daw Khin Khin attempted to run away, but a soldier was waiting outside, and two others inside the house pushed her down and gang-raped her, theatening to shoot or stab her if she did not submit. 
She was then taken to a military officer, believed to be a lance corporal. He attempted to give her K20,000 (US$10.80) as hush money, which she refused to accept. But he forcibly handed the money to her and warned, "This case must never leak, or your entire family and relatives will be torched and shot." 
Standing before armed soldiers who'd made their penchant for violence known, Daw Khin Khin said she had no choice but to nod her head. She returned to the house where her family was hiding. It was 1 a.m. She decided not to share details of her traumatic ordeal with them, hoping only to pass the rest of that night peacefully. 
But things didn't work out that way. Soldiers returned and this time took her eldest daughter, who was just 19 and had given birth only six days earlier, "for interrogation." Despite Daw Khin Khin begging them not to, the soldiers forcibly took her daughter away. 
Daw Khin Khin worried that her daughter would meet the same fate as she had, so she told her mother-in-law and a sister about the gang rape, and asked them to help bring her daughter back. The two went to the house where the daughter was taken and eventually managed to secure the young woman's release. 
"They also attempted to rape my daughter at gunpoint and knifepoint," said Daw Khin Khin. 
"My mother-in-law got angry, and she said she had a son in Naypyidaw who is also a soldier. But they did not understand what she said. They only knew what they wanted. They threatened to kill and shoot us all," Daw Khin Khin recounted. 
Daw Khin Khin and her family fled to Sittwe following the ordeal, fearful of what further trouble might befall them if they stayed in Ugar. In Sittwe, Daw Khin Khin's family was cared for by women's activists and civil society organisations. 
"The case of a woman in Ugar village is tragic at a time when the safety of women is uncertain. She had a lot of fear, she had a lot of resentment in her mind, and she was very traumatised," said Daw Nyo Aye, chairwoman of the Sittwe-based Rakhine Women's Network and one of the women's rights activists who helped Daw Khin Khin and her family.  
Daw Khin Khin eventually filed a case against the three soldiers and the lance corporal at No. 1 police station in the Arakan State capital Sittwe with the help of the organisations assisting her. 
According to an initial statement from the Tatmadaw True News Information Team, however, reports about the rape of a woman from Ugar village by its servicemen were untrue. It was "fabricated news" intended to create misunderstanding among the public, the statement claimed. More than two months later, the military's public relations outfit changed its tune, however, announcing that three soldiers had confessed to the rape and would be prosecuted. 
A military tribunal in Sittwe on December 11, 2020, sentenced the three soldiers to 20 years in prison with hard labour. But the tribunal did not convict the lance corporal who had threatened Daw Khin Khin with hush money. 
"On the other hand, he [the lance corporal] was also involved in the case. He was not involved in the rape itself, but he should be prosecuted for failing to control the three soldiers," Daw Khin Khin said. 
Although the case is closed, Daw Khin Khin still has nightmares, and was loath to return to her native village, Ugar. For a time, she decided to stay in Sittwe, keeping her distance from the place where her life was turned upside down. But due to rising commodity prices and a scarcity of jobs, life in Sittwe was hard, and she returned to her home village last fall. 
Daw Khin Khin has four children, and currently lives with her two sons under the age of 18, and her 5-year-old daughter. She earns a living working odd jobs. In December, Daw Khin Khin's husband died in Malaysia after suffering from kidney and stomach problems. He was working abroad when he heard of his wife's ordeal. 
Though it has been some time since the 2020 tragedy, fear and insecurity linger, said the widow. By insisting that her rapists be brought to justice, Daw Khin Khin knew she was taking the more difficult path; one that included shaming, victim-blaming and harassment by some. 
Nonetheless, she told DMG resolutely: "I stood for justice so that other Arakanese women would not have to suffer the same fate as me."