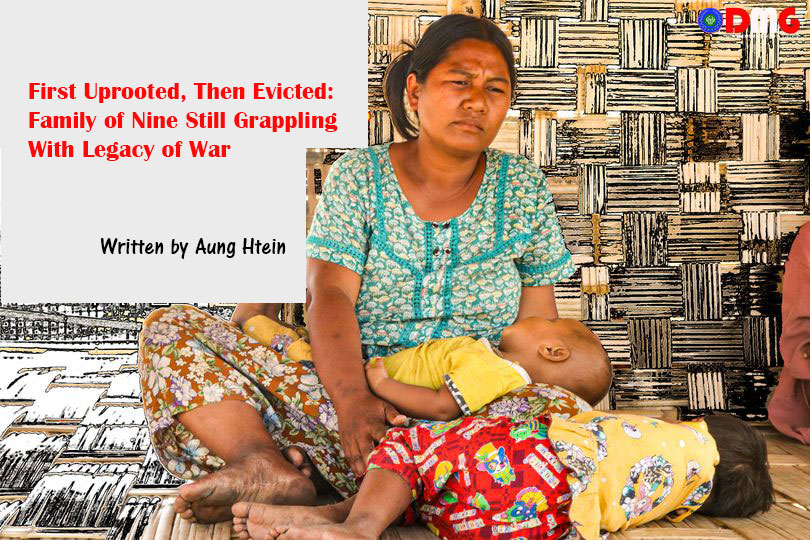 Written by Aung Htein

"If there had been no war in Arakan State, our lives would not have been so miserable," lamented Daw Than Than Nwe, a 36-year-old victim of the 2018-2020 conflict between the Myanmar military and the Arakan Army.
Daw Than Than Nwe, a mother of seven, is originally from Thaungdara village, east of the Mayu River in upper Rathedaung Township. She is currently taking refuge in the Arakan State capital Sittwe as an internally displaced person (IDP), and earns a living for her family as a beggar.
Before they settled in Sittwe, Daw Than Than Nwe's family left their village and moved to the town of Rathedaung amid the escalating military conflict in Arakan State in February 2020. However, her family subsequently fled Rathedaung due to heavy artillery fire from the Myanmar military.
Daw Than Than Nwe and the rest of her family then took refuge in an IDP camp set up at a monastery in the Arakan State capital, but they still faced various hardships.
"Even among the other displaced people, we were often humiliated. Once when we were provided with food items, we did not get the full amount of relief supplies. So we decided to leave the IDP camp, thinking it would not be inconvenient for us to stay in the displacement camp," she said.
Daw Than Than Nwe and her family left the camp and rented a house in Sittwe's Set Yone Su ward. Here, living a relatively normal residential existence, Daw Than Than Nwe said the family began to feel that they had finally managed to escape the military conflict. But that did not mean life was carefree, and in some ways they had merely traded one hardship for another. In Set Yone Su ward, money was tighter than it had ever been, and the family struggled to make ends meet.
Daw Than Than Nwe's husband U Win Chay makes money as a trishaw driver to support his family, but the earnings are irregular and inadequate. "There are many days when we have to eat only one meal," said Daw Than Than Nwe.
Adding to the family's financial and emotional difficulties has been the health of U Win Chay, who suffers from tuberculosis. With her husband's medical bills, food and rent to pay for, Daw Than Than Nwe assumed the role of primary breadwinner for the family, and took to the streets to beg.
"I have never done this before. My children had been hungry for two days. I decided to work as a beggar because I did not dare to watch the children go hungry," she said.
"Some people judge me for making a living as a beggar even though I am physically fit. Some have paid me out of pity. Nobody knows about my problems," she said. "I just want my family not to go hungry, no matter what others say."
Despite leniency from the landlord of the home they rented in Set Yone Su ward — who kindly allowed them to pay rent irregularly during the year-plus that they lived there — the family eventually had to move out for various reasons.
They relocated to a slum near Akyeittawkone Hill in Sittwe. There, they built a modest house with sweat and savings, only to have it taken from them much as the war deprived them of their home in Thaundara village. On March 10, 2022, they were among hundreds of people who were labeled squatters by the military government and forcibly removed from the area.
"Where are we supposed to go?" Daw Than Than Nwe asked. "I can no longer think and decide what to do. Everything is blurry in my head."
U Win Chay is in better health these days, thanks to the help of the family of the owner of a local medical clinic in Sittwe. But Daw Than Than Nwe is still begging on the streets, as her husband's tuberculosis has not yet been completely cured. And regardless, there are still several mouths to feed.
More than two years after the family left their village in Rathedaung Township, the Arakan State capital has not proven to be the refuge they'd hoped for. Unsure of where they'll next call home, Daw Than Than Nwe says a return to the IDP camp is among the potential options they are considering.