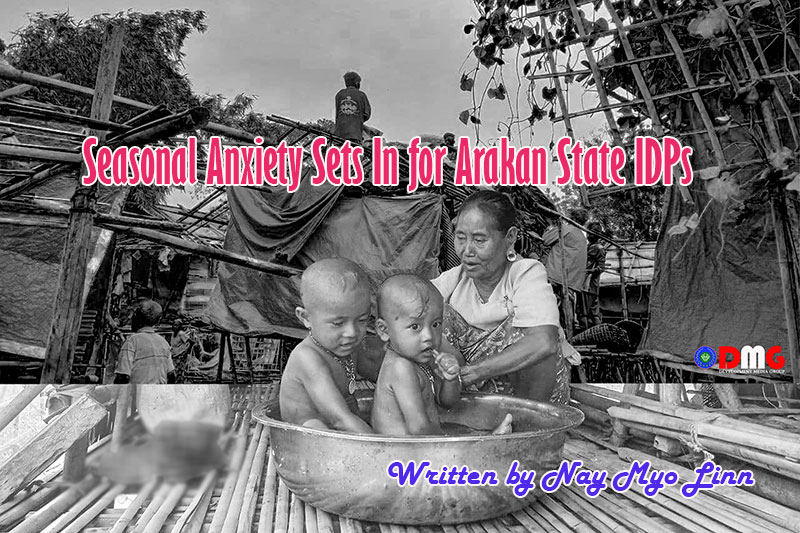 Written by Nay Myo Linn 
Daw Ma Hla Sein is sick with worry as the monsoon season approaches and her temporary home is crumbling. Nagging at her constantly is the thought that her house, which is mostly made of bamboo and roofed with tarpaulin sheets, might collapse in the seasonally inclement weather to come. 
The 39-year-old ethnic Mro woman has been living at a camp for internally displaced people (IDPs) in Wartaung, Kyauktaw Township, together with her five children, since she was displaced by fighting between the Myanmar military and Arakan Army in 2019. Like tens of thousands of other IDPs in Arakan State, she hopes to have proper shelter ahead of the rainy days on the horizon. 
"It has been a constant worry to me that we will get wet when there are rains accompanied by winds," said Daw Ma Hla Sein, the concern evident in her voice. 
At the height of the 2018-2020 conflict between the military and Arakan Army, more than 235,000 IDPs had fled their homes due to clashes in Arakan State. Most have since returned home with a cessation of hostilities toward the end of 2020, but as many as 70,000 people have not been able to for various reasons, instead remaining at displacement camps.  
Anxiety accompanies the changing of the seasons for IDPs, as the oftentimes flimsy shelters that they call home will face torrential downpours and strong winds on a near-daily basis from about May through October.  
"Shelter repair gaps in Rakhine's [Arakan State's] IDP camps are a significant concern heading into the monsoon season with more than 550 longhouses, sheltering more than 28,000 IDPs, considered structurally unsound and in urgent need of reconstruction," the UN Office for the Coordination of Humanitarian Affairs in Myanmar said in a report on April 19. There was a $4.7 million funding gap for repairs to those 551 longhouses alone, UN OCHA added. 
Daw Ma Hla Sein is a native of Khamaung village in Kyauktaw Township. Her husband died of health problems at Wartaung IDP camp, where she now lives with her three daughters and two sons. Her eldest daughter is 13 years old and her youngest son is just 3. 
With five children to feed, the widow leads a burdensome life at the camp. With barely any job opportunities for IDPs, she has to rely on food supplies from donors. Previously, IDPs at her camp were provided with rice by the Ministry of Social Welfare, Relief and Resettlement, but the ministry stopped supplying them about three months ago. For now, she scrapes by on the 18,000 kyats (US$9.70) per month provided by the World Food Programme (WFP). 
"There are many difficulties. I can't work because I have children to take care of. The money provided by the WFP is all I have to feed them and give them medicine when they are sick. And I can't afford to give them full doses of medicine," Daw Ma Hla Sein said. 
"The allowance is not enough because I have many children," Daw Ma Hla Sein lamented, adding that her children lack access to nutritious food as a result. 
There are a number of factors that have prevented IDPs from returning to their homes even more than a year after an informal ceasefire brought an end to most hostilities. Locals from Kyauktaw's Tinma village and Rathedaung's Kyauktan, for example, still cannot return because authorities have not allowed them to do so. Other IDPs dare not return to their home villages for fear of landmines, the prospect of fresh clashes, or both. 
According to data compiled by DMG, more than 900 IDP homes were destroyed by strong winds in Kyauktaw, Mrauk-U and Minbya townships on April 20, when bad weather across large swaths of Arakan State offered a particularly stark reminder of the impending monsoon season's threat to IDPs.  
"The gusty winds caused homes to collapse. Strong winds tore down homes," said Ko Hla Maung Kyaw, an IDP from Nyaung Chaung displacement camp in Kyauktaw Township. 
Another resident of Nyaung Chaung IDP camp said he was saddened by the damage to the homes, whose owners were struggling to repair them due to a lack of support. He called on humanitarian organisations and authorities to assist with IDP shelter repairs as soon as possible, given the approaching rainy season. 
"We want timber and bamboo to repair the damaged homes in the displacement camp," said U Aye Kyaw, an IDP originally from Myauk Taung village in Kyauktaw Township. "If homes are not actually built in a timely manner, IDPs may face many difficulties during the rainy season. IDPs will get sick because they have to stay wet during the rainy season." 
Elsewhere, more than 30 makeshift tents at Mya Tanzaung IDP camp in Mrauk-U Township were completely destroyed and the roofs of more than 150 other tents were partially damaged, said Venerable Nandasara, abbot of the nearby Mya Tanzaung Monastery. 
"We are repairing the damaged homes on a self-reliant basis due to a lack of donors," the monk added. "With the rainy season approaching, it is difficult to get money and shelter for IDPs. The displaced people are a concern during the rainy season, as the displacement camps are old and dilapidated." 
Currently, many displaced people are relying heavily on international organisations such as the International Committee of the Red Cross (ICRC) for food and shelter, as the military council has cut off rice supplies to IDP camps. The abbot said the military government needs to provide assistance to the displaced people. 
"We urge the military council to ensure that the displaced people are able to live in safety before the rainy season," he told DMG. 
But for Daw Ma Hla Sein, whose bamboo hut looks like it could collapse with the next gust of wind to come its way, it doesn't matter who is providing the assistance as long as it arrives in time.  
"I would like the international community or the military council to provide bamboo and tarpaulins for the construction of homes in the displacement camps before the rainy season," she said.