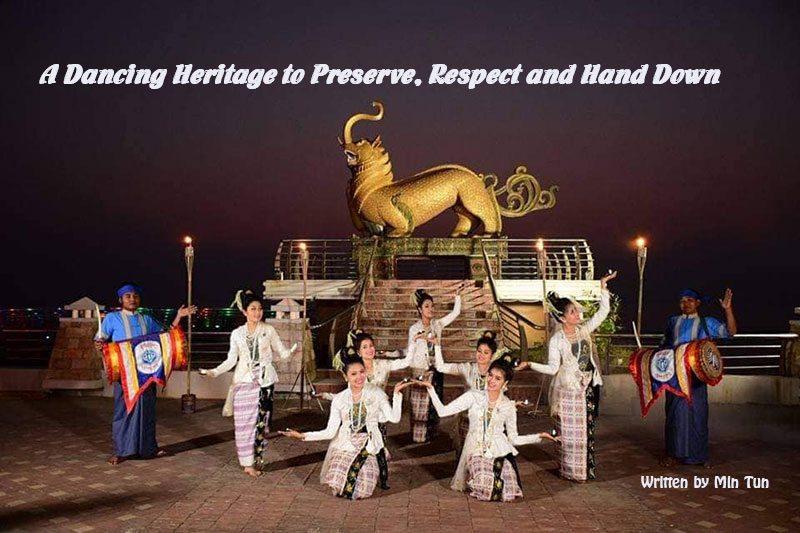 Written by Min Tun 
For years, Daw Khin Aye Cho has been doing her fair share to preserve traditional Arakanese dance. The 36-year-old often shares her dance moves on social media to pique people's interest in traditional Arakanese dancing. 
Well-versed in various traditional Arakanese dances, Daw Khin Aye Cho is a key figure in the small but determined circle of traditional Arakanese dancers who together form a cultural troupe dedicated to the task. 
There are various kinds of traditional dance in Arakan State. Arakanese traditional Buddha pujaniya oil lamp choral dancing is among the most significant of them. The dance was created during the Dannyawaddy Dynasty, when Theravada Buddhism began to flourish in Arakan State. The styles of dancing represent the Three Gems of Buddha, Dhamma and Sangha. 
"There are two significant dances in Arakan State. Dancing with oil lamps is unique to Arakanese society. And Shin Daing dance is also the lifeblood of Arakanese people. It is the mother of all the dances in Arakan State," explains Daw Khin Aye Cho. 
Arakanese artists are concerned that traditional Arakanese dances will fade into obscurity due to lack of proper conservation initiatives. Daw Khin Aye Cho has called for efforts to systematically hand down know-how and knowledge of the traditional dances to younger generations. 
"More and more traditional dances have diminished. Much must be done to turn out a new generation of artists," she said. 
Daw Khin Aye Cho has served as a dancing instructor for her Arakanese cultural troupe for 12 years. She is also an accountant at the Sittwe branch of the Department of Archaeology and National Museum. 
Daw Khin Aye Cho is a native of Sittwe, and inherited her passion for music and dance from her father, who plays a number of string instruments including the mandolin, violin and an Arakanese traditional instrument known as baung kyaw. 
She started learning music from her father when she was around 7 years old. Now a self-described obsessive when it comes to traditional Arakanese dance, she started learning it when she was 15 years old. 
"I always wanted to make a contribution to Arakanese society via the arts when I grew up. My father only knows music. He wanted me to follow in his footsteps. But I was obsessed with dancing," she said. 
There are many challenges to passing on Arakanese traditional dance to the younger generations. Today, with the rise of Western culture, the younger generations are less interested in traditional dances. Under such circumstances, the lack of traditional dance schools in Arakan State makes it even more difficult to pass knowledge of traditional dances on to the next generation, Daw Khin Aye Cho said. 
"We want to do Arakanese traditional dance as a hobby, but we have no authority and no money. Like other ethnic groups, I want to open an Arakanese traditional dance course part-time," she added. 
Among other ethnic groups, such as the Mon and Karenni, cultural groups are systematically organised at the state, township, and ward levels. The Arakanese people have a high culture of their own, as well as their own literature and art to preserve, spanning four dynasties and several centuries.  
The Arakanese people's culture is also independent in terms of customs, art and dress. But once-flourishing Arakanese literary and cultural traditions gradually faded from the late Mrauk-U period onward, with the fall of the Arakanese monarchy. 
Experts say the government needs to support the establishment of training schools so that Arakanese traditional dances do not disappear and are passed on to the next generations. Only then will traditional dances be preserved and interest among the younger generations be stoked, said U Kyaw Hsan, secretary of the Arakan Literature and Culture Committee. 
"I think if we can work with training schools and organisations to teach traditional dances in a systematic way, young people will be more interested in their own traditional dance and music, to some extent," he said. 
U Kyaw Zan Maung, chairman of the Tharki Mandaing Arakan Association, said the government should provide training on Arakan literary and cultural history to prevent the disappearance of Arakanese traditional cultural heritage in line with the saying, "If culture disappears, a people will disappear." 
"Exclusive exhibitions of Arakanese culture should be held, especially on special days such as Arakan State Day," U Kyaw Zan Maung added. "The government needs to hold lectures on Arakanese heritage and culture."