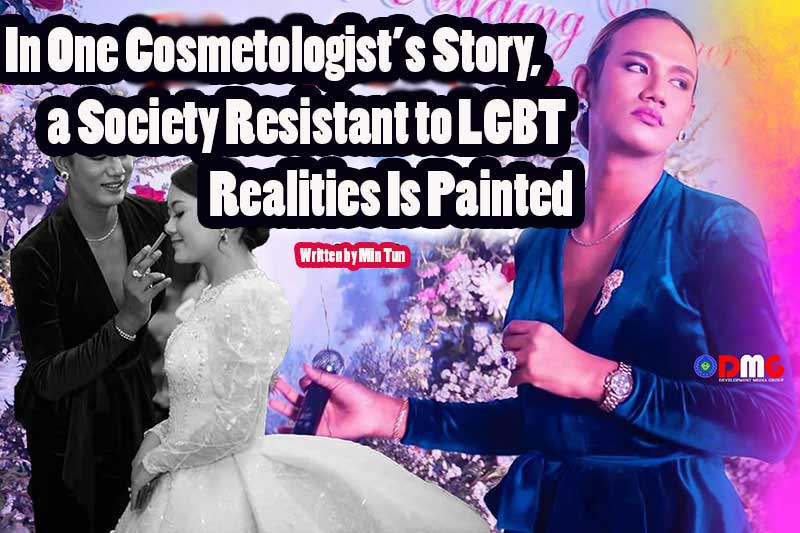 Written by Min Tun 
A top makeup artist in the Arakan State capital Sittwe applies cosmetics one step at a time to make up a girl's face. The makeup artist is focused on the task at hand, including making the girl's lips and eyelashes look their best. The artist is Ko Kyaw Kyaw Moe, 32, a member of the LGBT community. 
Ko Kyaw Kyaw Moe studied Hotel Management in Singapore after passing the matriculation examination. While overseas, Ko Kyaw Kyaw Moe said he accepted himself as a member of the LGBT community, with the encouragement of a colleague. But acceptance abroad is not the same as acceptance at home. 
"A foreign friend of mine told me that you must accept your life. It was at this point that I decided what I wanted to do and accepted myself as an LGBT person," he told DMG. 
The LGBT (Lesbian, Gay, Bisexual and Transgender) community is less than welcome in Myanmar. LGBT people face persecution and ridicule from a large segment of Myanmar society. Their sexual orientation is considered unacceptable in the eyes of many Myanmar people with conservative outlooks. As a result, LGBT people can face discrimination at the workplace, on the streets, in their communities and even among family.  
Ko Kyaw Kyaw Moe, who has embraced his LGBT identity in a society that has not yet, is aware of the divide. 
"I did not feel pressured because I was living in an accepting environment. When I went to school abroad, I was able to live my life the way I wanted to," he says. 
But when Ko Kyaw Kyaw Moe started his career as a makeup artist back home, his parents did not accept his position, so he opened a beauty salon next to his grandmother's house. 
"At first, my parents and relatives did not want to accept my sexual orientation. Later, when I told all of my parents and relatives that I had to accept this life, they accepted," he tells DMG. 
Ko Kyaw Kyaw Moe learned the art of applying makeup across borders and cultures, from Yangon and Singapore to Bangkok. He keeps up with the latest trends and fashions at home and abroad, Ko Kyaw Kyaw Moe adds. 
The 32-year-old has been working as a makeup artist for more than 10 years now, and has opened a beauty salon and wedding dress shop in Sittwe's Mizang ward of late. 
In the past, LGBT people were discriminated against in ways that included foul language and harsher judgements, Ko Kyaw Kyaw Moe notes. But with the advent of modern society in Myanmar, differences in sexual orientation have become a reality, and many people have gradually come to understand and accept LGBT people, he adds. 
Ko Kyaw Kyaw Lin, a representative from an LGBT support network, said that LGBT people would be accepted without discrimination by their respective communities only if they could live in harmony with their families. 
"The environment needs to change, and so should LGBT people. Then you can live in harmony with your environment," he said. 
LGBT people not only face societal stigma, but have also been prosecuted under Section 377 of the Penal Code, which criminalises sodomy and same-sex relations under the umbrella heading of "unnatural offences".  
Other statutory provisions also exist to make life difficult for LGBT communities. As the LGBT advocacy group ARC International notes: 
"Even as the continued existence of Section 377 of the Myanmar Penal Code reinforces bias, prejudice and persecution against the LGBT community, other laws enable active prosecution. In particular one must note Section 30(d) of the 1899 Rangoon Police Act and Section 35 of the Police Act. These provisions are the basis on which LGBT persons and in particular transgender persons are targeted on an everyday basis in Myanmar." 
LGBT activists say they are working to amend Section 377 of the Penal Code to protect the rights of LGBT people. 
"Although no LGBT arrests have been made in Sittwe, I would like to see a reduction in such arrests when it comes to the whole of Myanmar," Ko Kyaw Kyaw Lin says. "An LGBT person is also a human being. I want the penalty under Section 377 to be reduced because LGBT people are also human beings."