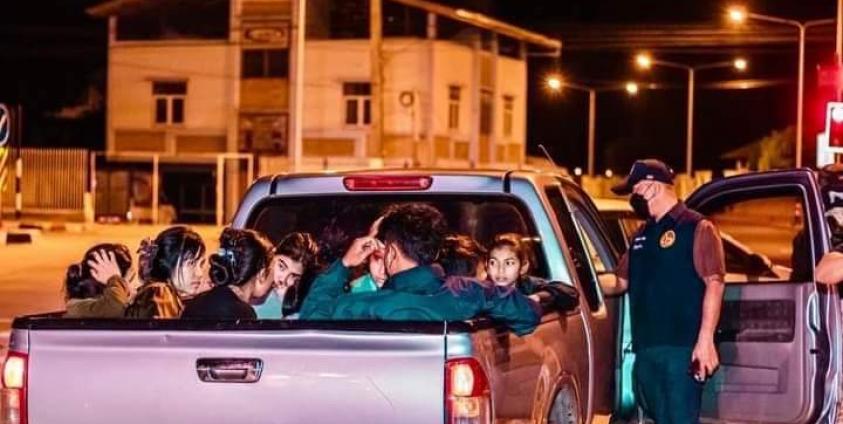 Written By Min Tun
Overnighting in the jungle, climbing and descending treacherous mountain passes, and evading border patrols were among the toughest aspects of Ko Tun Naing's unlawful journey to Thailand.
Ko Tun Naing, whose name has been changed to protect his identity, is one of 40 Myanmar citizens who illegally crossed the border into Thailand in early 2022. For some, their gruelling journey did not end there. They proceeded to Malaysia.
"The difficult part was going down a mountain when we crossed the border into Thailand. The mountain was so steep that I struggled down the mountain, even with rope. I could have died if I had slipped," recounted 22-year-old Ko Tun Naing, who originally hails from Buthidaung Township.
Ko Tun Naing travelled from Arakan State to Yangon, where he waited for about three days before proceeding to Kayin (Karen) State and then crossing the border into Thailand. The entire journey lasted nearly a week, he said.
Ko Tun Naing credits the agent with getting him across the border in a fraction of the time it would have taken to secure a job and make travel arrangements through legal channels. It cost him around K2.4 million to be brought to Thailand from Arakan State. He now works on a fishing trawler, earning around K800,000 per month.
Thailand and Malaysia are two of the main destinations for people leaving Arakan State to seek jobs abroad. It costs approximately K3 million to illegally cross the border into Thailand, and around K5 million to get to Malaysia, with costs varying from agent to agent.
Many job seekers either pawn or sell their possessions to pay the agent fee, while some borrow money at high interest rates. To be sure, they are playing for high stakes.
Despite the fact that many have ended up being arrested while attempting to illegally cross the border, desperate job seekers continue to risk their freedom by taking the same path.
"It is quicker to illegally cross the border," explained 23-year-old Ko Naing Chay (a pseudonym), who illegally crossed the border into Malaysia. "You have to wait for months if you are to work legally. Again, no one can guarantee you will get the job. If you are lucky enough, you will be able to leave in three months. If you are not lucky, it is a waste of three months. If you cross the border illegally, you will only get arrested if you are not lucky."
A native of Buthidaung Township, Ko Naing Chay graduated with a degree in Burmese literature from Sittwe University.
In travelling to Malaysia, some legally fly to Thailand on a 14-day visit visa, and then illegally cross the border into neighbouring Malaysia from there.
Those illegally crossing the border often have to hide in vehicles or vessels, sometimes under packages. These arrangements occasionally turn deadly.
A 29-year-old university student from Buthidaung Township suffocated and died in July while hiding in a vehicle crossing the border into Malaysia. There were some 30 people on board.
Ko Naing Chay, who made it to Malaysia in August, said: "In my country, I could hardly make ends meet with the money I made. The income could not meet expenses. I left the country with the hope that I would earn more money, and also gain experience and knowledge."
Limited job opportunities and a lack of financial security since the February 2021 military coup are major factors driving people from Myanmar, said chairman U Tin Htoo Aung of the Arakan National Network, a civil society organisation focussed on defending and promoting labour rights.
"They leave mainly because jobs are scarce. Secondly, there is no guarantee for their livelihoods. There is no guarantee for their socioeconomic life and political stability. Compared with the past, more people are leaving Arakan State for foreign countries," he said.
People who travel abroad via illegal routes often face money scams perpetrated by human traffickers, brokers and the like. There have been about 30 cases reported by victims of money fraud in Arakan State this year, according to the Yangon-based Arakan National Network.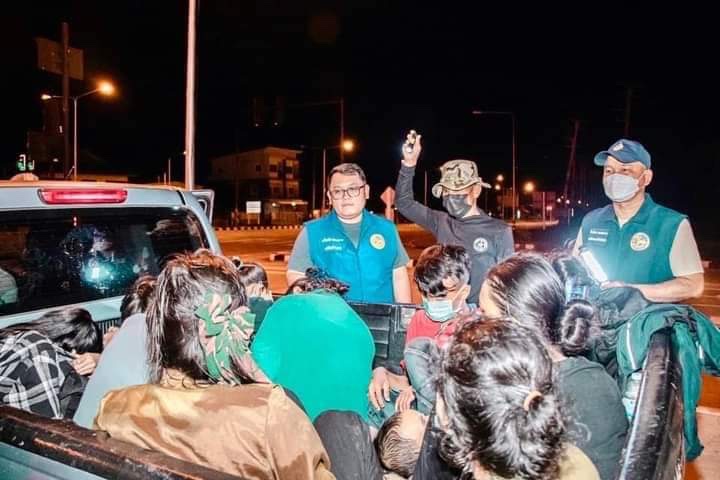 Some cases have involved hundreds of people. U Tin Htoo Aung said most of the reported cases have been resolved, but some cases involving unconfirmed addresses and credentials of human traffickers who defrauded money have been encountered.
"Those who are going to work abroad are cheated by brokers and agents," said U Tin Htoo Aung. "Those who are going abroad are being cheated because they are eager to trust those close to them. Those who are going abroad are being cheated because of their lack of knowledge."
The Arakan National Network advises people travelling abroad to compile a comprehensive dossier of their handlers' information, with details including the names, addresses and transaction statements of those whom they are dealing with. The Arakan National Network said that this will help to resolve any complaints more quickly.
Speaking to DMG prior to a ceasefire reached between the military and Arakan Army on November 26, U Tin Htoo Aung cited that conflict as another factor contributing to the exodus of workers from Arakan State.
"The people are in crisis; more and more Arakanese people are leaving abroad. Since fighting is ongoing and there are no job opportunities in Arakan State, more people are likely to leave abroad," he said at the time.
Over the years, tens of thousands of Myanmar nationals have been arrested by Thai authorities for attempting to cross the border illegally.
From February 2021 to the end of June 2022, more than 20,000 Myanmar nationals were arrested by Thai authorities. Some have been sentenced to prison, while others have been deported back to the Myanmar side, according to people working on Myanmar migrant workers' issues.
The passport office in Sittwe, meanwhile, is packed with young and middle-aged people from all over Arakan State who are applying for passports, visit visas and work visas. Three-hundred or more people reportedly come to the passport office in Sittwe daily to apply for passports.
"When jobs are scarce in Arakan State, it is more difficult for people like us who did not pass the matriculation exam to get a job. So, I applied for a passport to work in Malaysia," said a 21-year-old man from Ramree Township.
Though rich in natural resources, Arakan State remains underdeveloped and jobs-poor, a source of continuing frustration.
"I have to say that no one wants to leave their country and go abroad," said Ko Naing Chay. "But in Myanmar, the government cannot create employment opportunities for young people."