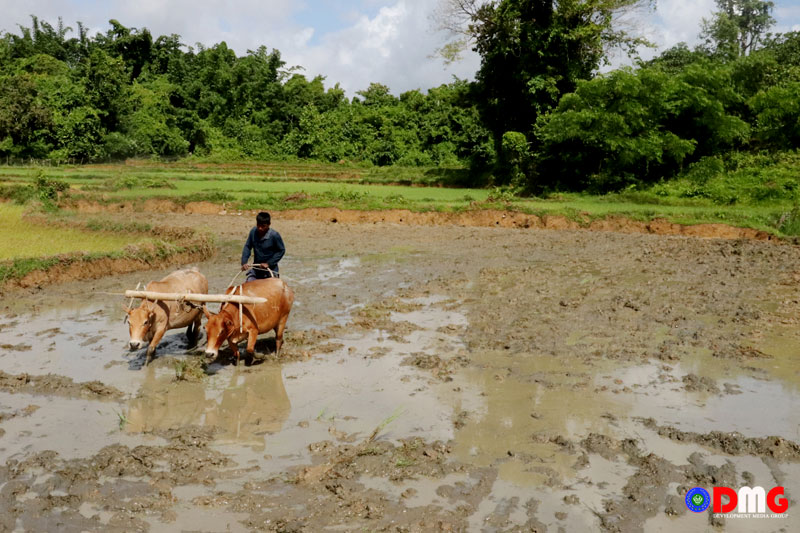 Written by Nyo Htun & Mrat Swe
Daw May Latt Kyi is a resident of Pyartel Village, part of Katthabyay Village-tract in Arakan State's Kyaukphyu Township. Since she was 20 years old, she has been working on the farmland inherited from her parents, and now she is 58 years old. Her family was able to stand on their own feet thanks to their farming of this land.
A few years ago, however, something very worrying came to light unexpectedly. Daw May Latt Kyi found out that her farmland, where she and generations of ancestors have worked, is included in the project area of the Kyaukphyu Special Economic Zone (SEZ).
"Our farmlands are reportedly among the lands to be seized for the establishment of the Kyaukphyu SEZ, but I don't know exactly," she said.
Seven acres of farmland owned by Daw May Latt Kyi are among 250 acres of land to be confiscated for the Kyaukphyu SEZ industrial zone. Preparations have been underway to seize 250 acres of land in the Kyaukphyu SEZ industrial zone since the time of the National League for Democracy (NLD) government. Demarcation work was completed in December 2014, when the NLD's predecessor administration was in power. The project was later suspended, however, due to the Covid-19 pandemic.
The Kyaukphyu SEZ project was initially planned to include a deep-sea port, industrial zone and housing estate. In a statement issued by the Central Committee for Myanmar Special Economic Zone on December 29, 2015, the Kyaukphyu SEZ would be developed on a total of nearly 4,300 acres of land. Yet in reality much of these lands are already owned and occupied by local people. 
Hundreds of acres of village settlements, farmland, plantations, pasturelands and lakes in nine village-tracts such as Kyettein, Kandee, Chaungwa, Thaingchaung, Katthabyay and Doemataung on the islands of Maday and Ramree are owned by local people who earn a living by farming or fishing. And all of these areas are within the bounds of the Kyaukphyu SEZ project area. Local residents are worried that if the SEZ project is implemented as planned, their lands will be seized.
"If the Kyaukphyu SEZ project is implemented, how can local people like us earn a living? I don't think the companies engaging in the Kyaukphyu SEZ project will employ locals. When companies bring in workers, it's not easy for locals like us to get a job," said Ma Tin Wai Khaing, a resident of Maday Island.
Project officials say they will create job opportunities for the locals. But the locals, many of whom experienced losing their jobs when the Sino-Myanmar oil and gas pipelines project was implemented, do not trust such promises anymore. The locals want the SEZ officials to employ them not only for basic labour positions, but also in management roles.
According to people close to the Kyaukphyu SEZ Management Committee, the Kyaukphyu SEZ implementation master plan has been drafted to provide local residents with employment opportunities and the creation of skilled workers.
China's Vision
China International Trust and Investment Corporation (CITIC) won contracts for the deep-sea port and SEZ projects in 2015. The Chinese and Myanmar governments have agreed to spend US$7.3 billion on the project, with the Chinese government and Myanmar agreeing to start with US$1.3 billion for the first phase of the project and expand once the first phase is completed. The Kyaukphyu SEZ project has been in the works for more than a decade, the majority of that time under two quasi-democratic governments, until the military seized power in 2021. Although the Kyaukphyu SEZ is often depicted as part of China's Belt and Road Initiative (BRI), the project's conception was notably earlier than when the BRI was first proposed in 2013.
Since the beginning of the China-Myanmar gas and oil pipeline project in 2009, China and Myanmar have been discussing the construction of a new railway line to connect the Kyaukphyu SEZ with China's Yunnan Province.
The Kyaukphyu deep-sea port project, which is part of the larger Kyaukphyu SEZ complex, is considered especially strategic because it will provide China with direct access to the Indian Ocean without oil- and other goods-laden cargo ships having to pass through the Strait of Malacca between the Malay Peninsula and the Indonesian island of Sumatra.

According to the initial agreement signed with Myanmar ex-President U Thein Sein's quasi-civilian government in 2013, CITIC took an 85% stake in the deep-sea port and a 51% stake in the Kyaukphyu SEZ. However, amid political sensitivity surrounding Chinese investment in Myanmar and concerns over China's so-called debt-trap diplomacy, CITIC agreed to drop its ownership stake in the deep-sea port from 85% to 70%.
In May 2021, a few months after seizing power in a coup, the military regime appointed U Myint Thein, a former deputy minister for rail transportation who also chaired the Kyaukphyu SEZ Implementation Committee under the previous U Thein Sein government, as chairman of the Kyaukphyu Special Economic Zone Project Implementation Committee. Arakan State Administration Council member U San Shwe Maung was appointed vice chairman of the committee, with officials from the Department of Urban and Housing Development, Ministry of Commerce, Ministry of Planning and Finance, Kyaukphyu District General Administration Department, and officials from the Myanmar Port Authority (Arakan State) as members.
U Kyaw Soe, a member of the Agricultural Land Census and Agricultural Land Utilization Committee assigned by the Kyaukphyu SEZ Management Committee, said land survey work has been done on Maday Island and Ramree Island where the Kyaukphyu SEZ will be developed. U Kyaw Soe is a local businessman and a town elder.
"A land survey to develop the Kyaukphyu SEZ has started. Soil testing and telegraphy works have been completed 100% on Maday Island and Ramree Island. The water survey work will be carried out in September. The EIA process has been suspended since the coup, and some companies have been hired to continue work on an Environmental/Social Impact Assessment for the building of a deep-sea port on Maday Island in Kyaukphyu Township," said U Kyaw Soe.
Farmers are unhappy because authorities conducted the land survey without notifying the local farm owners. In addition, there are criticisms about the project's lack of transparency vis-a-vis the local community.
Meanwhile, businessmen are already buying up farmland in the project area, as some farmers have begun to sell out. Other local farmers are worried that they will have no farmland to work with, and still others are not selling their farmlands because they are not getting the price they want. As soon as they heard about the construction of a special economic zone, many farmers said they would likely have no choice but to sell their farmland at a below-market rate because it could be confiscated illegally at any time, as happened in the case of the Shwe gas project.
"Rich people are already buying land and have visited our village twice to buy land. We haven't sold our land yet because we didn't get a good price," said U Maung Maung Win, a resident of Maday Island. "The prices set by rich people are K14 million for one acre of pastureland, K17 million for one acre of garden land and K12 million for one acre of farmland. We think that if we don't get K25 million per acre of land, we won't sell it. Regardless of the type of land, if we get K25 million per acre, it will be convenient for us."
Five acres of farmland owned by U Maung Maung Win's family are included in the deep-sea port project area on Maday Island.
Land and Conflict
There are already many disputes over land ownership in the areas where the Kyaukphyu SEZ will be built. Many local farmers who have been farming the land for generations are not recognised by the government as the rightful owners, and their efforts to prove ownership have been rejected by the concerned departments. Instead, other people who have access to information in areas affected by the project can be seen working with the authorities to apply for land ownership and compensation, often without the knowledge of local farmers.
The planned confiscation of the 250 acres of land for the Kyaukphyu SEZ's industrial zone will impact 72 landowners from four village-tracts near Sittaw Junction on the Kyaukphyu-Yangon road. Of the 250 acres targeted for confiscation, about 90.4 acres is farmland, 29.3 acres is garden land, 68.7 acres is pastureland, and 61.6 acres is said to be vacant land, according to statistics issued by the Kyaukphyu District General Administration Department.
The 61.6 acres of "vacant land" is owned by three people, namely U Hla Myo, U Zaw Moe Win and U Thein Sein, with these plots registered under Myanmar's land ownership law.
According to a statement issued by the NLD government, which compiled a list of lands to be confiscated, the General Administration Department identified 22 local landowners as "occupiers" (in contrast to registered owners). This means that these 22 local farmers, who have traditionally worked on the farmland, are in a situation where they may be punished without knowing anything.
"Under the current Farming Law, the farmers who have been working for many years are identified as occupiers. Either the project developer or local government or social organisation should resolve the land disputes in a transparent manner," said Ko Khin Oo, an official from a Kyaukphyu SEZ monitoring group.
Developers and local authorities are still weak in clearly presenting the project to the local farmers whose farmlands are involved in the project area. Locals are worried that other people will claim ownership of their land in order to get the expected compensation, as occurred in the case of the Shwe gas project. They also worry that even if they are recognised as the rightful owners, their land will be confiscated with little compensation.
"Of the 250 acres of land, only 90 acres will be compensated, according to the Settlement and Land Records Department. Local landowners will not receive compensation for 160 acres of land. U Myint Thein [a businessman] and officials from Kyaukphyu-based social organisations said they would pay K1.8 million per acre of land, but the farmers rejected the price," said U Hla Thein, chairman of the Kyaukphyu Rural Development Association.
U Hla Thein added that local farmers facing the prospect of having their land confiscated are demanding that they be given substitute land instead of employment opportunities, which many do not believe will come to fruition anyway. "These lands are ancestral lands that the local farmers have traditionally cultivated, so they [farmers] can make a living by farming," he said.
Kyaukphyu on the Geopolitical Stage
Located on the west coast of Myanmar and overlooking the Bay of Bengal, Kyaukphyu is a place of significant strategic importance for China, whether it be to position the Asian superpower to dominate the Indian Ocean or as an important hub for the distribution of Chinese products to the world.
Businessmen who are involved in implementation of the Kyaukphyu SEZ support and welcome the project, saying it will be highly beneficial for Arakan State, with hopes that it will beckon home Arakanese people who have left the state for job opportunities abroad.
"If a project is implemented, the positive and negative effects often go hand in hand. When we think about whether this project will have more negative effects or more benefits, we see that it can have more benefits," said one local businessman. "Kyaukphyu Township has seen rapid infrastructural development thanks to the Kyaukphyu SEZ project."
But since its inception, the Kyaukphyu SEZ project has been feared by locals who say it will destroy the land-based livelihoods and jobs of thousands of people.
"We should take into consideration the potential impacts of the project and minimise the impacts," said Ko Khin Oo, the Kyaukphyu SEZ monitoring group official, who is also a resident of Kyaukphyu. "It needs to be a project that is compatible with our culture. It is necessary to give priority to the opinions of the people in the area where the project will be implemented and then think about the development of the area. Another thing is to ensure that it will be a win-win situation project that would benefit the interests of not only Arakan State but also Myanmar."
The CITIC-led consortium will successfully build the Kyaukphyu deep-sea port project for the benefit of the people of Myanmar and the development of Myanmar's economy with the support of the Myanmar government, said CITIC Group Chairman Chang Zhenming at the signing of a framework agreement between the Kyaukphyu Special Economic Zone Management Committee and the CITIC consortium in Naypyidaw on November 8, 2018. He continued that after the implementation of the Kyaukphyu SEZ project, management positions will be assigned to local residents and after 10 years of operation, depending on the situation, about 90 percent of management positions will be assigned to local residents.
In the meantime, however, there are questions as to whether the Kyaukphyu SEZ project — which is moving forward slowly with incentives from the two governments such as employment opportunities and regional development — will actually come to fruition.
"We don't want the government to confiscate our farmlands. We don't know how much we will be compensated if our farmlands are confiscated. Our farmland may be forcibly confiscated," said Daw May Latt Kyi of Pyartel Village.