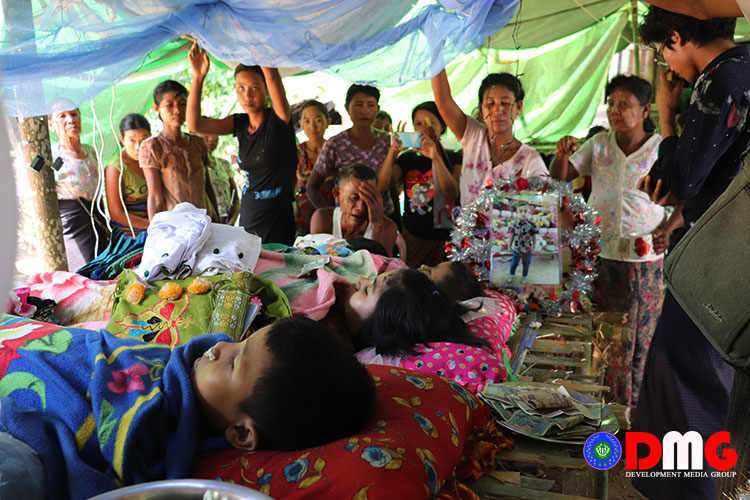 Sein Ko Ko | DMG
The Laymyo River flows, carrying mud. Pan Myaung village near the river is as quiet as a graveyard. Markets and schools are all closed up, and the piercing sound of artillery fire comes to the people in the village, like music from hell. Some of them pack up their belongings and leave their homes via small boats. All of these things occurred on August 25.
In front of a house in Sar Thin Chaung ward of this silent village, a tent roofed with blue tarpaulin has been jerry-rigged. Inside the tent, a bench made from freshly cut bamboo is set up. The bench is one foot high and covered with a mosquito net decorated with colorful lights. Inside the mosquito net are the bodies of three children who have died from artillery fire.
A 60 year old man is crying near the prostrate kids. Suddenly, a solitary teardrop falls on the ground but dissipates instantly.
"As soon as the military troop shot and hit my house, I ran to my family members. My niece, grandchild and daughter fell on their backs. When I checked my wife, she was unconscious. The military group was shooting three heavy weapons from Aung Mingalar mountain situated above the village," U Maung Ba Kyaw, 65, explained about the awful experience that he faced on August 24.
The bodies of the children are covered with their clothes and school bags, and a bowl has been placed in front of each body for financial donations. Some people in the village have arrived at the tent.
Following the large explosion in his house, U Maung Ba Kyaw's wife and daughter suffered serious injuries and his grandchild and niece were dead.  
U Maung Ba Kyaw's next-door neighbor, U Shwe Win, lost his son because of gunfire. His mother-in-law was also seriously injured. 
Before the explosion at about 10 am on August 24, U Maung Ba Kyaw's wife Daw Ma Kyaing, daughter Phyu Hnin Soe, niece Nyo Nyo Win and grandson Aung Zin Phyo were in the downstairs section of their house. Phyu Hnin Soe was playing with her nephew Aung Zin Phyo as Daw Ma Kyaing had just finished cooking lunch and was preparing to serve it. At the same time, Yazar Tun, brother of NyoNyoWin was sitting on the staircase and Win Myint Aung, son of U Maung Ba Kyaw and Daw Ma Kyaing were upstairs. While the family members were doing their usual daily activities, they all heard a loud sound – a sound that would devastate their lives forever.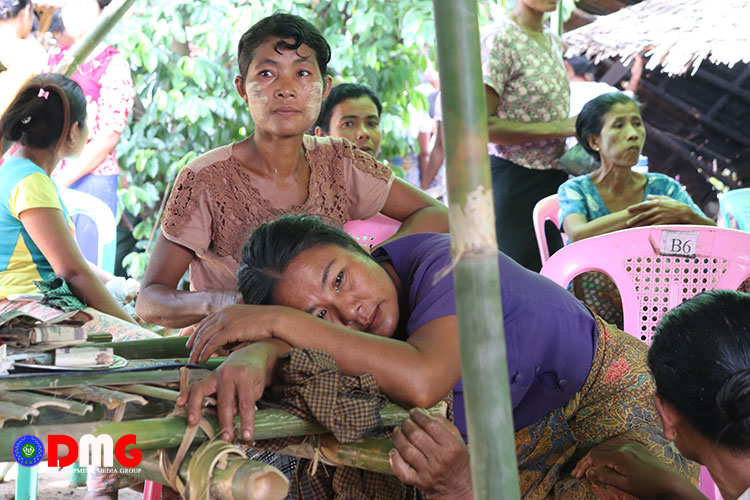 "Suddenly, artillery shells rained on our house. When I looked, Aung Zin Phyo had a big hole in his belly and was covered with blood. My mother, Daw Ma Kyaing ran to me but she fell down before reaching me. My sister ran to me as well and fell down in my arms, and I carried her and ran to hospital but we couldn't save her life," said Yazar Tun, brother of the deceased Ma Nyo Nyo Win.
Nyo Nyo Win and Yazar Aung are siblings and are originally from Shwe Kyan village. But their village has only a middle school, so their father U Kyaw Thein, a farmer, sent them to Pan Myaung village to stay at the home of their relative U Maung Ba Kyaw's so that they can continue their high school education.

While his house was bombarded by shells, U Shwe Win was working on farmland. His mother-in-law was injured and a piece of shrapnel hit the left side of his oldest son Min Htet Kyaw.  As soon as he heard what had happened to his family, he ran back home, but his son was already dead. His mother-in-law was sent to Mrauk U hospital and his wife was unconscious at Pan Myaung hospital.
The mothers of Nyo Nyo Win and Min Htet Kyaw were so upset they couldn't control their emotions and they were consoled by some women in the village.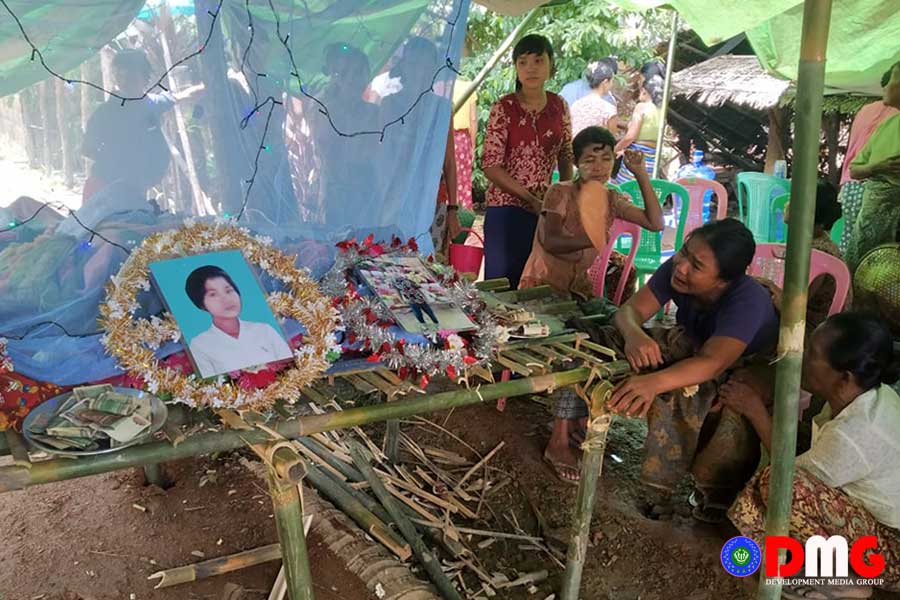 The deceased Aung Zin Phyo is a kindergarten student, and he was being cared for by his grandparents and aunt (Phyu Hnin Soe) because his parents are working in Thailand. 
"He [Aung Zin Phyo] is my oldest sister's son," Win Myint Aung, Uncle of the deceased Aung Zin Phyo said.
U Ba Kyaw's house was destroyed by the explosion. The Tatmadaw troop came and collected the leftover pieces of shells in the afternoon on August 24. Most of Pan Myaung villagers said that the shooting came from Aung Mingalar Mountain.
When DMG was at Pan Myaung village on August 25, we wittnessed that the village was fired at with artillery from Aung Mingalar Mountain and also heard the sound of artillery fire from Mrauk-U.
The three deceased were buried in tombs around 2 pm on August 25 to the sounds of further artillery fire. Some people ran away to hide for their safety. Aung Zin Phyo's parents, grandmother and aunt Phyu Hnin Soe were at the hospital while the body of Aung Zin Phyo was buried.
Aung Mingalar Mountain is filled with ancient stupas and a monastery. That's why villagers aren't happy for setting up a military camp at a sacred location.
After burying the bodies, Zayar Tun asked to stop the war.
 "So many people died because of the war."