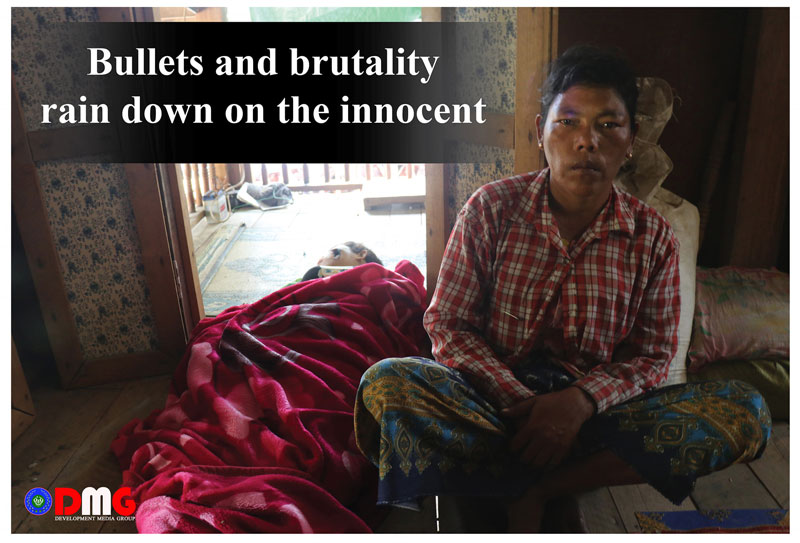 Written by Khaing Roe La | DMG

Hearing a sudden explosion near village, a troop of Tatmadaw surrounded a wooden house with corrugated iron sheeting located in the middle of a village and opened fire.

Villagers from Min Phoo village in Rakhine State ran and hid as quickly as possible once they heard gunshots blasting away.

Drops of liquid were heard falling from the house to the ground, Daw Wai Nu Phyu, a family member of the house, first thought that her daughter who left on the house alone was peeing in her pants when she became scared of the sound of gunfire.

But she later found that the liquid she saw was her daughter's blood. When she went and saw her daughter at her house after the fighting stopped, she saw her daughter was dead with a gunshot wound in her head.

Daw Wai Nu Phyu said that her 19-year old daughter Ma Yi Yi Soe died from being hit by a stray bullet that hit her head first and came out her cheek during the onslaught of Tatmadaw troops.

Villagers feel deeply hurt when they recall that day. They feel scared and worried.

At about 10 a.m on February 20, a column of military troops with about 50 soldiers marched to Min Phoo village from Norway village to check the list of household members in the village. Administrator of Norway village and two policemen were also included in the military column. A bomb exploded near the village while the Norway village administrator and military officers arrived at Min Phoo village.

"Once they (Tatmadaw) heard the sound of explosion, they unleashed a torrent of gunfire into the village," said U Aung Nyunt Chay, administrator of Norway village.

U Maung Tun Hla, the father of Ma Yi Yi Soe, said that Tatmadaw troops surrounded their house and commenced shooting at the house from all four sides when they heard the sound of a bomb explosion.

"My daughter was killed by Tatmadaw troops. They fired into the house," he said.

Family members believe that the death of Ma Yi Yi Soe is the responsibility of Tatmadaw, and her father hopes for truth. "I am not satisfied for the loss of my daughter. I want truth. I want to settle it according to the law," he said.

Ma Oo Hla Nu, elder sister of Ma Yi Yi Soe, recalled the situation she faced on that day. Soldiers ordered villagers who ran and hid in the house nearby to come out of the house and threatened that they would shoot them all if they did not come out of their hiding places.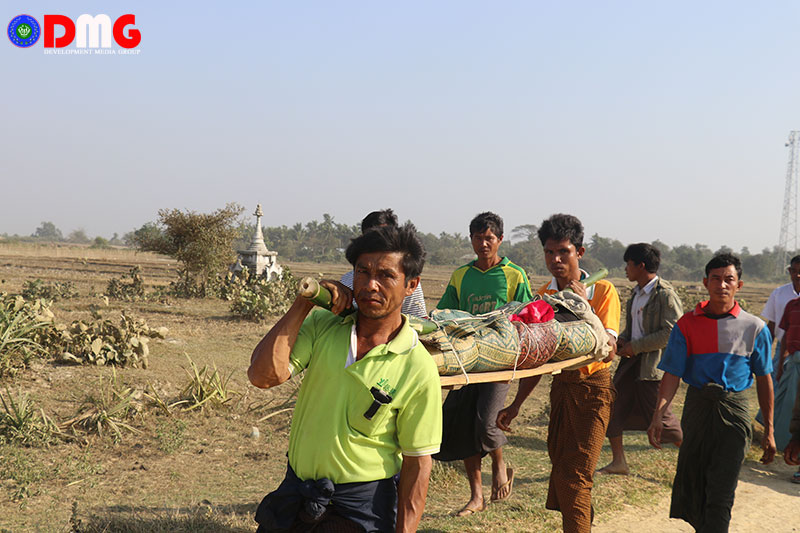 "I told them not to kill me because I was a mother of a child. I was crying when I requested them not to kill me. They told me not to cry and said that they would not kill us. They told us to sit in the sun. My child was crying and had difficulty breathing. So, I requested them to allow me to sit in the shade, they eventually allowed females to sit away from the sun's blistering rays," she said.

Her mother was not part of the group and when her mother joined with them, she did not see her sister.

"I asked my mother where my sister is. She told me that my sister was dead because of a bullet wound to her head. We were crying. I tried to go and see my sister. Soldiers told me not to move and threatened me that they would kill me if I go there. We were crying, they told us that to stop crying, otherwise they would gun down," she said.

"I am so sorry for my sister. I can't believe how she was killed. I can't accept that situation and I can't forgive the Bama Army," said Ma Oo Hla Nu, elder sister of Ma Yi Yi Soe, wiping tears on her cheek.

Brig-Gen Zaw Min Tun from Tatmadaw True News Information Team said that it is believed that the death of Ma Yi Yi Soe was because of the attack of AA, not because of Tatmadaw and both sides exchanged fire after members of AA had attacked a Tatmadaw column and ran into the village while military troops were conducting security operations in the village.

"While Tatmadaw troops were visiting villages for security. They were attacked with explosive ordinances at the bridge at the entrance of the village. People who detonated the explosives and ran into the village and they shot Tatmadaw troops. So, our people had to return their fire. Members of AA in civilian clothes ran into the village and shoot back them. So, I presume that she (Yi Yi Soe) was killed during the exchange of gunfire between AA and Tatmadaw," he said.

However, the AA responded that the death of Ma Yi Yi Soe was not because of them and claimed that it was because of Tatmadaw.

"The Tatmadaw denied that the death of Yi Yi Soe is the responsibility of military because they want to hide their war crimes," said Khaing Thu Kha, information officer of AA.

There was no exchange of gunfire between AA and Tatmadaw in Min Phoo village, he insisted.

"The clashes between AA and Tatmadaw broke out on the route between Min Phoo and Norway village. We made an unexpected attack on the military troop while they were on their way. At that time, soldiers who arrived at the village first shot into the village," Khaing Thu Kha said.

Villagers accept that there was no exchange of gunfire between AA and Tatmadaw in Min Phoo village.

"We heard bursts of machine gun fire from the Tatmadaw inside the village. They fired the weapons from all sides into the village. The military force was well positioned in the village. There is some destruction because of their shooting," said U Hla Saw Tun, administrator of Min Phoo village.

After the shooting, the Tatmadaw checked some houses in the village. They took villagers near the school outside the village to ask questions. They tied up villagers including U Maung Tun Hla, father of Ma Yi Yi Soe and village administrator and asked them if they have any links to AA, said a person who asked for anonymity.

"First, they hit us with their rifle butts when they took us outside the village, it did not hurt much. They kicked us. They punched us. They kicked my chin and I was hurt. They beat the village administrator also," said the person who asked not to be named. (His name is not shown because anonymity is requested concerning for his safety.)

The DMG attempted to contact Bri-Gen Zaw Min Tun several times for comment from the Tatmadaw side but was unable to reach him.

Villagers said that Tatmadaw troops released detained villagers after questioning, but U Than Pe and U Wai Soe Tun are being detained in Say De Pyin police station for interrogation.

The DMG could not reach the police station to confirm it. But, one of the two villagers is suspected of attacking military column, Brig-Gen Zaw Min Tun said in the press conference of Tatmadaw held on February 23. But he did not give the name.

The Tatmadaw side provided money for the family of the dead of Arakanese teenager, and family members had to accept it although they did not want it, said Daw Nu Thein Yin, aunt of Ma Yi Yi Soe.

" A military officer gave K100,000 to my elder sister in front of the village administrator and head of 10 households. My sister refused it saying she lost her daughter. She was told to donate the money at the monastery. She was afraid of the military officer and finally accepted it," she said. Another soldier came and gave K30,000 for her death, she added.

Villagers accused soldiers of taking money and property while they were searching houses.

Daw Thein Yin Sein said that military troops searched their houses and took their personal property while they were told to come and collect near the lake on the village's entrance road.

" I had to go near the lake during the shooting so I could not take my personal belongings. I lost two rings and four bracelets kept in rice container. We were released after 5 p.m. I saw my home was ransacked and my valuables stolen," she said. Soldiers took a knife and a cable for inverter, she added.

A village convenience store lost K 70,000 along with snacks and beer (worth about K 500,000), family members said.

But, Brig-Gen Zaw Min Tun denied that the Tatmadaw took money and property of villagers and claimed that soldiers searched houses in Min Phoo village for security.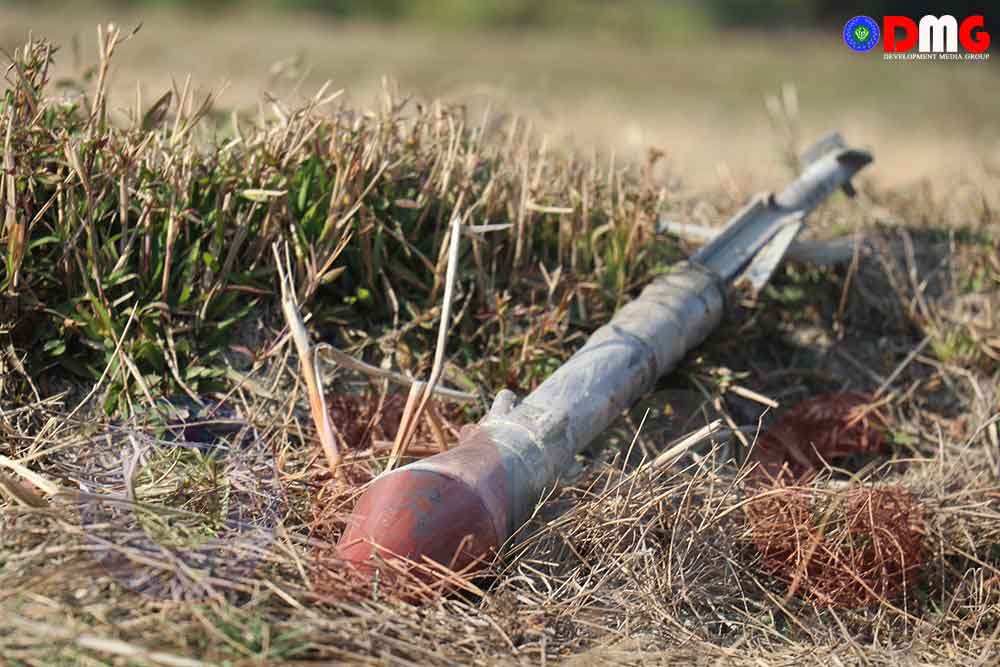 During the fighting in Min Phoo village, Ma April Soe, four years old, also got bullet wound in her head and received medical treatment at Sittwe hospital.

Because of the loss of civilians during the fighting between AA and Tatmadaw, Daw Khin Saw Wai, Pyithu Hluttaw representative for Rathedaung Township, said she felt sorry and urged both sides to discuss holding political dialogues as quickly as possible.

The body of Ma Yi Yi Soe was burried in the village cemetery in the afternoon of February 22. Hundreds of people including members of parliament and CSO members attended the funeral.
Bullet holes and shells were found in some houses in Min Phoo village and unexploded devices are still scattered around the conflicted area.