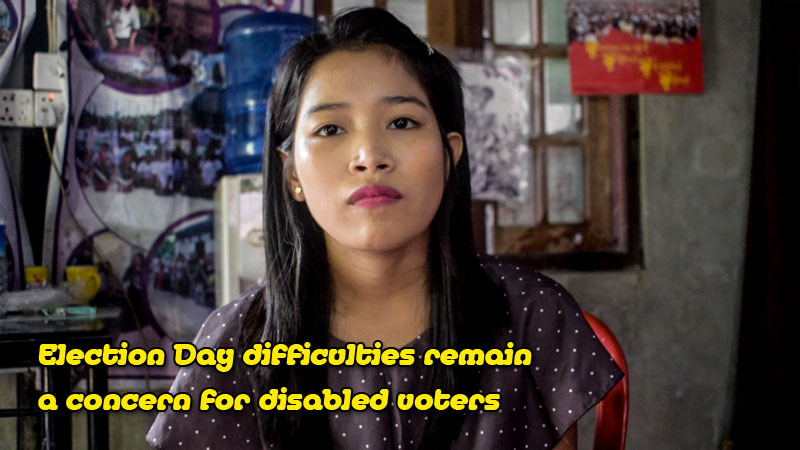 By Khin Tharaphy Oo | DMG
On a day marked as "historic," in a vote relatively free of irregularities, which brought seismic changes to Myanmar's halls of power, the lasting memories of Election Day 2015 for Ma Win Swe are of crowding at her polling place, long waits in line, and a traumatising tumble.
"Normal people in the queue were pushing each other behind me and I fell to the ground because it was difficult for me to stand firmly by myself for a long time," Ma Win Swe, now 24, recalled of her experience on November 8, 2015. "I was afraid when I fell to the ground in the queue at the polling station."
The 2015 poll was the first election in which she was eligible to vote, and she was determined to exercise her franchise.
As someone with a leg impairment, Ma Win Swe was accompanied on Election Day by her younger brother, who was there to assist her in the inevitable queue that formed for a highly anticipated vote. But the pair became separated by the throng of people at their polling place, and without her brother to lean on as she waited in line, her good leg gave out and she fell to the ground.
As this year's general election nears, Ma Win Swe is thinking twice about whether she will go to the polls again, given the unfortunate experience in 2015. She worries about a repeat of the difficulties she faced five years ago.
Ma Win Swe depends on family members to accompany her when she ventures outside the home and would need a helping hand again this November if she does decide to cast her ballot.
The voting process, as her story makes apparent, is often unaccommodating for people with disabilities.
"Another challenge is transportation to reach the polling station," she added.
The Arakan State election subcommission has not arranged for Election Day transportation of people with disabilities in rural polling locations, said U Thurein Htut, secretary of the subcommission.
"They are in different places across the state. We do not arrange for those from villages, but arrange for those in wards of the town areas," he said.
The number of eligible voters with disabilities in Arakan State for the 2020 election is about 30,600, according to the state election subcommission. The figures include 580 visually impaired, 650 people with hearing loss, more than 1,400 physically disabled, more than 260 with intellectual disabilities, and the remainder being people with other forms of disability.
In June 2015, the Pyidaungsu Hluttaw defined people with disabilities as anyone who has long-term physical, mental, intellectual or sensory impairments, both existing from birth or acquired later in life. According to the 2014 census, the number of people with disabilities in Myanmar is more than 2.3 million, about 4.6% of the population.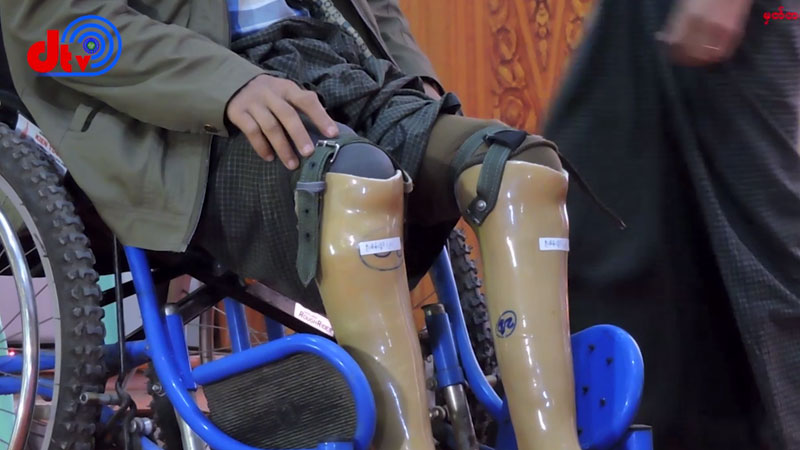 Election bylaws allow a person with disabilities to vote with the help of a member of their family or another person they have designated. The bylaw provision is intended to help people with disabilities to be able to cast their votes more conveniently, but advocates for people with disabilities say much more can and should be done to facilitate the franchise.
U Hla Myint, chair of the Arakan State Association for Persons with Disabilities, suggested that the Union Election Commission should prioritise people with disabilities, doing whatever it takes to make the voting process as easy as possible for them.
"I think the commission should arrange transportation for the voters with disabilities from IDP camps to return to their camps after they voted," he offered as one example.
Ma Htwee May, in-charge of the Arakan State office of the Shwe Min Thar Foundation (Myanmar), said her organisation would provide training for people with disabilities on how to check their names on eligible voter lists that are posted ahead of Election Day to ensure accuracy of the voter rolls.
Ma Win Swe said she supported any efforts to make participating in democracy easier for people like her.
"I do not want to face a similar situation like I faced in the previous election," she said. "How can I get up myself if someone will not help me when I fall to the ground?"