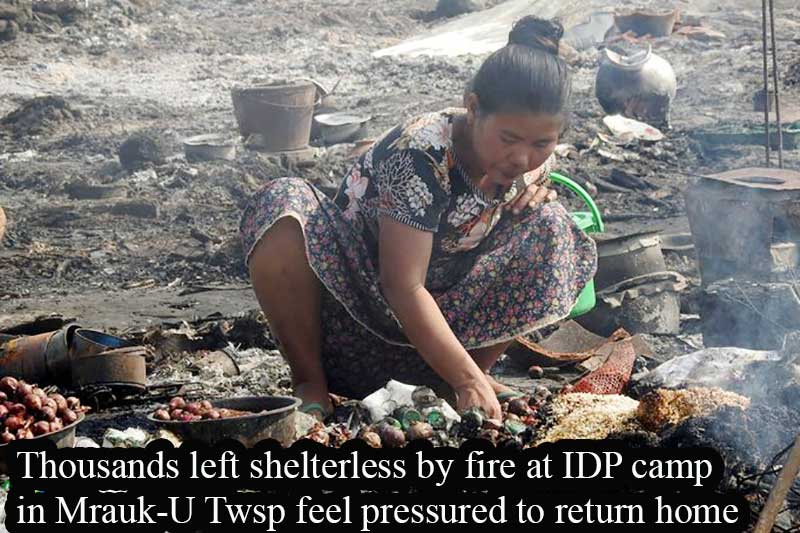 By Aung Htein 
A fire broke out at a camp for internally displaced people (IDPs) in the village of Tin Nyo, in Arakan State's Mrauk-U Township, last week. 
The camp had sheltered 3,355 people from 875 households and 13 villages including Pauk Pin Kwin, Lekka, Aukthakan, Bu Ywet Ma Nyo, who fled the fighting between Myanmar's military and the Arakan Army (AA) in early 2019. 
The fire was reportedly caused by negligence, and reduced 663 huts at the camp to ash, affecting 2,565 IDPs, according to camp manager U Soe Naing. 
The blaze came as a serious blow to the IDPs, most of whom fled the fighting all those months ago with only the clothes on their backs. For many, the fire stole away all of the household items and personal possessions that they'd accumulated since they fled their homes. 
"The day when the fire broke out, I felt as if we were finished. Words fail me. We have nothing left to stand on our feet again after we were hit by war and fire," said Daw Sein Sein from Aukthakan village, who is taking shelter at Tin Nyo IDP camp. 
The chairman of the Arakan State Administration Council and members visited the camp on March 18 and provided some relief supplies to affected households. 
Council member U Than Tun said authorities would not build new shelters for the fire victims, but would arrange accommodation and provide one month's food if they return to their homes. 
"It is impossible to build new shelters at this time. The government would not provide assistance, and there won't be donors. So the best option is you'd better stay here for a couple of days and then return home," said U Than Tun. 
The military-led council will assist with IDPs' rehabilitation and provide farming equipment for them, he added. 
But some IDPs say they dare not return home due to landmine risks and military deployments near their villages, said Pauk Pin Kwin villager U Tun Hla Aung. 
"As long as there are troop deployments, our lives are at risk and not safe. We wish that authorities would withdraw their troops," U Tun Hla Aung said. 
The commander of the Myanmar military's Western Command, Major-General Htein Lin Oo, attempted to offer assurances that IDPs do not need to worry about landmines or troop deployments near their villages, promising to punish any soldier who abuses locals. 
"Our troops do not want to stay there. They also want to go back to their homes, but they have to remain there because of their duties. We are building peace. What is the problem with troops deployed on Mt. Lin Mwe? Do they come down into villages and torture the villagers? If they do, I will take action against them," Maj-Gen Htein Lin Oo said.  
U Kyaw Kyaw, an IDP sheltering at the Tin Nyo camp who lost his home in the fire on March 17, said the Arakan State Administration Council's remarks were a form of pressure regarding the return of IDPs. 
"The Arakan State Administration Council ordered the IDPs to return home, saying it would provide food supplies for one month. It is a bad thing for us to tell people who are in trouble what they need, what they are feeling and how badly they are being hurt," he added. 
The IDPs have been displaced since fighting escalated in Arakan State and are losing out on health, economy, education and social services. 
U Zaw Zaw Tun, secretary of the Rakhine Ethnics Congress (REC), pointed out that the Arakan State Administration Council's statement on the issue of IDPs differs from the two concerns on the IDPs' side. 
"We are optimistic that the authorities will take full responsibility. On the other hand, we need to think about the fire victims. There is a lot of concern that the IDPs have suffered so much. We have to understand their sufferings," he said.  
The fire victims from Tin Nyo IDP camp are currently being housed temporarily inside the compound of the Tin Nyo village monastery and they are in urgent need of food, utensils and clothes. 
The Tatmadaw and the Arakan Army (AA) had been fighting in Arakan State for some two years when they reached an informal ceasefire circa November 2020. With the Tatmadaw's February 1 coup scrambling political calculations across Myanmar, the ceasefire has held to date. 
At the conflict's peak, the number of IDPs in Arakan State surpassed 235,000, but in the relative regional peace that followed the informal ceasefire's nascence November general election, the ranks of the displaced have fallen by tens of thousands as IDPs have begun to return home.