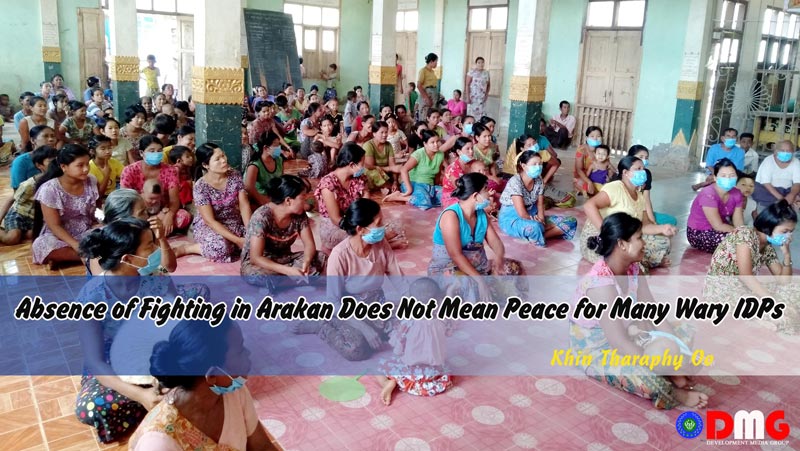 By Khin Tharaphy Oo 
Among the tens of thousands of civilians displaced by conflict between Myanmar's military and the Arakan Army, some have been away from their homes for more than two years. So when a tentative ceasefire was reached circa October 2020, significant numbers of internally displaced people (IDPs) packed their bags and headed home.  
But more than six months since the truce, far more people have opted to remain displaced, for one reason or another. More often than not, an IDP will cite multiple concerns when asked why they've yet to return. Some say they won't go back because they are worried about the risk of landmines laid near their villages and in the forests that they depend on for their livelihoods. For others, their houses were destroyed during the fighting, and/or military troops are deployed near their villages. Worries about the possibility of new clashes are widespread.  
More than 70,000 IDPs are estimated to have returned home so far. Most did not come from former existences in IDP camps, but rather had been staying at the homes of friends or relatives. 
"Only 15,000 of them are from the IDP camps," said U Zaw Zaw Tun, secretary of the Rakhine Enthnics Congress (REC), which is compiling lists of IDPs in Arakan State. 
Nearly 117,000 IDPs have yet to return home, according to the REC: 70,499 from IDP camps and more than 46,000 who are staying at the homes of friends or relatives.  
"I want to return home, but I am worried that new clashes will occur. No one can guarantee that the fighting will not happen again. So, we cannot return home," said Daw Ma Phyu, an IDP from Paletwa Township, Chin State, who is taking shelter in the Arakan State capital Sittwe. 
Neither the Tatmadaw nor the Arakan Army have issued any kind of formal ceasefire declaration, though the regional situation is stable at the moment. The lack of a concrete peace assurance has left many IDPs worried about fresh clashes, which they fear could flare anew any time. 
There is also the question of what IDPs would be returning to, given that in some cases "home" no longer includes a house, or a livelihood.  
"I don't know what job I should do, though I want to return home," said Daw Ma Saw Phyu, a resident of Kyauk Yan Tharsi village in Rathedaung Township, who is sheltering at Pahtan Monastery in Sittwe. "And I am facing a financial crisis to return home. Also, my home was destroyed. So, I cannot return home." 
U Hla Thein, spokesperson of the Arakan State Administration Council, has said the council will provide what the IDPs require when they return home. 
Previously, regional charity groups provided relief aid for IDPs, but it has been some months since these organisations have lent a hand. These days IDPs are provided K15,000 per month per person by the World Food Programme, and cooking fuel and food are supplied by the International Committee of the Red Cross (ICRC). 
IDPs are facing even more financial strain since the military coup on February 1, with disruptions to the economy due to the ensuing political turmoil resulting in rising prices for commodities and groceries. The monthly K15,000 stipend, which IDPs said was previously sufficient, simply does not have the same purchasing power it did three months ago. 
IDPs find themselves working any job available to make ends meet, according to Daw Nu Nu Yin, one of Arakan State's displaced. 
"I am working as a mason. I am paid K4,000 ($2.56) or K5,000 a day. But it is not sufficient for my family," she said.  
Some IDP camps in Rathedaung, Ponnagyun and Minbya townships are also facing water shortages, with IDPs having to buy water using already stretched financial resources. 
Ko Zaw Zaw Tun of the REC said shelters at some IDP camps do not have sturdy roofs or walls, so IDPs might face accommodation difficulties during the monsoon season. 
"New buildings cannot be built at IDP camps apart from Tin Nyo IDP camp. Roof, wall and floor are dilapidated, and might be destroyed in the coming monsoon," he said. 
For now, these ramshackle dwellings are nonetheless considered the better of two possible existences for many IDPs; a sobering indicator of how far Arakan State remains from true peace and stability.