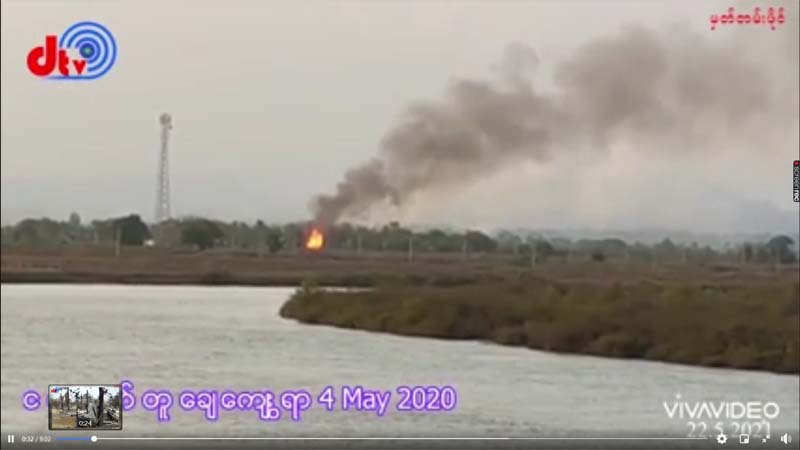 DMG
25 May 2021, Kyauktaw

A total of 1,210 houses from 45 villages in Arakan State and Paletwa Township, Chin State, have been destroyed during the armed conflict between the Tatmadaw and Arakan Army, according to figures compiled by the Rakhine Ethnics Congress (REC).

Broken down by township, the houses total 399 from Kyauktaw, 244 from Paletwa, 209 from Mrauk-U, 164 from Rathedaung, 163 from Buthidaung, 28 from Minbya and three from Ponnagyun, the organisation said.

U Zaw Zaw Tun, secretary of the REC, said the houses were destroyed over the course of the two-year conflict between the Tatmadaw and the AA, which began in late 2018.

The REC's latest figures are based on the best available data, though the numbers cannot be considered exact, he said.

"We cannot compile the list during the clashes for security reasons. Our staff listed them by visiting affected villages after the fighting. However, we cannot confirm all the data but we compiled the figures by combining the data our staff listed on the ground and data received from informers," he explained.

The Arakan State Administration Council is currently rebuilding K5 million worth of houses, and more than 190 houses are being constructed in Lekka village, Mrauk-U Township.

U Hla Thein, information officer of the Arakan SAC, told journalists at a May 18 news conference that the council would provide IDPs with K5 million for fully destroyed houses, K2 million for partially destroyed houses and K500,000 for houses that need to be repaired though they were not affected by the fire that raged through Lekka village in March 2020.

"We provided them with basic food such as beans, edible oil, rice and salt. It is for a month. We have arranged to provide tractors for farmers who have farmland," he said.

U Zaw Zaw Tun said authorities also need to consider the emotional and physical security of the residents, and to create a situation in which they can return to their normal lives when the council plans for the resettlement of the IDPs.

"If these two factors are not considered for IDPs when they are returning home from the camps, they will not find a remedy for their trauma and fear. So, there will be no change for them," he said.

A total of 197 houses from Lekka village were burnt down on March 16 of last year. Residents of nearby villages said that the fire started from the south of Lekka village after hearing some gunfire following a Tatmadaw column's march from Tinnyo village into Lekka.

The Tatmadaw True News Information Team on May 17, 2020, said at a news conference that the Tatmadaw did not torch the houses.

U Maung Thein Tin, a resident of Lekka village, said damage from the fire cost about K30 million.

"A [typical] house is worth about K1.8 million. A paddy warehouse costs about K2 million. More than 500 baskets of paddy were also destroyed during the fire. In total, it may be more than K30 million," he said.

Since the council has arranged to rebuild houses in Lekka village, some villagers have returned home and are living in their village.

Daw U Win Yin, a resident of Lekka village, said she returned home because the council said it would provide food for three months and rebuild houses.

"They [Arakan State Administration Council] told us that fighting was halted and we could return home. And, they will rebuild houses and provide food when we reach our village. I hope they will really implement the promise," she said.

There are more than 2,000 villagers from more than 300 households in Lekka village. Villagers displaced from their homes have been sheltering at IDP camps such as Peepinyin, Tin Nyo and Buywet Mahnhyo.

During the armed conflict, 27 Lekka villagers were arrested on suspicion of having ties to the AA, and three of them were killed during interrogation. More than 20 of them have been facing trial at the Sittwe Township Court for more than two years, facing charges under the Counter-Terrorism Law.

On March 11 of this year, the State Administration Council's Anti-Terrorism Central Committee announced that it had delisted the AA as a terrorist group.

Family members expected that those accused of illegal AA ties would see those charges dropped following the delisting, but that has yet to occur.

Daw Thein Ma Yay, the wife of U Khin Maung Soe, who is one such defendant, said she had prepared paddy seed to cultivate this monsoon season as she expected her husband would have his charges dropped.

"I pity my father. He is 80 years old now. He has helped me with everything while my husband has been detained. I hope my husband will be released and I prepared paddy seeds to grow when he returns home," she said.

According to figures from the Thazin Legal Institute, more than 200 people have been charged under the Counter-Terrorism Law during the fighting in Arakan State.

The conflict in Arakan State has not seen active fighting for about six months.