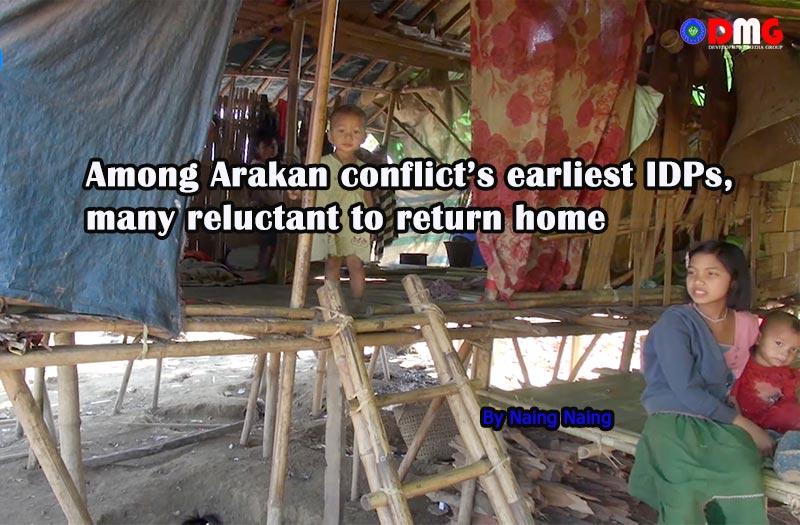 By Naing Naing
Fighting between the Tatmadaw and the Arakan Army (AA) once raged in the Taw Phyar Chaung area of Arakan State's Ponnagyun Township, forcing many residents to flee their homes.
It was among the earliest battlegrounds in the two-year conflict between Myanmar's military and the ethnic armed group that began in late 2018, and hundreds of people internally displaced (IDPs) by the clashes ended up in Ahtet Thinpontan village. They are considered some of the first IDPs of the regional conflict, and today many remain at the Ahtet Thinpontan village displacement camp, where amenities and services are better than what they would have in their remote home villages, if they were to return.
"It would be good if there was peace in this area. In case fighting breaks out again, no one wants to go home. The IDPs do not dare to return to their areas because of the possibility of fighting," said Ma May Than Nu, an IDP from Jyotsone village in Ponnagyun Township. "There are difficulties for the IDPs to return home. We were worried because we could not go home by road; we could only use the waterway to return home. We have to stay here because we are worried about everything."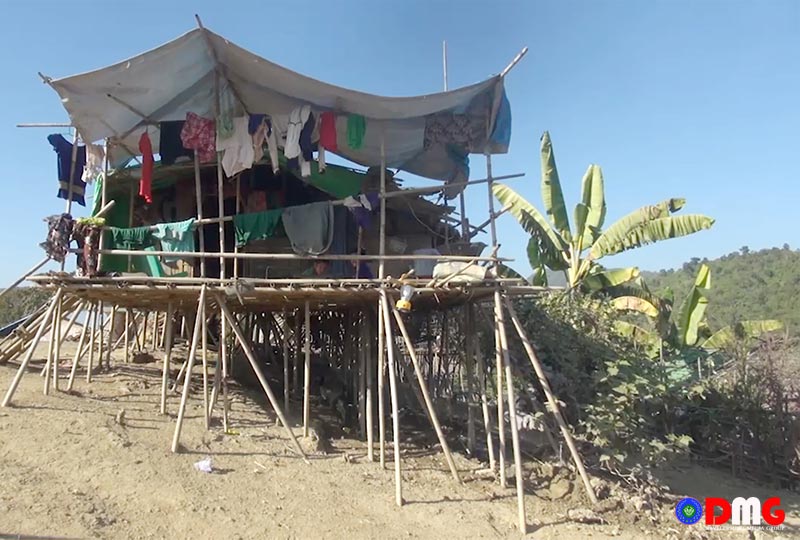 The upper reaches of the Taw Phyar Chaung is home to the ethnic Mro people. The area is far from urban centres and difficult to access by road, and its social and educational institutions remain underdeveloped.
U Thein Win, the administrator of Thinpontan village, said that among the IDPs in the area, many did not want to return to their homes because there was no infrastructural development.
"When the IDPs are living here, they can go to the hospital conveniently if there is a health problem. They can buy medicine here due to good transportation. They have problems because there is no motor road or waterway in their hometown," he said.
Nearly 500 people are sheltering at the Hpar Kywel IDP camp in Ahtet Thinpontan village, with many having fled from villages such as Phet Wun Chaung, Ah Waing Taung, Thabyu Chaung and Nat Tha Rwe Reh.
They have been living in the displacement camp for almost three years and do not want to return to their home villages due to the underdeveloped infrastructure, and health and education systems there, echoed U Than Myint, manager of the Hpar Kywel IDP camp.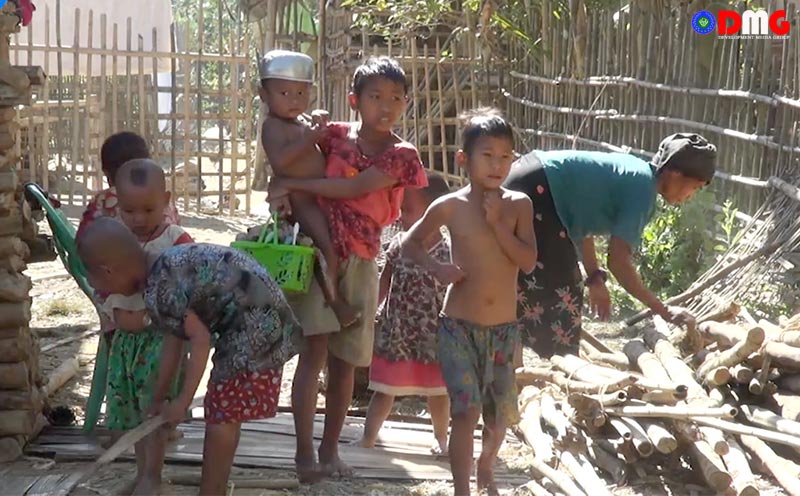 "Here, everything — such as health and education — is good for them," he said, adding that concern about landmines was also holding back home returns for some.
"Some IDPs will return home and some will not return home when the landmines are cleared after the talks between the Tatmadaw and the AA," U Than Myint predicted. "If we return home, it will be difficult to earn a living. If we go back now, we will encounter livelihood hardships."
He went on to say that some IDPs wanted to return to their homes but were unsure of whether to do so.
"I think we will stay here as time goes on. Of course, we have no plans for the future," said Ma May Than Nu, the IDP from Jyotsone village.
Fighting between the military and the Arakan Army has not been seen in Arakan State for more than seven months, but the risk of encounters with explosive remnants of war (ERWs) and landmines has made it difficult for many, among more than 100,000 remaining IDPs, to return home.