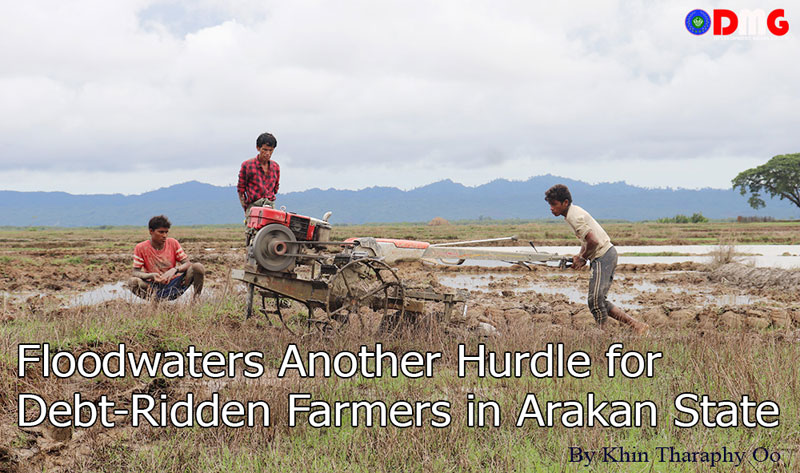 By Khin Tharaphy Oo 
The farmlands of some farmers in Arakan State have been destroyed by floods that occurred in July and lasted over a week, with the farmers reportedly facing many difficulties. 
More than 12,800 acres of farmland from about 10 townships in Arakan were destroyed by the flooding, according to data from the Arakan Farmers' Union (AFU). 
Farmers who have struggled with debt under successive governments have had to borrow money every year. Most farmers have to borrow money to pay deposits to farmland-owners for lending farmland and labourers. 
The difficulties that farmers have faced are not the same. Some farmers need to replant the paddy as their crops were destroyed. 
"As all our crops were washed away in the flood, we will have to regrow the paddy. We don't have money to buy rice seedlings. So, we will have to replant from the rice strain. However, it is impossible to replant from rice strain as we don't have enough time," said farmer U Kyaw Win from Shwe Pyi Thit village in Kyauktaw township. 
Although there were many farmers who sold rice seedlings before, the number of such farmers has decreased now. 
Therefore, farmers have faced difficulties in buying rice seedlings. They have to give a high price to be able to buy rice seedlings as there are many buyers. They have to borrow money from traders in advance to buy rice seedlings to be able to grow in the monsoon season. 
Most farmers have to borrow money not only to buy rice seedlings but also rice strains and fertiliser. Most farmers in Arakan State have to borrow money every year. Farmers, who are struggling to earn their family's keep and do work with loans, have faced many difficulties as their crops were destroyed by the flooding. 
U Tun Myint, head of the state's Department of Agriculture, said: "If the village administrator is accountable for farmers who are really poor, we wait temporarily until they pay off their purchase." 
Farmers, however, do not know about the sale of the state agriculture department until August 17. 
"Farmland should not be abandoned. So, farmers buy rice strains and replant paddy. In our village, farmers have been replanting paddy. We haven't known about the government's support," said U Tun Tun Myint, the Shwe Pyi Thit village administrator in Kyauktaw Township. 
Myanmar Agricultural Development Bank (Arakan branch) has disbursed loans for farmers since the first week of August, said manager U Aye Thein of the bank. 
In Arakan State, the bank has provided K79.8 billion of agricultural loan to grow monsoon paddy in 2019, but only K11.10 billion has been paid off until May 27, 2020, according to the figures of MADB (Arakan branch). 
"Farmers have faced many difficulties. They mainly need rice strains and fertiliser," said U Aung Kyaw Zan, chair of Arakan Farmers' Union. "There is also farmland that was destroyed by the floods. Farmers need support for such destroyed farmland." 
There are about 1.2 million acres of paddy fields in Arakan State, and farmers have grown paddy on some 850,000 acres in 2021 as lower numbers have been attributed to farmers still displaced from their homes by the conflict, and rising agricultural expenditures. Currently, emphasis has been on the need to replant paddy in time on flood-affected farmland. 
Around 3,000 acres of paddy fields in Mrauk-U Township; about 2,500 acres in Kyauktaw Township; about 1,600 acres in Rathedaung; about 1,500 acres in Ponnagyun; about 1,400 acres in Pauktaw; about 1,200 acres in Taungup; about 500 acres in Minbya; about 480 acres in Thandwe; 320 acres in Maungdaw; and about 300 acres in Buthidaung were destroyed by floodwaters.  
The Arakan State military council has said only about 600 acres of paddy fields were destroyed statewide in the flooding.