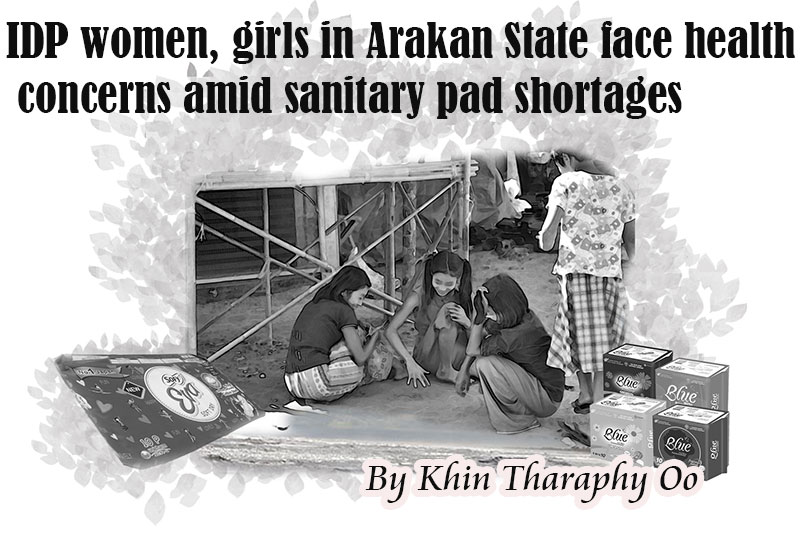 By Khin Tharaphy Oo 
More than 95,000 internally displaced people (IDPs) have yet to return home though fighting in Arakan State has ceased for about 10 months. Among them, the number of IDP women and girls is estimated at more than 51,000, according to figures from the Rakhine Ethnics Congress (REC). 
With that number representing a population larger than most cities and towns in Myanmar, humanitarian aid provisioning to meet feminine hygiene needs is a significant challenge — and one that the country is falling short of meeting.  
The responsibility for providing sanitary pads for displaced women and girls in need has fallen to a mix of international nongovernmental organisations, private donors, and local charities and civil society groups. 
But Ma Wai Wai Hlaing, a 17-year-old resident of Kyet U Wa village in Chin State's Paletwa Township who is sheltering at the Ohn Yay Phaw IDP camp in Arakan State's Mrauk-U Township, said she has to buy her own sanitary pads because she no longer receives pads from those organisations. 
"I have to save to buy sanitary pads because we have not been provided them for a few months. And, a pad is K200 and I cannot afford to buy them as I require. I face difficulty with my health," she explained. 
Many cannot afford to buy an entire package of sanitary pads, so they instead buy them individually at K200 per, a price that has risen as has the cost of many goods during the Covid-19 pandemic. 
The Rakhaing Women's Initiative Organization (RWIO) says it will urge donor organisations to consider the need for additional feminine hygiene assistance for IDP women when they provide aid to the IDP camps. 
Saw San Nyein Thu, chairwoman of the RWIO, said she was concerned about the health of IDP women as some, like Ma Wai Wai Hlaing, cannot use sanitary pads as their monthly cycle requires. 
"I am worried about their health as they are facing difficulty to use enough pads for their health when the donation of pads for them is decreasing," she said. 
Ko Zaw Zaw Tun, secretary of the Rakhine Ethnics Congress, said IDP camps are facing sanitary pad shortages because the camps are not receiving them currently through the World Food Programme (WFP) and the International Committee of the Red Cross (ICRC), which had provided pads previously.
"At the moment, relief aid organisations do not reach the IDP camps due to budget. As they do not reach the camps regularly, the IDP women are facing a shortage of sanitary pads. Other donors are seeking to provide the pads for women. But it is not enough for them," he said. 
Ma Wai Wai Hlaing, an IDP woman, said she stays at home if she cannot buy or otherwise obtain sanitary pads during her period. 
"I cannot afford to buy medicine to relieve my cramps," she added.  
As a general rule, health experts suggest that a sanitary pad should be used for four to eight hours maximum, but many IDP women have to use just one pad the whole day due to insufficient supplies.  
Ma Saw Moe Thein, a resident of Pauk Pyin Kwin village who currently lives at Tin Nyo IDP camp in Mrauk-U Township, said: "It has been two months that we have not received a sanitary pad from donors. We have to be thrifty using them because our family has many women. We can use just a pad a day." 
Daw Thar Nu Phyu, another IDP woman, told DMG she was well aware that using a pad beyond the recommended number of hours was not good for health. But with three adult daughters, she said health considerations often must take a back seat to the financial realities of life displaced. 
"It is lucky if we are able to use a pad a day," she added. "Money is scarce now as we are taking shelter at an IDP camp. So, we cannot buy enough pads for all of us."