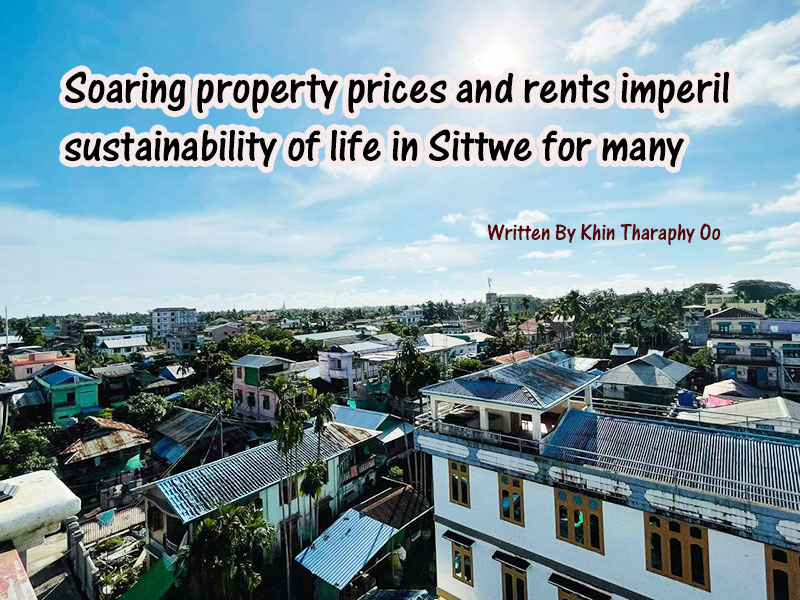 Written By Khin Tharaphy Oo 
The price of land in Sittwe, the capital of Arakan State, both in town and outside the town, is increasing at an astonishing rate. 
The price of a 40-ft-by-60-ft land plot in 2015 was more than K100 million, but the current asking price of such a plot exceeds K300 million. Lands in the wards of downtown Sittwe are fetching the highest prices. 
U Khin Maung Gyi, vice chair of the Rakhine Economic Initiative Public Company (REIC), said property prices have soared because landowners are speculating as the number of people relocating to Sittwe is increasing. 
"From my point of view, the landowners are asking for a higher price and the growth of property prices began when more people from armed conflict areas started moving to Sittwe for their safety," he said. 
There was fierce fighting between the Myanmar military and Arakan Army in Arakan State for about two years, from December 2018 to approximately November 2020, displacing tens of thousands of people from their homes.  
Some of them took shelter at IDP camps or stayed at their relatives' homes, while others bought land to settle in Sittwe, contributing to the red-hot property market in the Arakan State capital. 
Daw Khaing Thida Saw of the "Aye Sar" real estate agent, said buyers want houses on the main roads and that this sort of prime real estate is typically going to the highest bidders.  
"Some buyers paid higher prices than the market price as they wanted to get properties on the main roads. So, the owners are asking higher prices after comparing with a house that was sold at a higher price. They say, 'Our house is better than that house and we should ask for a higher price than that house.' By this means, the price of property is soaring," she said. 
Under the since-deposed National League for Democracy (NLD) government, the Department of Development Affairs in Arakan State acknowledged that the state government had some difficulties curbing rising property prices in Arakan State. 
The coup's effects on property prices in Sittwe  
After the military seized power on February 1 of this year, anti-coup protests and resistance attacks occurred frequently in several of Myanmar's regions and states including Yangon. 
Thus, Arakanese people in Yangon and other areas throughout the country sought to resettle in Arakan State, where fighting has ended and the situation is relatively peaceful. 
The number of post-coup returnees to Arakan State has been so high that guesthouses, apartments and houses in Sittwe are full. This large-scale return of Arakanese from different regions and states is another factor pushing up property prices in Sittwe. 
"When the National Unity Government declared a state of emergency and announced the people's resistance war, Arakanese people outside Arakan State returned home and bought houses in Sittwe. So, sellers might ask for higher prices in that situation as they want to get more money," said U Khin Maung Gyi, vice chair of REIC. 
U Kaung Thu Win, founder and director of Shwe Property, predicted that the property market in Sittwe, which was hit hard due to Covid-19, would not rebound in 2021 due to political instabilities.  
Though sellers are asking for higher prices in Sittwe, sales are slow. Houses with asking prices of K1 billion or higher are rarely sold. Property agents say real estate sales in Sittwe are down from 2020. 
U San Shar Aung, a real estate agent, said: " There are [few] property sales, though the owners are asking for higher prices." 
Currently, houses worth about K10 million in Sat Yoe Kya and Kae Sae Yay wards in Sittwe are selling. 
Inconvenience withdrawing cash from the banks after the coup has also partly affected the performance of the property market in Sittwe. 
Rents rising too 
Along with the price increases of properties for sale, rental rates for apartments and houses in Sittwe are increasing in 2021, causing people difficulty to find an apartment or house with rent of less than K150,000 a month.  
Renting a room for individual use at a hostel was about K30,000 in 2019 and 2020, but has risen to more than K50,000 this year. 
Ko Maung Hla Kyaw, an NGO employee who rents a house in Sittwe's Pyi Taw Thar ward, said: "I rented the house before the price rose. The monthly rent is K200,000. I think the rent will be higher when I extend the contract." 
Ma Phyo Wai Tun, who is from Mrauk-U and works at a company in Sittwe, said she faces difficulty to provide money to her family because she is burdened with higher expenditures for her apartment rent and food.  
"I have to pay K50,000 a month for the room. As I rent a room at a house, I have to try to be satisfied living with the people who own the house. I want to rent an apartment separately, but I cannot afford it as my salary is K300,000," she said.  
And still, a salary of K300,000 is significantly higher than many people at the grassroots level earn, making rising rents a clear challenge to the sustainability of living in the Arakan State capital.