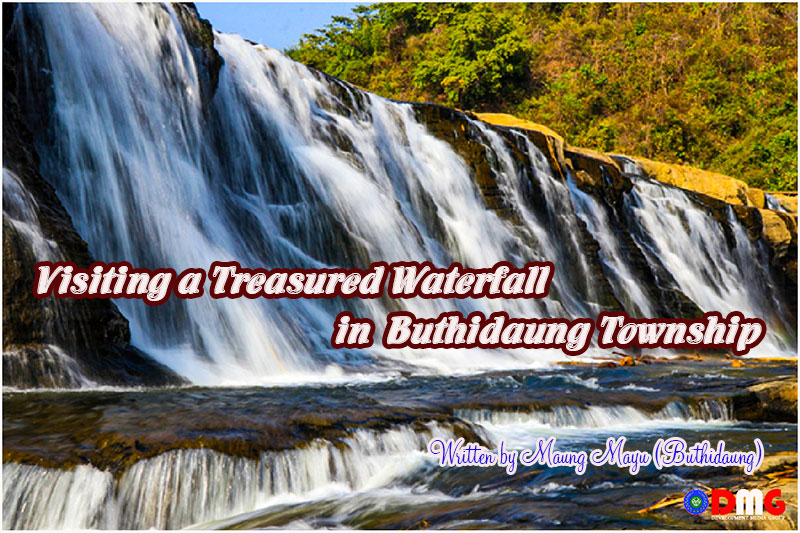 Written by Maung Mayu (Buthidaung)

People within Arakan State and beyond travel to Sai Din Waterfall for fun and leisure.
The waterfall in Buthidaung Township was crowded with visitors over the past year. It is expected to teem with equal numbers or even more people next year due to the cessation of hostilities between the Myanmar military and Arakan Army (AA), and Covid-19 infection rates that, at least for now, are in decline. Therefore, I would like to tell past and future visitors a little bit about Sai Din Waterfall.

Sai Din is said to be the biggest and most beautiful cascade in Arakan State. If you want to go to Sai Din Waterfall, you can go directly by water along the Mayu River, or through Buthidaung. If you want to go to Sai Din Waterfall via Buthidaung, you can take the Buthidaung-Rathedaung road to Done Thein Temple by car. Done Thein is a famous historical temple in the Sai Din area. Sai Din jetty is located in Kin Taung village next to the Done Thein Temple. Visitors can rent a small motorboat from the jetty and enjoy the trip to Sai Din Waterfall.

Sai Din Waterfall is located at the confluence of the Sit and Rei creeks, where you can see beautiful rock formations. Visitors can relax along the banks of both creeks or at the confluence and falls. There are many small waterfalls, stream pools and ponds in this area, so it is convenient for those who want to swim.

In the past, there was a historical city called Sai Din located near this waterfall. The exact location of the city of Sai Din is still disputed, with most historians agreeing that more study is needed. There are two interesting oral histories about the city of Sai Din. According to oral histories, a queen was abducted by a crocodile who lived in Sai Din, and the story of a king who ruled Zambudip Island and cut off the queen's neck while searching for immortality in the Sai Din Mountains. The history of the crocodile abduction can be read in an article by Maung Mayu (Buthidaung) in the book entitled "Combination Letters No. 2". You can read about the king who sought immortality in the article by Maung Mhan Aung (Kyein Myay) in the book titled "Research Journey to the Mayu Shinma Shrine".

Over the course of Sai Din's history, it has been known as Sit Tan Tin, Sein Tin and See Tin. It was renamed Sai Din in its later years. "Sai Din" is believed to have evolved from "Sit Tan Tin", meaning the water of Sit Creek above the Sai Din Mountains — in other words, a waterfall formed by Sit Creek.
Nowadays, the name Sai Din is not the only thing that has changed. Natural conditions at and around the falls have changed too. It's good to change for the better, but not for the worse. About a decade ago, a project was planned to generate hydropower from Sai Din Waterfall. As a result of the project, rocks were moved and bamboo was cut down, but in the end the project was not implemented. Conditions were negatively impacted and old buildings were left in disrepair. The project compromised the area's natural beauty. There have been major losses as well as minor ones.
Minor damage is mainly caused by visitors to Sai Din Waterfall. Visitors enjoy drinking and partying at Sai Din Waterfall and carelessly throwing away leftovers after eating. As a result, the waters get dirty. Garbage is scattered around Sai Din Waterfall. Broken bottles and beer cans can be found scattered among the rocks. I saw these things when I visited Sai Din Waterfall last year. Unchecked littering could damage the ecosystem of Sai Din Waterfall. Last year, amid growing concern about the local environment, charitable organisations in Buthidaung went to Sai Din Waterfall to collect garbage.
Visitors need to be disciplined when visiting Sai Din Waterfall. If you have trash, you need to dispose of it properly. Even if you do not have a trash can, you still need to pack your food and keep it in a safe place. Garbage collection teams will also be able to easily pick up garbage if the trash is left systematically. Also, when holidaymakers visit Sai Din Waterfall, vendors often appear at Sai Din Waterfall. These sellers also need to dispose of their waste properly.
Prominent places in Arakan State are naturally beautiful when left undisturbed, but when visiting hordes of people arrive, they can become ugly with garbage. Therefore, it is necessary to preserve nature and behave in a disciplined manner. Sai Din Waterfall is one of the most important waterfalls in Arakan State and needs to be preserved as tourism services may expand in the future. It is also a historical site where much has yet to be learned.