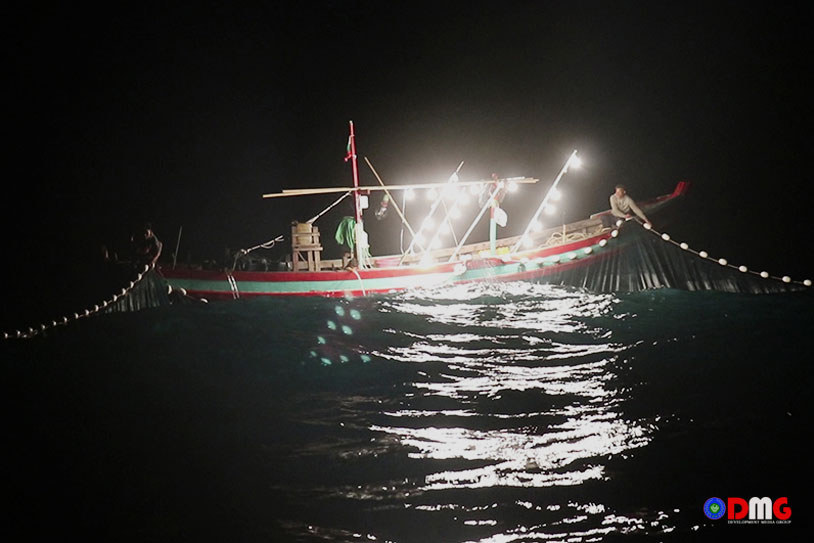 Written by Thiha 
Myanmar is the second largest country in Southeast Asia, with a land area of 261,228 square miles (676,578 sq km). Myanmar's coast spans about 1,385 miles, from the mouth of the Naf River in western Arakan State to Kawthaung, Tanintharyi Region, in the country's southeast. 
Because Myanmar has a vast coastline, many fishermen depend on the sea for their livelihoods, and to support their families. Marine resources include fish, shellfish, and a variety of other fishery products. 
According to the Department of Fisheries, there are 3,200 offshore fishing vessels, 19,192 inshore fishing vessels and 260 other fishing vessels engaged in fishing activities in Myanmar's coastal regions. There are also many fishermen in Arakan State, a coastal region. About half of the Arakan State's population is dependent on fisheries for their livelihoods. 
According to field surveys conducted from 2012-18, the fisheries resources in the Arakan coastal area are currently 40% lower than Myanmar's other coastal regions, a senior Fisheries Department official told DMG in 2020. 
Fishermen say fish species that were once abundant in the Arakan Sea are now rare. The amount of shrimp being pulled from Arakan State waters is also reportedly reduced.  
As marine resources become scarce, fishermen are finding it difficult to make ends meet. Amid declining incomes, rising commodity prices have put fishermen in a difficult position. Experts say the depletion of fish stocks is due to unregulated fishing, deforestation and pollution. 
Unregulated Fishing 
Fishing that does not comply with the prescribed regulations — such as the use of trawl nets, poisoning, and blast fishing — is a major part of the problem. 
To prevent the depletion of fishery resources, the Department of Fisheries has designated June, July and August as a non-fishing season, but compliance is weak, said an official from the department.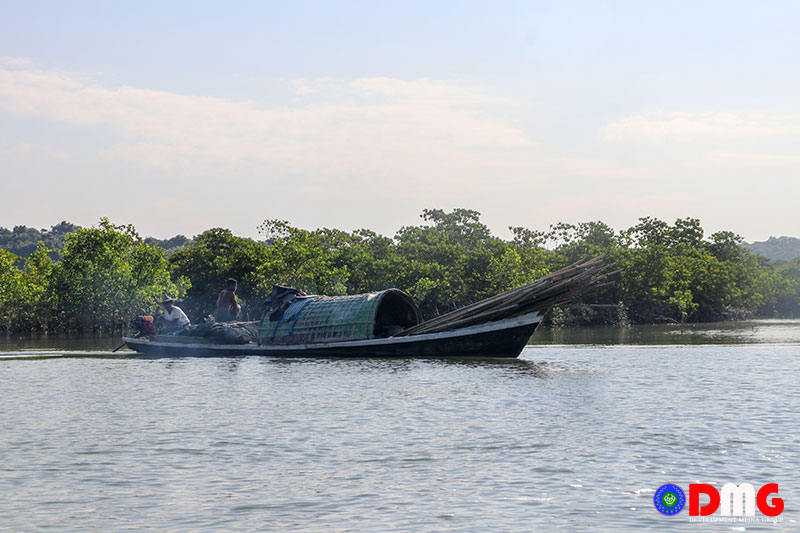 U Thet Oo, director of the Arakan State Department of Fisheries, said that despite a law imposing fines of K300,000 and up to 10 years in prison on those who use fishing methods banned by the Department of Fisheries, rule-breaking is commonplace. 
"Drift netting is one of the worst forms of illegal fishing. This method is used by both offshore and inshore fishing boats. Drift netting damages the seabed," he added. 
Drift net fishing can do damage to plant life on the seafloor, disrupting marine food chains. Many marine animals are also harmed by the trawl nets. The same is true of electric fishing.  
In addition to these factors, fishing by foreign vessels entering Myanmar waters is exacerbating the overfishing problem. 
Mangrove Deforestation 
Mangrove forests are an important breeding ground for shrimp, which lay eggs in the mangroves.
But we humans are turning these precious mangroves into charcoal, while some mangrove forests are converted into salt fields. Other mangrove forests are being cleared to make way for housing projects. As a result of these changes, mangroves are slowly disappearing in Myanmar.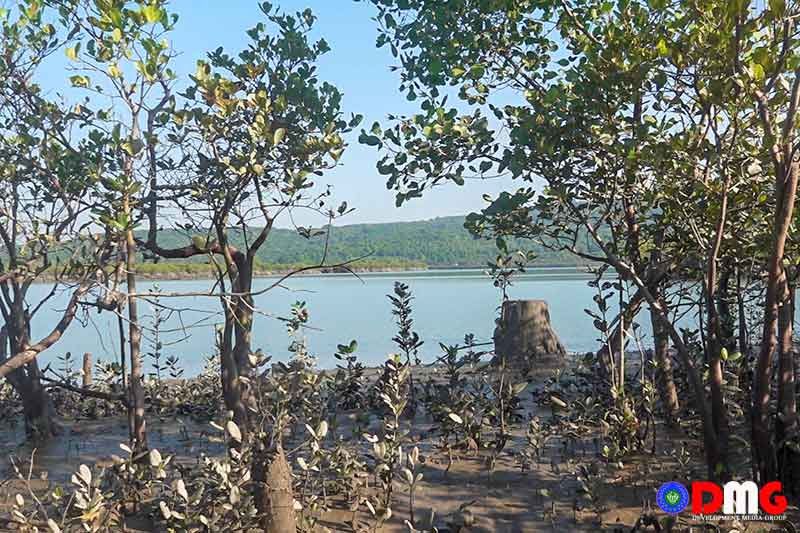 The Forest Department compiles and updates information on mangrove forests throughout Myanmar once every five years. The most recent tabulations, from 2015, found that Arakan State had 395,726 acres of mangroves in total. There are 5,320 acres of mangrove forests in Maungdaw District, 7,463 acres in Sittwe District, 148,268 acres in Mrauk-U District, 83,660 acres in Kyaukphyu District and 83,876 acres in Thandwe District. 
"Previously, there were more than 400,000 mangrove acres in Arakan State, but now there are less than 200,000. The locals did not know how to preserve the mangrove forests, so they did what they wanted to do, so the mangroves were cut down," said Dr. Maung Maung Kyi, chairman of the Rakhine Coastal Region Conservation Association (RCA).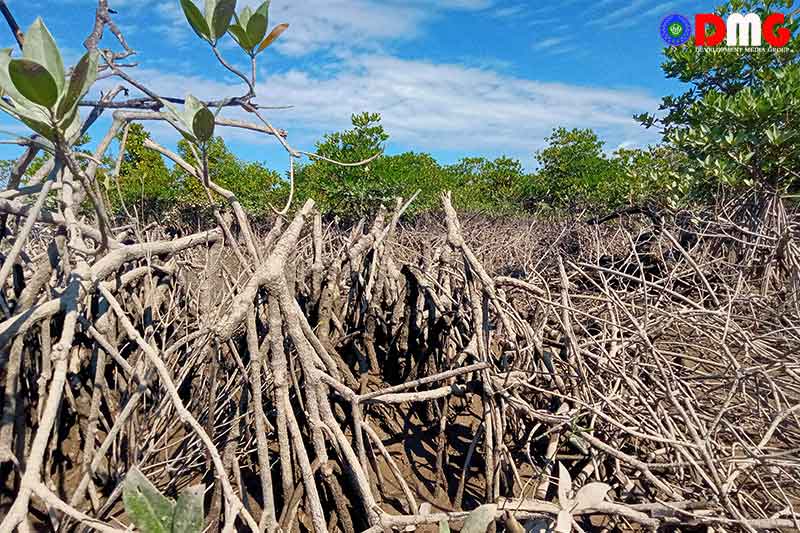 Mangrove plants are also cut down to develop areas for prawn or fish farming, or to make way for dams, destroying the habitats of aquatic wildlife, mangrove conservation activists say. 
"These mangroves are being destroyed to develop areas for prawn farming. In these mangroves, fishing is done with tiny nets. So all the young fish died," said Ko Myo Lwin, a mangrove conservationist in Ann Township. 
As the coverage area of Arakan State's mangrove forests shrinks, so too do fish and prawn spawning grounds, experts reiterate. 
Pollution 
Although impactful projects are said to be aimed at regional development, the lack of a transparent environmental/social impact assessment (EIA/SIA) process has left local people suffering more than benefitting from many of these projects. 
The India-funded Kaladan Multi-Modal Transit Transport Project, the Shwe oil and gas project, and the Kyaukphyu Special Economic Zone are three of the biggest and most impactful development projects in Arakan State. The projects have been frequently criticised by locals for damaging the environment and destroying marine life.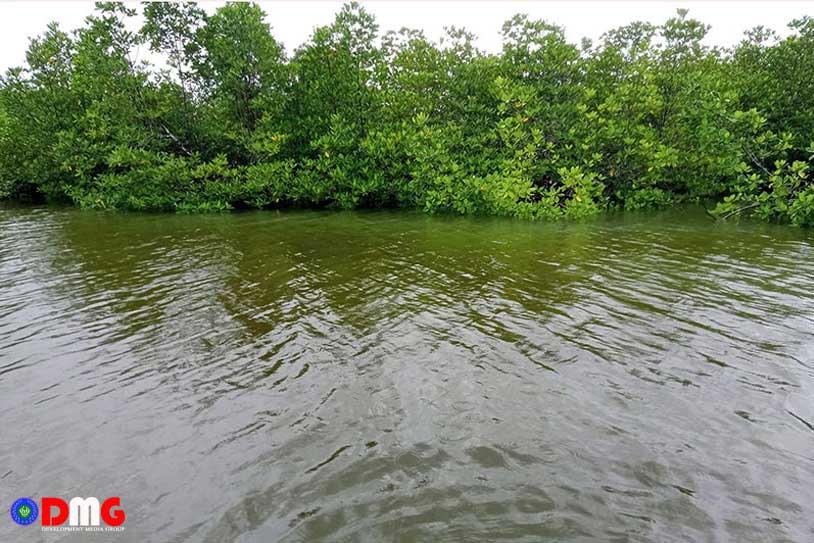 Marine life has also suffered as a result of water pollution in the Thanzit River in 2018, 2019 and 2020. People suffered dermatitis and other skin problems after exposure to the polluted waters. Local people are worried about the potential recurrence of such water pollution in the Thanzit River.  
In lab test results in 2018, the environmental group ALARM Myanmar said contaminated water from the Thanzit River was found to have lead levels 10 times higher than normal and phenol compounds 26 times higher than the standard level.