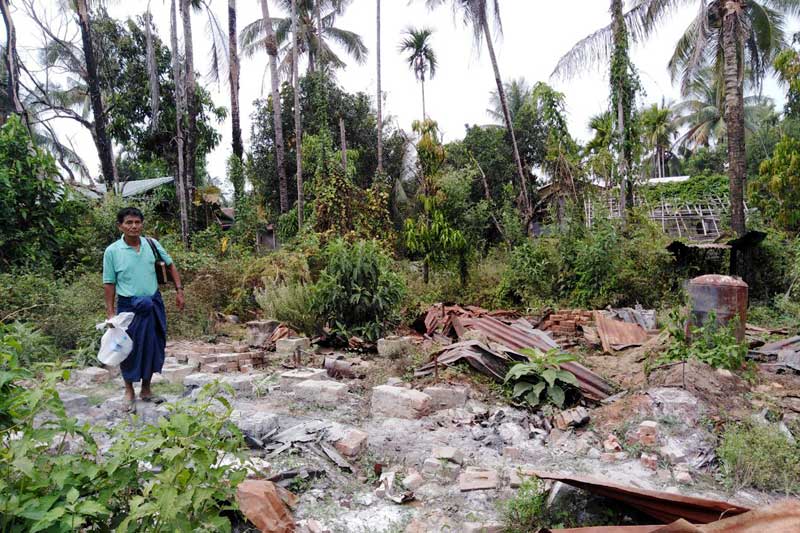 Written by Min Tun
An abandoned village with burnt out houses and overgrown vegetation stands in isolation east of the Kaladan River. It used to be a large and lively village, home to some 600 households in Kyauktaw Township, Arakan State.
Tinma village was once a so-called "model village," with a cottage hospital and a basic education high school that neighbouring villages also relied on. Today, the village is anything but a model. Scores of homes in Tinma, as well as the village monastery, were damaged or destroyed in fighting between Myanmar's military and the Arakan Army (AA), which plagued much of Arakan State from late 2018 to 2020.
The village was deserted some two years ago when its inhabitants fled the hostilities. On March 23 of last year, some Tinma villagers and former lawmakers went to the village to check on its condition. 
"It was a horrible sight. We lived there for good or for bad in the past. However, it is now just heaps of ashes and a tract of bushes. I feel very sad," said Tinma villager U Saw Thein, who was part of the visiting delegation.
Having fled Tinma, U Saw Thein and his family currently live a miserable existence in a tiny room at a camp for internally displaced people (IDPs) in Kyauktaw.
"I don't want to live an IDP's life anymore," said the 51-year-old man, who added that the future looks bleak through his eyes.
U Saw Thein and his family made a living by farming before they moved to the IDP camp. He grew vegetables and his wife sold them at the local market. Though they were not well-off, they did have a happy life, said U Saw Thein. Today, he is forced to seek out casual jobs to support his family. 
"I have no possessions," he said. "We fled with only the clothes on our backs and we have always had a hard time. We are now living a life of refugees who always hope someone will come and make donations. And I am really tired of it."
U Saw Thein is not alone. Many other Tinma villagers also want to return to the village. In April and May of last year, Tinma villagers asked authorities to help them return to their village. In late June, officials from the Kyauktaw Township General Administration Department and Immigration Department, as well as police and military authorities, met with Tinma villagers and discussed their return.
The Arakan State military council said it would clear mines, rebuild houses and provide food supplies for the villagers, promising that the Tinma villagers would be able to return to their village by October of 2021.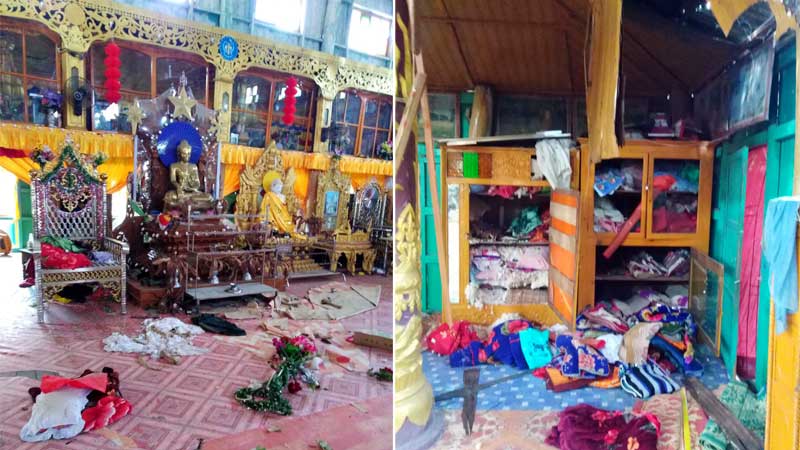 That prospect offered a ray of hope for the Tinma villagers, who had long awaited a defined timetable for their return. The excited villagers formed a committee to take charge of rebuilding Tinma, and also met the Arakan State military council on September 2 to discuss the work to be done to rehabilitate the village.
But in October, the villagers were informed that their return was denied by senior authorities, said Tinma village administrator U Maung Kyaw Win.
"We were told that there was no permission from the upper level. We have a lot of trouble staying at the IDP camp. We only want to go back to our village. It is our top priority," said the administrator.
Tinma villagers have repeatedly sought authorities' permission to return, even seeking assistance from the chairman of the State Administration Council, Senior-General Min Aung Hlaing. The Tinma villagers said they sent a seventh letter to the junta chief on March 3 as nothing had happened to resolve their plight.
Venerable U Wayamida, the abbot of the Tinma village monastery, said local residents had repeatedly demanded resettlement because they wanted to rebuild the abandoned village and start their lives there anew.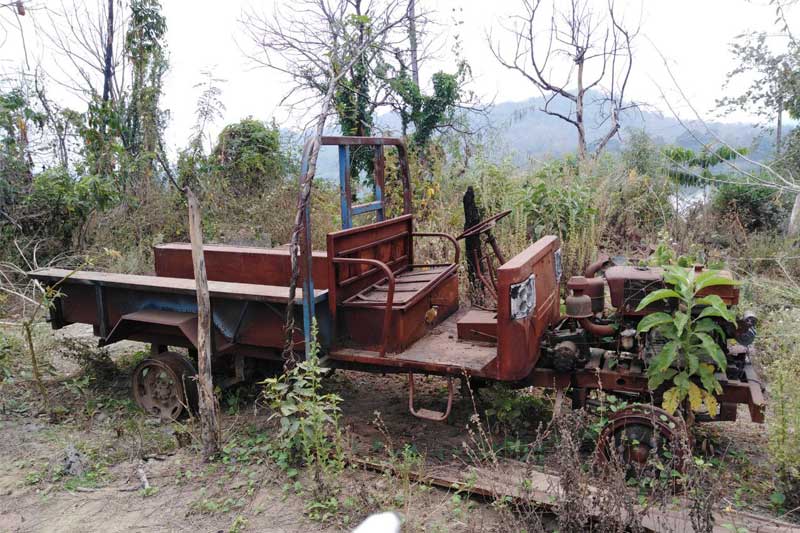 "All the villagers want to return home because they are not comfortable living in the displacement camps. Tinma villagers want to settle down and return to work in their own village. Now is the time for peace, and they are hoping they will be able to return home," the abbot added.
U Tun Win, a former MP for Kyauktaw Township, said the Tinma IDPs are dealing with both material needs and mental hardship.
"The emphasis remains on how refugees can emerge from the crises of mental and physical suffering. To this day, the refugees have not received enough compassion," the ex-legislator added.
The danger of landmines is also hampering the Tinma villagers' return.
U Hla Thein, a spokesman for the Arakan State Administration Council, has said it is not possible for the villagers to return to their homes currently due to the close proximity of Myanmar military and AA troops in the area.
"I would like to say that the IDPs cannot return to their homes because of the importance of human security in the event of a tense situation, as there is no [formal] peace agreement between the Myanmar military and the Arakan Army," he said.
At the height of the 2018-2020 conflict between the military and Arakan Army, more than 230,000 IDPs had fled their homes due to clashes in Arakan State, in many cases leaving behind livelihoods, education opportunities, healthcare access and property. While tens of thousands have returned to their homes with a cessation of hostilities toward the end of 2020, more than 60,000 remain at displacement camps.
U Saw Thein demanded that the two previously warring sides consult with each other and work for the return of the Tinma villagers. 
"We will be able to return home only if both sides can negotiate with each other," he emphasised.
Until then, in the absence of resettlement, it appears nature will continue to reclaim Tinma village.