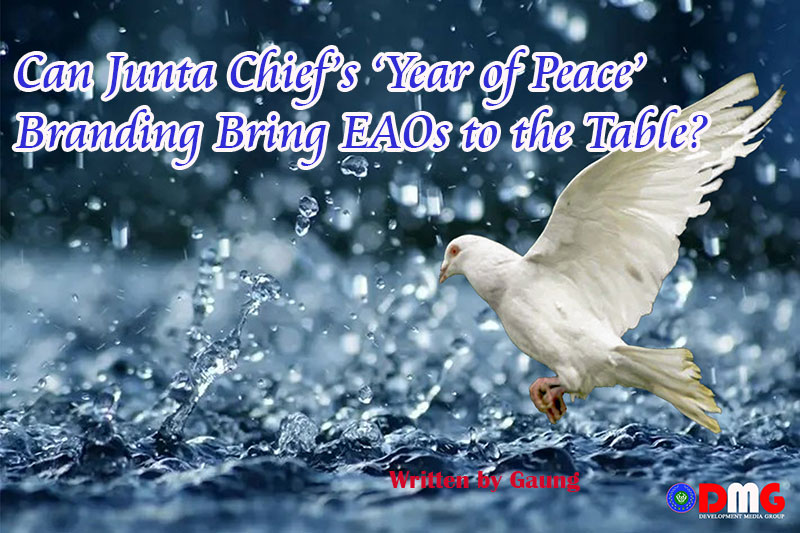 Written by Gaung 
"I invite the leaders of ethnic armed organisations [EAOs] to talks. I will see all of you personally," said junta leader Senior General Min Aung Hlaing in a televised address carried by state broadcaster Myanmar Radio and Television on April 22. 
He invited face-to-face talks with EAO leaders to end armed conflict in the country, calling 2022 "the Year of Peace." 
The regime has held a number of informal meetings, often through intermediaries, with EAOs since the coup on February 1, 2021, but there has been no breakthrough, prompting the junta chief to make a personal proposal for talks. 
He urged EAO leaders to register for the meeting by May 9, saying the date of the talks would be announced later. 
The government and military guaranteed the establishment of a Union based on democracy and federalism, which "ethnic armed organisations have been demanding in successive eras," Min Aung Hlaing said. 
Myanmar gained independence from British rule in 1948, but most of its people have never fully enjoyed independence. Instead, many have been locked in a vicious cycle of armed conflict and poverty. The situation is more dire in ethnic regions, with ethnic minorities often living in appalling conditions. Their situation has worsened since the coup. 
Notable Exclusions 
On its face, Min Aung Hlaing's outreach to EAOs would seem like a positive development for the country. However, his invitation for peace talks excludes the country's shadow National Unity Government (NUG) and its armed wing, known collectively as the People's Defence Force (PDF), which is fighting the regime across the country. The junta has labelled both the NUG and its affiliated PDF units as terrorist organisations. 
Political observers have thus called Min Aung Hlaing's proposed peace talks a pitch for isolated peace, or partial peace, at most. 
The regime's invitation comes amid daily clashes with various PDFs, as well as powerful EAOs like the Karen National Union. 
Political analyst U Than Soe Naing said Min Aung Hlaing's peace talks offer was made because the regime does not want to be at war with EAOs while it is under increasing attacks from PDF militants.
"In the mainland, PDF and regime troops are clashing almost everywhere. Under such circumstances, the peace talks to be organised by Min Aung Hlaing are just a sham, and will not bear any fruit of peace in reality," said U Than Soe Naing. 
Critics say the regime's promise of a future federal democracy is unrealistic without a dialogue that involves all stakeholders, including the NUG and PDFs. The regime must walk the walk rather than merely paying lip service to long-sought aspirations for federalism and ethnic equality, they add. For Myanmar to enjoy a nationwide and permanent peace, Myanmar's military must leave politics, critics further insist, in what may be the most inflammatory of the opposition's demands. 
Some observers say the regime's proposal is all for show; an attempt to ease international pressures and achieve a certain degree of stability ahead of its planned election next year. 
Veteran Arakanese politician U Pe Than was not impressed by the junta's latest overture to Myanmar's EAOs. "Numerous peace talks were held over the past 70 years, and there was no result. By proposing peace talks, the regime has publicly revealed that it is weakening," he said. 
EAO leaders, due to their experiences with previous military regimes, view Min Aung Hlaing's peace talks offer with suspicion. Yet some ethnic armed groups have indicated their willingness to attend. 
That includes some Nationwide Ceasefire Agreement (NCA) signatories that believe the junta chief's invitation to peace talks could offer a way out of the current political crisis in Myanmar. 
"We will discuss the Myanmar junta chief's proposal for peace talks within the party. We are likely to attend the peace talks," Saw Mya Rarzar Linn, vice chair of the NCA signatory Arakan Liberation Party (ALP), told DMG. 
Will EAO Power Players Abstain? 
It is uncertain whether Myanmar's most powerful ethnic armed groups will attend the military council's proposed peace talks. Among the ethnic armed groups that are unlikely to attend are the Karen National Union (KNU), Karenni National Progressive Party (KNPP) and Chin National Front (CNF). U Than Soe Naing suggested that "weak" EAOs were the most likely candidates to accept Min Aung Hlaing's offer for a face-to-face meeting. 
Many EAOs are sceptical of the military council's invitation, as years of similarly framed peace talks have fallen short of ethnic groups' goals. Peace promises laid out in feted accords such as the NCA and Panglong Agreement have not brought an end to internal conflict in Myanmar, they rightly note. 
Ethnic armed groups including the KNU and CNF, which are NCA signatories, have been fighting the Myanmar military alongside newly formed anti-regime forces since the military coup. Clashes between the military and other long-established EAOs that are not NCA signatories, such as the Kachin Independence Army (KIA) and KNPP, have further hampered confidence-building when it comes to this regime's sincerity and intentions. 
On the other hand, the Federal Political Negotiation and Consultative Committee (FPNCC), which is made up of members of the Northern Alliance and other ethnic armies such as the powerful United Wa State Army (UWSA) and the National Democratic Alliance Army (NDAA), has not yet commented on the junta chief's peace talks offer. 
The KIA, a FPNCC member that has engaged in post-coup hostilities with the Myanmar military in the country's north, told DMG that the group has not yet made a decision on the peace talks offer, and is monitoring the situation. 
"The KIA Central Committee has not yet commented on the invitation of the military council's peace offer. We have not been instructed yet," said Colonel Naw Bu, spokesperson for the KIA. 
DMG also attempted to contact Khaing Thukha, spokesman for the Arakan Army (AA), another FPNCC member, to find out the powerful Arakanese ethnic armed group's views on the junta invitation to peace talks, but he could not be reached. 
"I don't know whether the Arakan Army will attend the peace talks to be organised by the military council or not. The Arakan Army does not make decisions alone. I think we need to consult with the FPNCC and Northern Alliance members," a source close to the United League of Arakan (ULA), which is the AA's political wing, told DMG. 
The seven-member FPNCC is composed of the UWSA, NDAA, KIA, Shan State Progressive Party (SSPP), Ta'ang National Liberation Army (TNLA), Myanmar National Democratic Alliance Army (MNDAA) and Arakan Army, and these groups have refused to sign the NCA, saying they will move forward with a separate political and peace process. 
In December 2021, an informal meeting was held between the vice chairman of the junta's National Solidarity and Peace Negotiation Committee (NSPNC), Lt-Gen Yar Pyae, and representatives from NCA non-signatories such as the UWSA, NDAA, MNDAA, AA, TNLA, and SSPP. 
At the end of the day, some ethnic armed groups are likely to attend the junta-proposed peace talks, while several of the most influential EAOs are almost certainly not going to attend, and other groups are decidedly undecided. So it goes, so far, in the so-called Year of Peace.