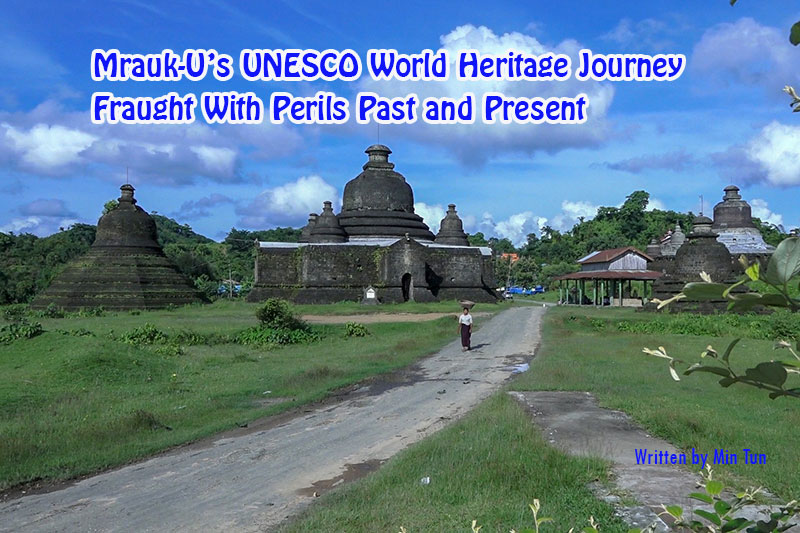 Written by Min Tun 
Drainage ditches show no sign of proper water flow. Water in the ditches has turned murky as garbage blocks the drains. This is a common sight in Arakan State's Mrauk-U, which is currently bidding for UNESCO World Heritage status.  
The region known in modern times as Arakan State has seen four dynasties — Danyawaddy, Waithali, Laymyo and Mrauk-U. Forty-eight kings reigned during the Mrauk-U Dynasty, the Arakan Kingdom's last. Mrauk-U was founded by King Min Saw Mon and much of the ancient city's remains are well-preserved, with hundreds of historical temples scattered across the town to this day. 
Efforts to nominate Mrauk-U as a UNESCO World Heritage Site began in 2017, but many challenges remain. 
A Threatening Trio: Drainage, Squatters and Conflict  
Professor Massimo Sarti, an Italian water resource management expert who was hired to conduct initial field surveys in Mrauk-U, assessed the situation in February and said the local drainage system was negatively affected by littering and could prove to be an obstacle to UNESCO World Heritage status.  
"He said Mrauk-U is prone to flooding due to blocked drainage channels and creeks," said Daw Khin Than, chairwoman of the Mrauk-U Cultural Heritage Conservation Association. 
The deputy director-general of the Department of Archaeology and National Museum, U Nyo Myint Tun, told DMG that the department is planning to dredge the drainage channels this year. Local creeks, ditches and canals will be dredged as part of an overhaul, he said, adding that a time frame for the undertaking has not yet been set. 
"We plan to dredge manually, with the help of experts. We won't use machinery to avoid causing damage to the heritage buildings," said U Nyo Myint Tun. "Some creeks [that have silted up and become land] are occupied by people, and in that case we will consult with the Directorate of Water Resources and Improvement of River Systems, and redesignate creek areas."  
Displacement camps that emerged as a result of two years of fighting between Myanmar's military and the Arakan Army also pose a challenge, said officials from the Department of Archaeology and National Museum. There are more than 10 displacement camps in Mrauk-U, many of which lie in close proximity to ancient temples. 
Legal action will be taken to remove any building that hampers efforts to conserve heritage buildings in Mrauk-U, said department officials who are planning to relocate the displacement camps.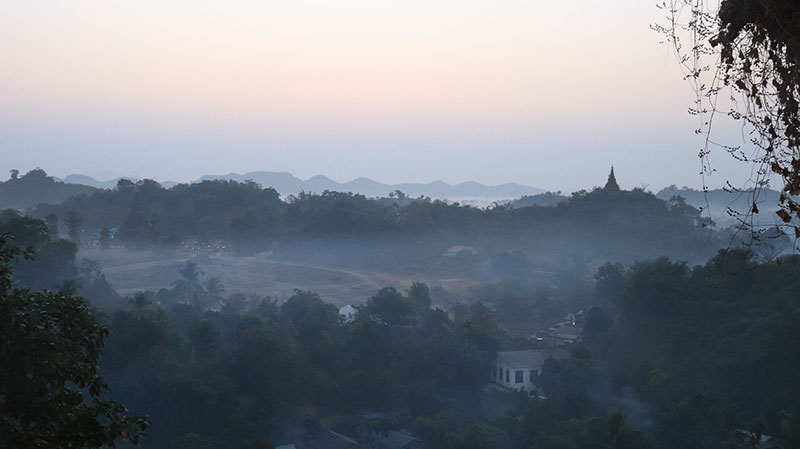 The cultural heritage zone has gradually been encroached upon as a result of the modern town's expansion. The Protection and Preservation of Cultural Heritage Regions Law carries a fine of K50,000 and/or five years' imprisonment for unauthorised construction, extension or renovation of buildings or their enclosures when heritage sites are involved. 
Mrauk-U resident Ko Zaw Htun said poor management by authorities is to be blamed for people violating the Protection and Preservation of Cultural Heritage Regions Law. 
"If this problem is not addressed promptly, it will be difficult to conserve the cultural heritage, which is already falling into disrepair," he said. 
Myanmar submitted its first draft proposal for Mrauk-U to become a World Heritage Site in September 2019. The final draft was initially intended for submission in 2020, but faced delays for reasons including regional instability and the Covid-19 pandemic, and was not submitted until December 30, 2021.  
UNESCO experts are expected to make a field visit in August or September of this year.  
"It can be said that the cultural heritage of Mrauk-U was well preserved when we [initially] put forward the ancient Arakanese city to be inducted as a UNESCO World Heritage Site. But three years later, when UNESCO experts inspect it, the cultural heritage in Mrauk-U is not what it used to be,"  Daw Khin Than acknowledged. 
Officials from the Department of Archaeology and National Museum have said illegal settlements in Mrauk-U will be removed this year, ahead of the UNESCO experts' visit. 
Out of about 600 illegal settlements in Mrauk-U, the houses of squatters near the moats and office of the Irrigation and Water Utilization Management Department will be removed on a prioritised basis, according to U Kyi Khin, director of the Department of Archaeology and National Museum's Mrauk-U branch. 
"Everything that affects the view of ancient buildings will be removed," he told DMG in April. 
The number of squatters in Mrauk-U has increased year after year due to weak enforcement of the rule of law, said U Tun Thar Sein, a former Arakan State MP for Mrauk-U Township, who added that if illegal settlements are not addressed effectively, Mrauk-U's archeological heritage could be lost. 
There are over 40 moats in Mrauk-U and squatters living around the ancient trenches will be evicted. In addition, squatters near Thakya Manaung and Yadanar Manaung pagodas will be booted from the area in phases, according to the Department of Archaeology and National Museum. 
U Kyi Khin said the government was planning to provide land alternatives for the evictees so that they would not suffer financial hardship. 
Some government buildings, a school, an old hospital and an office belonging to the Department of Archaeology and National Museum will also be removed in phases, according to the department. 
Artillery fire damaged and destroyed some of Mrauk-U ancient pagodas and temples during the fighting between the Arakan Army (AA) and the Myanmar military. Hostilities between the two sides have ceased in the area, but many are worried that a resumption of the conflict while Mrauk-U is seeking UNESCO World Heritage status would further imperil the bid. 
"Natural disasters and armed conflict must be prevented as much as possible in order for [Mrauk-U] to be inscribed on the UNESCO World Heritage List," said Daw Ohmar Myo, chairwoman of the Myanmar Archaeology Association.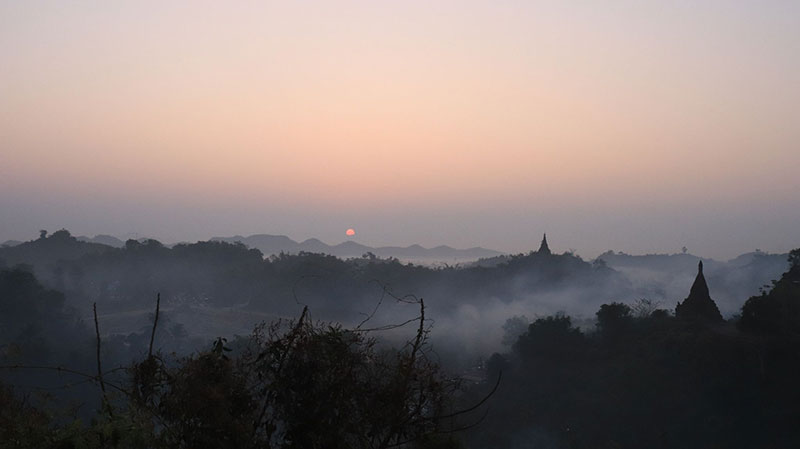 Tourism Potential 
If Mrauk-U is inscribed on the UNESCO World Heritage List, it will become the third World Heritage Site in Myanmar. The ancient Pyu cities — Halin, Beikthano and Sri Ksetra — were inscribed on the World Heritage List in 2014, and Bagan was listed in 2019. 
If Mrauk-U can earn UNESCO World Heritage recognition, it will better be able to systematically preserve its deteriorating archeological and cultural heritage, said Daw Ohmar Myo, unlocking international financial and technical assistance. 
U Pauk Sa, who runs a bronze sculpture business in Mrauk-U, hopes that the ancient city will be inscribed on the UNESCO World Heritage List, saying such recognition would boost tourism across the board, including sculpting enterprises like his. 
"At present, the [sculpting] industry only fulfils orders locally. International visitors are expected to arrive if Mrauk-U is inscribed on the UNESCO World Heritage List. If so, I think our business will be able to sell more widely," he explained. 
A decision on whether to add Mrauk-U to the World Heritage List will be made at a meeting of the UNESCO World Heritage Committee in Paris in mid-2023. 
Daw Ohnmar Myo said the Mrauk-U area, regardless of the UNESCO decision, must be protected and cherished.  
"Mrauk-U's heritage is really valuable," she said. "These are values worthy of World Heritage status. Therefore, whether or not the Mrauk-U region is a UNESCO World Heritage Site, it needs to be preserved."