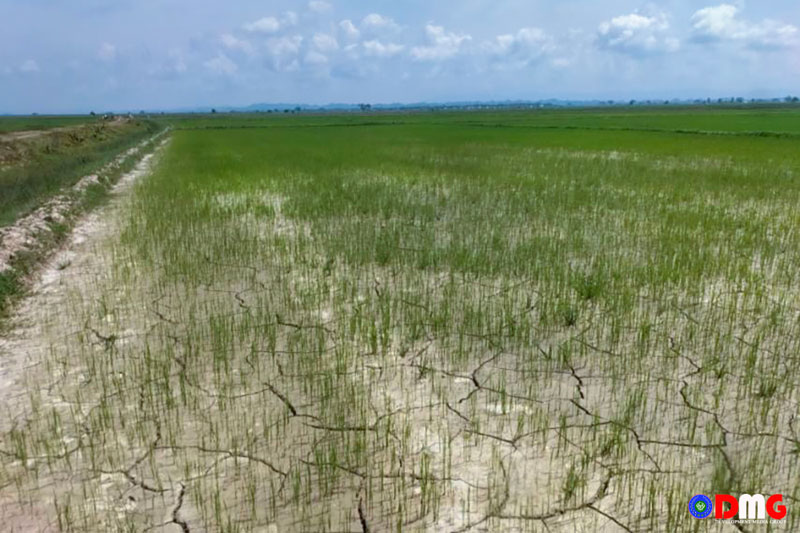 Written by Nay Myo Linn
Sweating profusely in the tropical heat, U Aung Kyaw Mya looked at his paddy plants and said with certainty, "The paddy plants are not as good as last year." In fact, the 55-year-old farmer said he has never experienced such damage to paddy plants, which has brought attendant declines in rice yields. A resident of Pyaungseik Village in Kyauktaw Township, U Aung Kyaw Mya has been farming for more than 30 years.
He blames the drop in paddy yields on shifting rainfall patterns that he attributes to climate change. Consistent rains do not come when crops are planted these days, he said, but rather during Tawthalin and Thadingyut, the sixth and seventh months of the Myanmar calendar, when crops are typically harvested.
Local farmers in Arakan State say the quality of paddy is poor due to lack of rainwater when the plants most need it, as well as farmers not being able to use fertilisers as liberally as they would prefer due to rising costs.
"This year's per acre yield is about 50 baskets of paddy. Per acre yield in the previous year was nearly 65 baskets of paddy," said U Aung Kyaw Mya, who is also chairman of the Kyauktaw Township Farmers' Union.
Rice planted earlier this year was damaged by a particularly rain-scarce period from June to August, in the middle of the monsoon season.
"As a result of the lack of rain, the paddy plants were grown late," U Aung Kyaw Mya said. "When the field is ploughed, the grain is not as good as it should be because the soil is compacted. The paddy is not good because of the bad rain."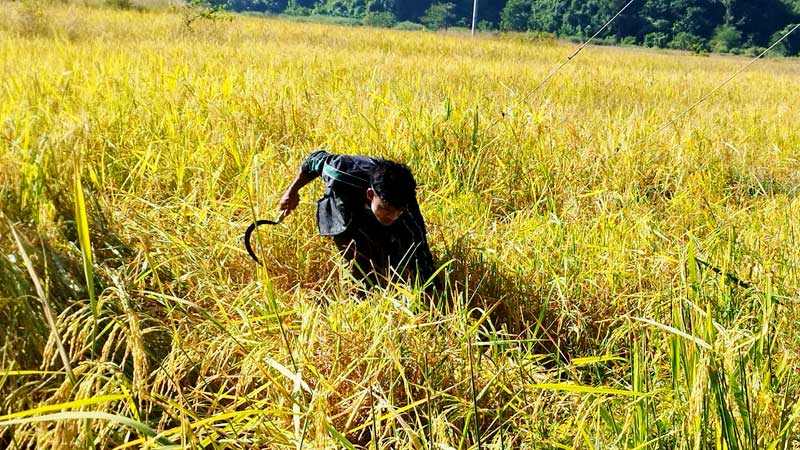 In some cases, climate change is also adding to the labour costs of farmers who have replanted crops — sometimes more than once — that have failed due to drought, were knocked down by strong winds, or struggled to grow as farmers cut back on increasingly expensive fertilisers.
"We are in a situation where we used only half a bag of fertiliser per acre of paddy this year," said U Maung Nyunt, a local farmer in Shwepyi Village, Kyauktaw Township.
Adding to the challenge, increasingly strong cyclonic storms like Sitrang — which formed over the Bay of Bengal in October, made landfall centred on Bangladesh and impacted Arakan State — are another unwelcome variable for rice farmers. Strong winds, rains and flooding were reported in Arakan State, and paddy fields in Pauktaw, Myebon, Minbya and Manaung townships were damaged by high winds and inundations of salt water.
"The saltwater affects the plant roots, so the paddy plants that have not yet borne fruit will not be used at all," a local farmer in Pauktaw Township's Thitpokechaung Village told DMG after Cyclone Sitrang had dissipated. "As for the plants that are bearing rice, if it rains these days, some of them may be able to recover. If it doesn't rain and the sun is hot in Arakan State, all the paddy plants will be gone."
Less than 900,000 out of 1.2 million acres of arable land in Arakan State could be cultivated this year due to the high cost of farming, conflict, and tens of thousands of acres of farmlands that were damaged by Cyclone Sitrang and other inclement weather.
"Farmers have been in trouble since the beginning," said U Kyaw Zan, chairman of the Arakan Farmers' Union. "In the rainy season, rice acreage decreased considerably due to climate change."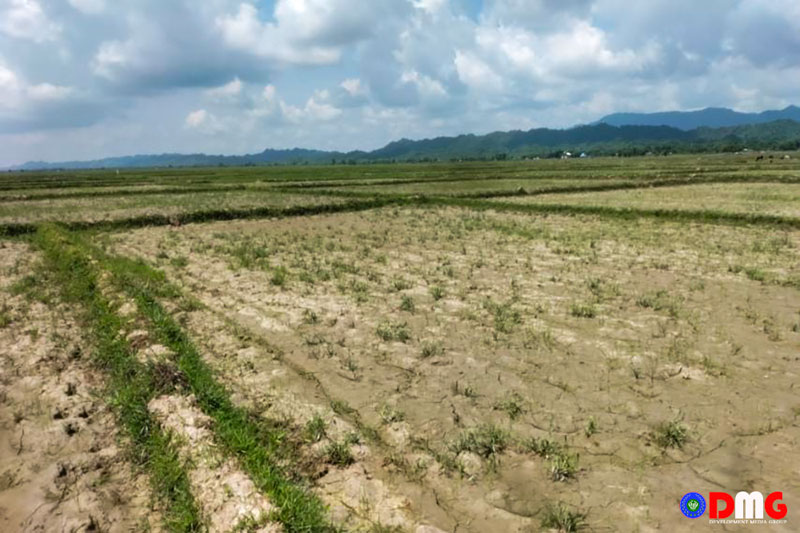 "Myanmar is at risk to several natural hazards, including extreme temperatures, drought, cyclones, flooding and storm surge, and heavy rainfall events," according to Climate Change Knowledge Portal. "Drought is considered the most severe natural hazard in the country based on the impacts that it has on health, property, assets, and livelihoods.
U Aung Kyaw Mya says he knows well the challenges posed by climate change. What he does not know, unfortunately, is what he can do about it.
"Arakanese farmers are very hurt and sad due to various difficulties," he said. "However, what can we do but be sad?"