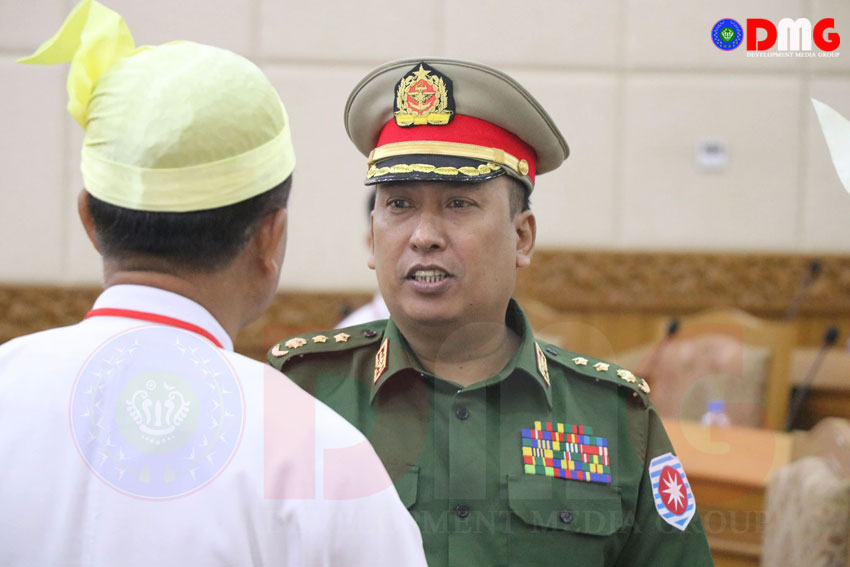 Written by Phadu Tun Aung | DMG
The most important thing to be tackled currently in Arakan State is military are the armed confrontations between the Tatmadaw and the Arakan Army (AA) and the consequences of this issue  while the region has been facing complicated situations with military, politics and Muslim affairs. The ongoing fighting in Arakan State became intense since early December in 2018, the number of IDPs is now over 60,000 and casualty numbers, arrests and incarcerations have also risen in troubled territories.  
Amid the complex situations, a reshuffle has recently been made in the Arakan State cabinet. A new Arakan State Minister for Security and Border Affairs, which is important for the state government led by Chief Minister U Nyi Pu, has appointed.
Under the new administration led by Chief Minister U Nyi Pu, the position of Security and Border Affairs Minister was changed three times. The first Security and Border Affairs Minister was Col Htein Lin. Fierce fighting occurred between the Tatmadaw and the AA while he was in office. Moreover, Islamic issues occurred in 2012 but he was able to address it with difficulty. His reputation as a civic leader is good due to having good relationships with locals.  
Col Htein Lin, however, was replaced with Col Phone Tint in July 2017. But, he faced challenges and criticisms while he was assuming office.   
In 2017, Arakanese political leader Dr Aye Maung and writer Wai Hun Aung were arrested for giving speeches at the ceremony marking the fall of the Arakan Kingdom held in Rathedaung. Furthermore, a police crackdown occurred during a local protest, which was staged to air a grievance about not getting permission to hold the ceremony about Arakan State, the crackdown left seven civilians killed and 12 injured.  
Col Phone Tint was criticized by Arakanese people for the way he handled these situations.  Moreover, he was also criticized by Arakanese civil society organizations as locals faced difficulty due to a curfew that was imposed in five townships where the Tatmadaw and the AA exchanged gunfire.   
The Coordination Committee of Arakan State Government, which includes Col Phone Tint held a meeting and issued instructions on December 24 to put up household member lists and family photos on the walls of their houses.  
People objected this plan and some reported this during the visits of the Chief Minister. The Chief Minister said he did not know about this directive and directed and rescinded this action.  
Furthermore, governmental departments were instructed not to raise money for refugees of armed conflicts from their respective departments if they don't have the permission from the state government. They tried to raise money so they could get funds to the right people who will help refugees.  
Other charitable organizations which collected money for the refugees were stopped by police because they didn't have the correct permission or proper documents and were subsequently fined. Civil society organizations had to stop collecting funds, so refugees receive less aid and support.  
"In my opinion, he (Col Phone Tint) is a little bit strict when handling issues. I saw that people were upset when he set strict rules regarding refugees and their current situation," said U Tun Aung Kyaw, a member of Steering Committee for Policy Affairs of the Arakan National Party (ANP).  
Moreover, there has been an Internet blackout since 21 June in Paletwa Township in Chin State and another eight townships in Arakan State during his term of office. As a result, people are unable access information like before, this creates difficulties for everyone in the region.  
Despite floods that occurred in Kyauktaw, Mrauk-U and Minbya townships in July, people did not have information about flooding because of the Internet blackout and flood victims experienced shortages of food and shelter. 
Col Phone Tint was criticized that he rarely met with locals during his term in office.  
"Col Htein Lin had a good relationship with locals, but he followed the instructions of the military because he is from the military. Col Phone Tint didn't have a good relationship with locals and he also followed the instructions of the military," said U Than Tun, a then- member of town elders in Sittwe under the previous government.  
The Arakan State parliament approved on 16 August that Col Phone Tint was replaced with Col Min Than.
Col Min Than worked as a Pyithu Hluttaw MP in 2016-2017 and was a former member of the Committee for Citizens' Fundamental Rights. He has been serving in the Tatmadaw for 30 years. He said that he can handle the issues in Arakan State well if he is assigned as a Security and Border Affairs Minister in Arakan State where political and military conflicts have occurred because he is familiar with administrative, military and political issues.  
"I have a close relationship with political communities. I worked as a member of the Committee for Citizens' Fundamental Rights. I have a lot of international experiences. So, I believe that I am able to carry out my responsibility well," Col Min Than said.  
He said that he will strive to achieve peace in Arakan State and there will be no need to worry about regional stability while fierce clashes erupt in the region.  
"We soldiers don't care for dangers and threats. What we have to do is to prioritize the State's peace and security which are concerned with the Tatmadaw," Col Min Than said.
The local CSOs and State Hluttaw MPs hope that Col Min Than will allow charitable organizations access to refugees without imposing restrictions in collecting funds, prioritize refugee affairs and build a harmonious relationship with people.  
"I assume that Bengali affairs would be resolved systematically. And, he will be able to handle Buthidaung and Maungdaw issues effectively which are important for border security," said U Aung Win, state Hluttaw MP for Myebon Township.
"This is in the beginning of his duties. We will know later whether his work is fruitful or if it's all in vain, it all depends on him," U Aung Win added.