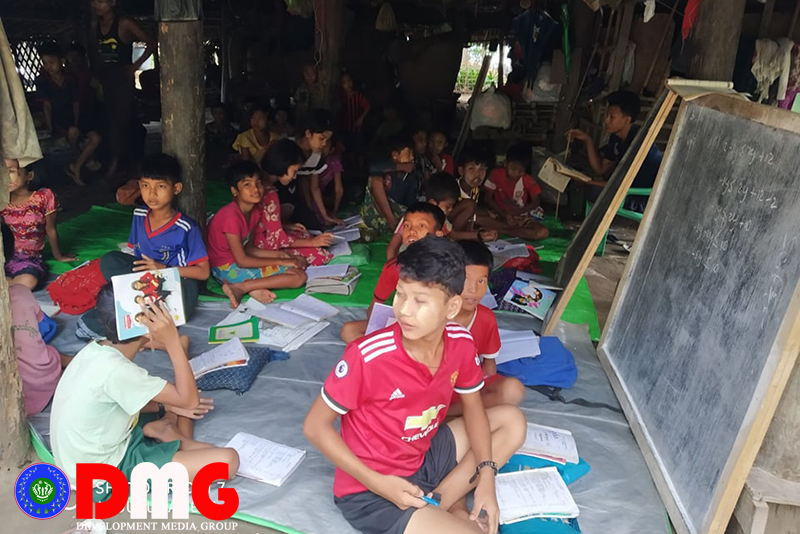 By Sein Ko Ko | DMG
 
The conflicts between the Tatmadaw and the AA in Arakan State has forced villagers from their homes, resulting in students losing out on their education.
 
Villagers from Rathedaung, Buthidaung, Maungdaw, Ponnagyun, Kyauktaw, Mrauk-U, Minbya and Myebon Townships have now been taking shelter in refugee camps in nearby towns and villages.
 
Meanwhile, students from Pee Pin Yin refugee camp, Mrauk-U Township, are encountering difficulties going to school because of fighting near the camp where they stay.
 
"We are reprimanded by our teachers when we are absent. I have had to return home five times on my way to school because of hostilities in the area. And we have to study in an environment that's distracting so I can can't focus on my school work," said Ma San Myint Kyi, a Grade-10 student from Lekka village and taking shelter in Pee Pin Yin village.
 
Students from Pee Pin Yin refugee camp have to go to school in Pauk Taw Pyin village, three miles from the camp, on foot. When the new academic year resumed, the education department in Mrauk-U Township gave bicycles to high school students, but their bicycles became damaged from riding on rough roads in the rainy season.
 
"Students from Pee Pin Yin can only go to school three days a week because of regional instability. We have to arrange a plan by coordinating with the headmaster," said teacher U Oo Kyaw Yin, a non-government staff who is teaching students from the camp.
 
High school students from Pee Pin Yin refugee camp are worried about exams because they can't go to school every day.
 
"Their curriculum this year will be shortened because they can't cover all the requisite topics, so their level of education will not meet grade 10 standards," said U Kyaw Zaw Hla, a parent from Pee Pin Yin camp.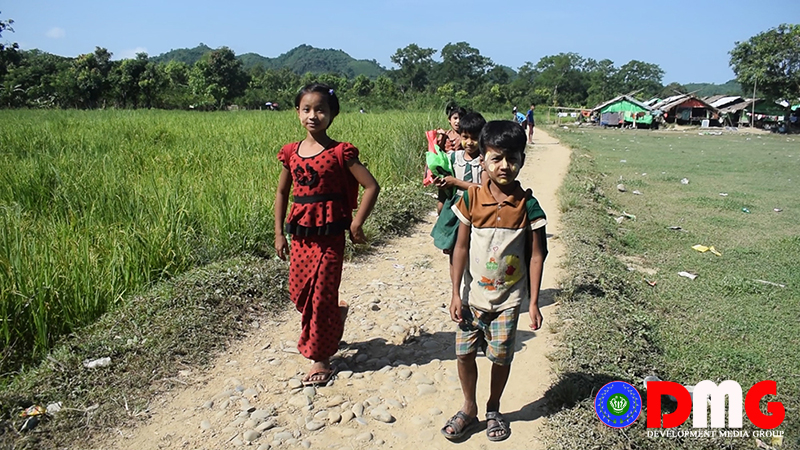 Matriculation exam students from A Htet Myet Hle camp don't have enough school supplies so they can't transcribe all the lectures. Furthermore, students can't pay complete tuition because of financial setbacks.
 
"I am weak in Chemistry and Physics. But I can't afford to pay tuition fees. So, I don't think I'll pass the matriculation exam. And we have difficulties studying at our shelters," said Ma Moe Htay, a matriculation exam student from A Htet Myet Hle camp.
 
There are 275 students in Wah Taung camp and high school students have to go to Kan Sauk village school, located on the other side of the river. A high school student has to spend K25,000 for ferry fees and K160,000 for tuition fee a year.
 
"I have two elder brothers who are attending high school. So, our parents have to go back our village Thein Chaung sometimes to dig up bamboo shoots or cut bamboo. They had to sell their wood and bamboo they have at the village. Then, they have to sell their jewelry," said Ma Hla Aye Htay, a Grade 8 student.
 
Meanwhile, students from Sin Baw Kaing village in Mrauk-U Township could not go to school because of financial problems.
 
"Grade 9 and Grade 7 students have dropped out because of financial problems. I can't afford their tuition," said U Kyaw Gyi, a parent from Sin Baw Kaing IDP camp.

There are over 40 students in Sin Baw Kaing camp, but 30 of them left school, parents said.
 
The sub-high school in Sin Baw Kaing village has enough teachers but students are poor in their education because they could not study well, the headmaster of the school said.
 
"They need a solid infrastructure. The government or INGOs/NGOs should assist with the development of the young people so they have a chance to make a prosperous future. They need help to pursue their education," the headmaster U Shwe Tun said.
 
Students from IDP camps have different challenges according to their regions. Students from some IDP camps have to go to sub-high school and post-primary school, but their school time is only 6A.M. to 10A.M because the schools do not have enough rooms for all students, said U Sein Hla Maung, manager of the Aung Mingala camp in Mrauk-U city.
 
Some Grade 7 students from the camp in Thay Kan village, Minbya Township, need teaching aids.
 
"I cannot study well because I'm surrounded by many people and that's distracting. The place we are living in is small and there is no electricity. Our parents told us not to study at night when fighting occurred near our area. We have become very inconvenienced," said Ma Nandar Win, Grade 7 student from Thay Kan refugee camp.
 
Relevant township education officers can take out teaching aid for students from IDP camps, according to the Office of the Head of Education Department in Arakan State.
 
"We have enough school supplies. Township education officers can take out them any time," said U Sein Tun Hla, the deputy director of the Education Department in Arakan State.
 
Since the hostility between the Tatmadaw and the AA has been intensifying, three schools from Rathedaung Township, two schools from Minbya Township and nine schools from Buthidaung Township have been closed temporarily.
 
State MP U Hla Thein Aung for Minbya Township suggested that the government needs to help for IDPs to return home and to get back to their business.
 
"The government should open temporary schools in the region where refugee camps are open and should arrange for student's school uniforms and supplies," U Hla Thein Aung said.
 
The quality of education in Arakan State is low and conflicts in the region will only exacerbate the situation even more so if students have to stay in refugee camps for many years without having access to good education.
 
To improve the education of IDP students, the Union government, the regional government, international organizations and local CSOs should work together.