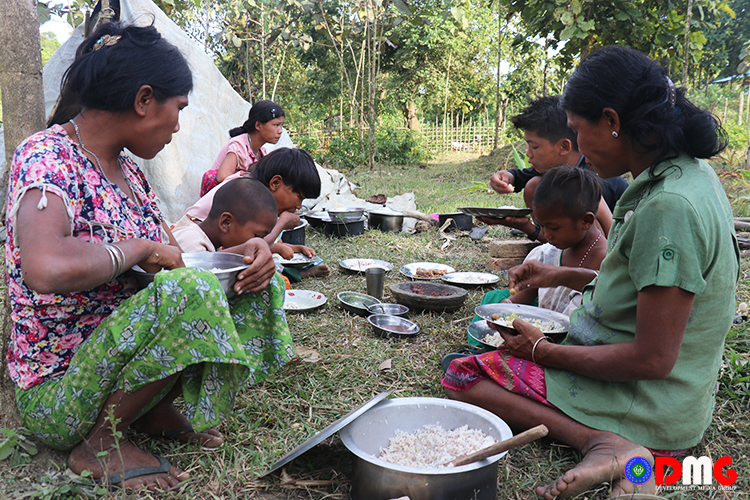 Written By Nay Myo Lin
The armed conflict between the Tatmadaw and the Arakan Army (AA) that started in December 2018 seems to affect a larger and larger portion of Arakan and Chin states with each passing month. 
It was in June of last year that the effects of war spilled over into the cyber realm, with the government cutting off mobile internet access in eight Arakan State townships: Buthidaung, Maungdaw, Rathedaung, Ponnagyun, Kyauktaw, Mrauk-U, Minbya and Myebon. Paletwa Township in neighbouring Chin State was also deprived of internet access. The ban was lifted in some of the townships on September 1, only to be reimposed on February 3.  
The nine affected townships in Arakan and Chin states combined had a total population of more than 1.1 million people at the time of the 2014 census. The consequences of the internet ban for a large swath of western Myanmar are many and varied. 
Falsehoods too can fill a cyber void  
Arakan State's situation is complicated, with ongoing armed conflict and tense intercommunal dynamics between the state's Buddhist and Muslim populations. The internet — often bemoaned as a vehicle for the spread of "fake news" and false information — under such circumstances can also be a tool to combat deceit.  
Unfortunately, we have seen more fake news in the era of the internet shutdown, as an information imbalance is exploited by some; in areas that do have internet access, people are using social media to engage in speculation, disseminate propaganda or traffic in intentional falsehoods about events and aspects of life in the internet desert, with those in the nine affected townships unable to debunk untruths spread online.   
When credulous social media users share inaccurate information, the likelihood of harmful falsehoods gaining traction online increases in an environment where many are effectively muzzled by their lack of internet access and are thus unable to push back on fake news in real time. 
In addition to countering fake news, locals in the internet-deprived townships were also previously able to post other valuable information on social media, such as the number of civilians injured or houses destroyed by the stray artillery shells that all too often fall in or near rural villages. With the internet taken away from these "citizen journalists", an important accountability mechanism has been largely disabled.  
What's more, the online information highway is a two-way street, and the flow of "traffic" in both directions is currently blockaded, as further detailed below. 
A right to access information is lost 
Nowadays, people increasingly read the news online, meaning a vital source of information is lost when internet access is denied.  
The government relies on the internet, radio, TV and newspapers to communicate with the people. Currently, the government is delivering its most up-to-date information on the coronavirus pandemic via these channels, the internet being potentially the most far-reaching and fastest medium of communication.  
In addition to being conflict-affected, the townships where the internet ban has been imposed are also largely rural, and host tens of thousands of IDPs. This combination is noteworthy because these populations are less likely to have TVs or radios; newspapers do not reach these populations either.   
Under these circumstances, it is important to remember the text of the Universal Declaration of Human Rights' Article 19, which is clearly being violated in the internet-deprived townships: "Everyone has the right to freedom of opinion and expression; this right includes freedom to hold opinions without interference and to seek, receive and impart information and ideas through any media and regardless of frontiers." 
The multipurpose internet 
The internet blackout has affected not only access to information, but also access to food, clothing and shelter for refugees. There are more than 150,000 IDPs currently, and most of them live in the townships where the internet ban has been imposed.  
Previously, it was possible for refugees to post photos on the internet and solicit donors in times of need. Donors provided aid to IDPs once the hardships of those displaced by conflict were made known online. Relief provisioning has been scaled back in recent months, and the inability to reach out via social media or other online channels exacerbates the problems of IDP camps in need.    
The internet blackout has also impacted local businesses. For example, people who export goods to Bangladesh via the Maungdaw border route have faced difficulties. The internet is a vital business platform for traders on both sides, but now, they cannot order or sell goods via the internet. 
Market efficiency is an important prerequisite for a flourishing border trade; much to the consternation of entrepreneurs and traders, the internet ban wastes valuable time, money and energy.  
Among the international community, the internet ban has not gone unnoticed. Indeed, it does Myanmar no favours in terms of global perceptions, at a time when the country stands trial at the International Court of Justice over accusations of genocide against Arakan State's Muslim minority. Most of the state's Muslims now reside in refugee camps in Bangladesh, having fled from townships where mobile internet is no longer available.  
Denying the internet in an area still reeling from the trauma of that mass exodus and the ongoing Tatmadaw-AA conflict lends credence to arguments that the government is acting as though it has something to hide. Transparency — in this case allowing for the free flow of information in and out of Arakan State — is lacking right now, and would be greatly improved by restoring internet access to the region. 
Although they don't always see eye-to-eye, local civil society groups, residents of Arakan State and the international community agree on the need to bring the internet back. 
The government is not oblivious to opposition to its current telecommunications policy in western Myanmar. Nonetheless, "state security" has been used to justify the internet ban, and President Office spokesperson U Zaw Htay said in February that the ban was only temporary and would be lifted "one day when the time is right." 
But that indefinite timeline is cold comfort for those who find themselves economically, educationally or otherwise disadvantaged by the internet ban; their struggles are now, and their government is in large part to blame.