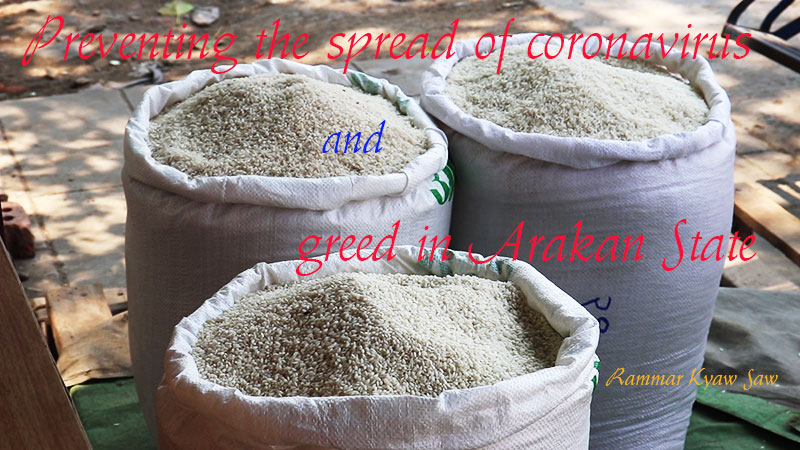 Written by >>> Rammar Kyaw Saw

On the evening of March 25, I noticed three or four rickshaws loaded with bags of rice while I was eating at a roadside food stall near my house. I've lived here nearly a year, but I had never before seen my neighbours buying that many bags of rice all at once. It struck me as unusual.

When I asked some women at a nearby table about the curious sight, I was told that people were panic-buying and hoarding after the government confirmed the first cases of coronavirus in Myanmar.

The virus also known as COVID-19, which originated in Wuhan, China, has rapidly spread to many countries across the globe. It is officially a pandemic, and it is deadly. To prevent coronavirus spread, the Myanmar government has urged people to avoid crowded areas, stay at home as much as possible, and not to hold mass events.

As those social distancing measures went from suggestions to mandates, people began to worry that markets would be closed. As those fears were voiced, speculation became rumor, and the rumor spread like wildfire, inducing panic-buying of food supplies and other goods.

And in economics, if demand outstrips supply, prices rise.

A neighbour said one day a bag of "paw san hmway" rice increased from K35,000 (US$24) in the morning to more than K45,000 in the evening. Some convenience stores in the ward closed their doors because the number of buyers was abnormally high. The cost of facemasks has reportedly increased by more than 10 times the normal selling price in some places.

Why have prices surged amid coronavirus concerns? In addition to the laws of supply and demand, another force is at play: market manipulation of greedy businesspeople. It is not unusual for businesspeople to seek profits, but price gouging during difficult times is very ugly indeed. Overcharging, whether it be for commodities or medicines, is a shameful act.

Those with financial means can, if they so choose, buy five or 10 bags of rice to last for several months, but people surviving on daily wages could face starvation if unscrupulous sellers raise prices to levels that make food staples unaffordable. Businesspeople should give consideration to the poor.

Arakan State is currently facing hardships from all corners. It is very important to get enough food to more than 150,000 internally displaced people (IDPs). The government provides some food supplies, but it is meagre. Local charity groups have to collect donations to provide basic provisions such as rice, cooking oil, salt, chili and onion for them. When food prices increase markedly, as is currently the case, it is difficult for charity groups to provide relief aid for IDPs.

The armed conflict between the Tatmadaw and the Arakan Army (AA) in Arakan State has dragged on for more than a year. The AA is fighting with the Tatmadaw but has also signalled its openness to a peace accord. The government, however, recently declared the AA to be a terrorist group and unlawful association, so a path to peace seems more distant than ever and the declaration may actually intensify fighting between the two sides.

If the conflict escalates, the number of IDPs in the state will increase. So, I'd like to urge businesspeople not just to look out for your own profit, but also to consider the welfare of our people. I do not mean all businesspeople are thinking only of profit. Some shop owners are selling their goods at regular prices. I am heartened when I see such people.

Among the downtrodden are people living in conflict zones who have been forced to flee their homes, or cannot plant or reap their crops, due to clashes or fear thereof. This is true hardship, and still a group of people have the nerve to overcharge for rice and other foodstuffs.

The situation facing people in Arakan State amid fierce fighting between the Tatmadaw and the AA is worse than the COVID-19 outbreak. The spread of the virus can be contained, and infected people can and do recover. But there is no medical treatment to cure feelings of constant fear that at any moment an errant artillery shell could end your life or destroy everything you own.

Currently, about 60 villages are uninhabited; their residents having fled Tatmadaw-AA hostilities. Some IDPs have no home to return to because their houses were destroyed during the clashes. Others have lost cattle and, with that, an important source of livelihood.

Now add to this the COVID-19 factor. A facemask that cost K50 in normal times is now K1,200. Even health workers are having to buy masks at these overinflated prices when their clinic or hospital is unable to distribute adequate supplies to their staff.

Meanwhile, more than 1 million people living in eight townships of Arakan State and Paletwa Township in Chin State are being denied mobile internet access, and so a valuable source of information about the virus and how to prevent infection and spread is unavailable to them.

And returning once more to those IDP camps: the close-quarters and crowded temporary living arrangements pose a high risk for rapid coronavirus contagion. Additionally, April is the time of year when migrant workers from abroad and living elsewhere in Myanmar return home for the Thingyan holiday. In some regions, 14-day quarantine plans are being followed systematically, but for the most part, efforts are haphazard and inconsistent at best. If just one person with the virus spends time in an IDP camp, an explosion of infections could ensue, with little in the way of healthcare infrastructure to handle such an outbreak.

COVID-19 does not discriminate between the rich and the poor; it is an equal-opportunity infector. Thus, I'd like to ask our Arakanese people to help those in the state who are suffering hardships from all directions, and I urge the business class not to seek to profit from the troubling times we live in.

I also want to advise authorities and civil society organisations to be on the lookout for those rapacious folk whose cannot contain their greed, and to name, shame and if need be take stronger action against them. Together we can and must summon the best within ourselves to face the coronavirus, war and whatever else may come.