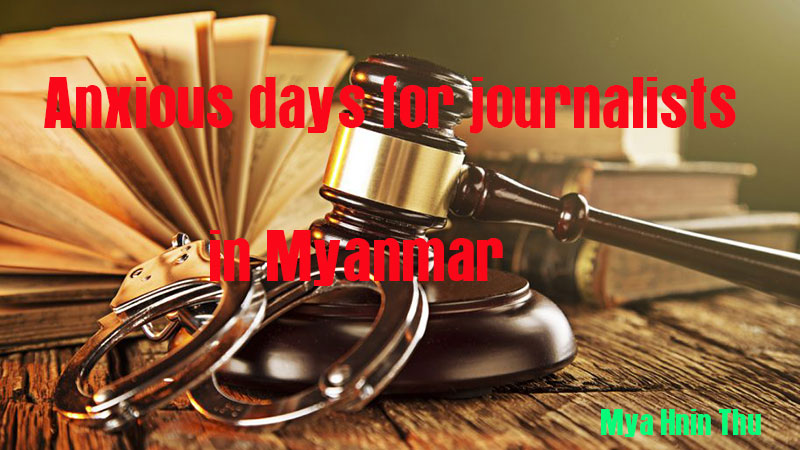 Written by >>> Mya Hnin Thu

Few Myanmar journalists enter the profession with the expectation that it offers a path to riches. On the contrary, most understand that they are far more likely to struggle financially. They are journalists not for the money, but rather out of a sense of mission; call them enthusiasts for the notion of the "fourth estate" and its importance.
What's more, in Myanmar, most members of our relatively young press corps did not have the benefit of formal journalism studies or practice in school, and instead learned the trade and honed their reporting skills on the job. Given the country's strict censorship regime for decades, it's only in recent years that the education system has allowed for journalism to be considered an acceptable aspiration.
Today, IT advances alongside political reforms mean that for young people who are interested in journalism, whether they live among the country's rural populations or in the commercial hubs of Yangon and Mandalay, becoming a full-fledged member of the media has in some ways never been easier.
But in other ways, the "calling" has never been more daunting, and not just from the standpoint of job security and meagre salaries, which are issues increasingly affecting the profession across the globe.
In Myanmar, a country that has only been practicing its most recent version of democracy for about a decade, journalists and media outlets are struggling with more than just financial viability. We have been reminded of this in recent weeks, as a handful of journalists became the latest to face undue threats to their lives and livelihoods.
Between 2010 and 2019, a total of 941 journalists were killed globally, according to the advocacy group Reporters Without Borders (RSF). Last year, fortunately, was the least deadly year for journalists since 2003, with "only" 49 journalists killed (a number still far too high). Meanwhile, a total of 389 journalists were detained last year, and 57 were abducted. With regard to the 49 journalists killed, it is interesting and important to note that all were local, as opposed to "foreign", journalists.
In Myanmar, also, it has been members of the local press corps that have been killed and arrested in the line of duty.
Between 1992 and 2016, five journalists were killed in Myanmar and dozens were imprisoned, according to the Committee to Protect Journalists. In the most case of the former, no one has been brought to justice for the murder of Ko Soe Moe Tun, a journalist for local news outlet Eleven Media who was killed in December 2016.
Taken together, these figures from both inside Myanmar and across the globe show the dangers still inherent to the job of journalists everywhere.
Myanmar has had a particularly rough few weeks as far as freedom of the press is concerned. The websites of official news outlets were among hundreds of URLs banned by the government, and at least three journalists were subject to arrest or harassment by authorities.
Ko Nay Myo Lin, editor-in-chief of the Voice of Myanmar based in Mandalay Region, was detained and charged under Myanmar's Counter-Terrorism Law after publishing an interview with the spokesperson for the Arakan Army. He was later released amid growing public pressure.
The website of Narinjara News, based in Arakan State for almost 20 years, was banned and its Editor-in-Chief U Khaing Mrat Kyaw and executives face Counter-Terrorism Law charges under similar circumstances. Reporters were also interrogated for the case.
Meanwhile, police and Criminal Investigation Department personnel raided the house of Thar Lun Zaung Htet, editor-in-chief of the Yangon-based Khit Thit Media, on the evening of March 31.
The websites of Development Media Group were banned alongside Narinjara's, and DMG's Editor-in-Chief, Aung Marm Oo has been in hiding for nearly a year, after being charged under Section 17(2) of the Unlawful Associations Act in early May 2019. The Arakan State-based DMG and Narinjara are independent local news agencies that focus their reporting on peacemaking efforts, conflict and social affairs in western Myanmar.
With these latest targetings of journalists, we are reminded of the perils the press faces, though sometimes that sense of risk is felt more acutely. These days Myanmar journalists and their spouses worry that their home may be the next to get a knock on the door, and perhaps a raid to follow. Mothers wait anxiously if their reporter son or daughter does not return home in the evening at the usual hour.
Journalism is not a criminal enterprise, and yet our country's editors and reporters too often find themselves behind bars, on trial or in hiding. As the eyes and ears of the people, our press corps deserves safety and respect, not intimidation and prosecution.