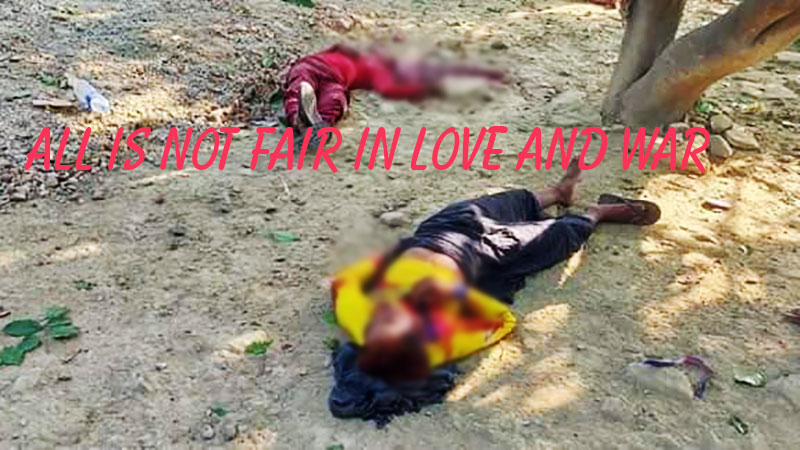 Written by > Zaw Zaw

Several civilians were killed by artillery shells that landed on Kyauk Seik village in Ponnagyun Township, Arakan State, on April 13. Photos and videos of this tragedy have circulated on social media and the carnage was also covered by the press.

I was horrified when I heard the news. It is really shocking that these people were killed by senseless artillery fire during the coronavirus pandemic. When man kills fellow man, instead of unitedly combating the disease that threatens us all, it is nothing short of assisting the virus in its lethal march across the globe.

In this situation, the perpetrators of the shelling may think that it was an act showcasing their power. But in fact, power comes from the people. It is not necessary to kill people to show off power; to build trust with the people is the true measure of one's power.

The incumbent administration — a self-proclaimed democratic, civilian government — is lacking in transparency because it has imposed an internet shutdown and, by restricting journalists, does not respect the notion of freedom of the press in Arakan State, even amid the threat posed by the COVID-19 pandemic. The fact that Arakanese civilians are being killed and displaced, with entire villages having been emptied of their inhabitants, highlights that Arakan State is not safe for Arakanese people.

I want to offer an anecdote that I believe demonstrates the answer to the following questions: Can anyone love Arakan State as much as Arakanese people? Can anyone carry out the development of Arakan State as eagerly as Arakanese people?

When I was young, I used to go to my neighbour's house frequently because they gave candies to me. So my mother told me, "Son, other people's love is equal with a mother's anger. Not giving candies doesn't mean I don't love you. I don't let you eat candies because I'm worried you would eat yourself sick."

Before 1948, Britain and Japan colonised Myanmar and ruled for many years not because they loved Myanmar people but because they ruled for their own benefits. If they had ruled for the development of our country, revolutionary and nationalist leaders like Sayadaw U Ottama and Bogyoke Aung San would not have appeared.

To make peace in Myanmar, the government should welcome ethnic armed groups with open arms. It needs to analyze and find the root motivators of emerging ethnic armed groups and take into account the sufferings of ethnic people.

Negotiations should be made with sincere goodwill to change the mindsets of ethnic national races that left them feeling they had to resort to armed struggle in the face of Burmese dictators who for decades exploited and subjugated non-Burmese ethnic races. While resources from ethnic regions were being extracted, the needs of these regions were being ignored and their peoples were oppressed.

But the real decision-makers did not appear during negotiations and they even ordered crackdowns on the ethnic armed groups when they could not reach agreement through negotiation.

Those who order or instruct to crack down on an ethnic armed group are guilty also while armed conflict broke out in ethnic people's regions. Artillery shells are launched between humans and between people of the same religion. During armed conflict, airplanes bombed ethnic areas, set fire to houses in whole villages and killed civilians.

Anyone who orders or supports killing, and in doing so uses the justification that "all is fair in love and war," is nonetheless a murderer.

That's why the International Criminal Court was established in 1998; to put an end to mass murder and other war crimes and violations of human rights across the globe by punishing perpetrators of these offences.

I wish to be able to build an independent and equitable society in war-affected areas by fulfilling the demands of ethnic people and establishing a peaceful region of Arakan and Myanmar as a whole through negotiations that include the Tatmadaw, the Arakan Army and all other relevant stakeholders.