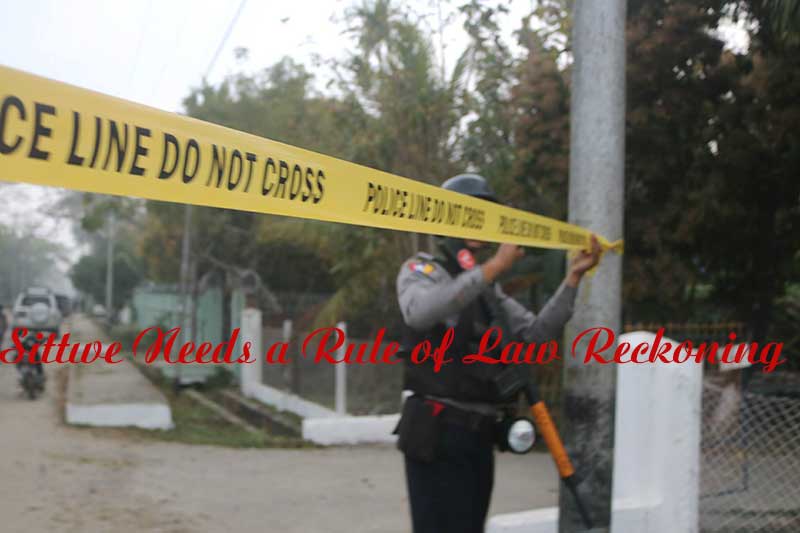 By Rammar Kyaw Saw 
A sense of security is sorely lacking in the administrative centre of Arakan State, Sittwe, at the moment, with the rule of law seemingly nowhere to be found in the state capital.
Theft and robbery as well as murder are increasing occurrences in the city, making residents understandably concerned for their safety. 
Drug abuse among young people is also reportedly on the rise, and with it a concomitant increase in crime rates.  
If Sittwe cannot count on effective policing, thieves and burglars will disregard the rule of law. There is little doubt that criminals will be emboldened if their crimes go unsolved and thus unpunished. The weaker the ability of law enforcement is, the more crimes that will occur in the capital. 
In recent months and years, there have been far too few major criminal cases (and/or crimes that attracted significant public interest) in which the perpetrators have been brought to justice. No wonder then that the residents of Sittwe feel they are not safe.  
From the young author attacked twice in less than three years to multiple fatal shootings that have gone unsolved, confidence in law enforcement is justifiably low. In one case, a member of the military, Corporal Win Htike aka Poe Lone, was shot dead at close range in public, and yet no one was ever caught; if the security forces cannot protect one of their own, how can civilians be expected to feel secure? 
The young author was first attacked in December 2017. Corporal Win Htike was killed in September 2018. In 2020, fears among the public have been further stoked by five events to happen in just the first half of the year. 
Four murders and a heist 
While the murders of four people, including a girl of just 13 years, may in no way be connected, they have nonetheless combined to rattle a city that was already on edge.  
The late February killing of a rice wholesaler in Sittwe's Ohe Tan ward was the first of the four. The woman in her 50s was found dead in her home with her neck slashed on February 28. The administrator of Setyonesu ward was stabbed to death on May 25. And on June 19, a 13-year-old girl was found unresponsive with a head injury and died the next day while receiving medical treatment, with the girl's unexplained death and suspected foul play attracting much public interest in the Arakan State capital. 
In between those second and third murders was the robbery of a Kanbawza (KBZ) Bank branch in downtown Sittwe on June 10.  
The murder of the rice tradeswoman Daw Ma Kyawt appeared, at least, to have something resembling a motive, though this should serve as cold comfort; found dead in her home, the victim is believed to have been having lunch at the time of her murder. Jewelry that she owned was taken from the house. While the murder-robbery does offer us apparent motive, it is also a disconcerting example of a willingness by the perpetrator to go to extreme — in this case, murderous — lengths when faced with what we can only assume is economic hardship of some kind. The perpetrator(s) remain at large, and no one can say whether they might repeat such an offence.  
The first half of the year ended with a police sergeant in Sittwe being stabbed to death by two unidentified men on June 29.  
Ward administrator killed in broad daylight  
U Thein Hlaing, the administrator of Setyonesu ward in Sittwe, was stabbed to death by a group of unidentified men on the morning of May 25. He sustained several knife wounds to his neck and chest.
Four masked assailants attacked him while he was buying betel quid at the corner of Strand and Pan Chan roads in downtown Sittwe. It would not be rash to presume that these men had killed before, given the ease with which they did the deed in broad daylight, in a crowded public place, and then vanished among the hustle and bustle of an otherwise typical morning in the heart of the Arakan capital. 
Though not the first local administrator to be murdered, U Thein Hlaing's death has nonetheless set people on edge. Once again, the question is asked: If law enforcement cannot protect members of the administrative apparatus, nor bring perpetrators of such a crime to justice, why would average citizens believe that their lives are safe? 
Missing millions 
Four masked men robbed KBZ Bank's No. 2 branch in Sittwe on June 10 at about 4 p.m., reportedly making off with more than K180 million (US$124,000). 
One suspect was arrested, but the other three men remain at large and the stolen money has not been recovered.  
The successful getaway of three of the four bank robbers, like a scene in a movie, vividly illustrates the extent of the deteriorating security environment in the Arakan State capital. 
Child snack seller found dead, foul play suspected 
Construction workers on June 19 discovered an unresponsive 13-year-old snack vendor at a building site in Sittwe. She was taken to hospital but died the following day of a severe head injury. 
According to witness accounts, the girl's wound was not like an injury that might occur in an accident, and rather looked to have been head trauma inflicted by another. Currently, a murder case has been opened and police are searching for a suspect. Will the offender be arrested in this case? The question is being asked by people, without much hope that the answer will be "yes". 
If major cases cannot be closed even in the Arakan State capital, the situation in areas of active armed conflict, where the administrative mechanism is weak, will almost certainly be worse. 
The rule of law shortcomings in Sittwe are a focus of attention because of its place of administrative prominence, and because its problems are part of a broader picture of lawlessness that has emerged across many parts of Arakan State in recent years. 
These abovementioned, unsolved cases are not petty theft, they are very serious crimes. 
Efforts to apprehend and take legal action against the perpetrators must be redoubled in order to build confidence in authorities' ability to safeguard the lives and property of the people. There is no more fundamental duty for a government.