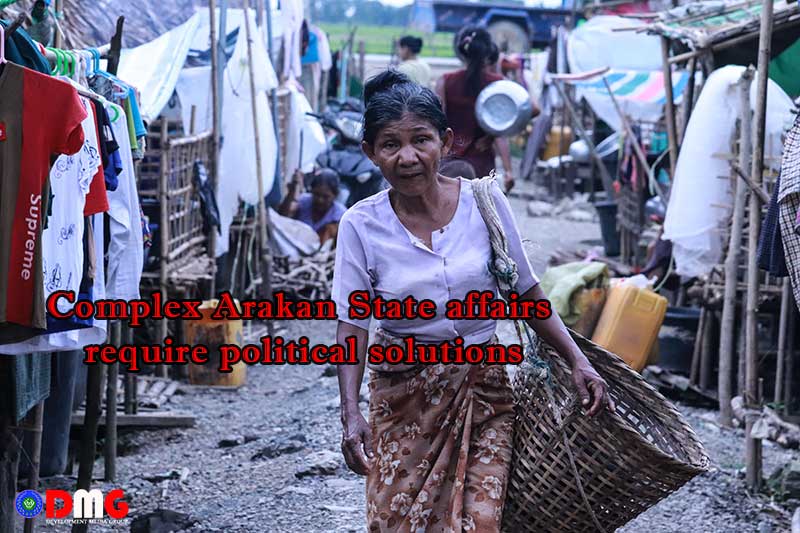 By Min Htee | DMG
Arakan State has long seen conflict across numerous sectors of its socio-economy, resulting in poverty and disenfranchisement.
Increasing numbers of Arakanese people working abroad and leaving the state show the condition of the state's economy. Half of more than 100 deaths during a landslide in Hpakant, Kachin State, on July 2 were Arakanese, an indicator of the extent to which Arakanese people have left their homes to work as migrant labour elsewhere both in Myanmar and abroad.
Other regions and states in Myanmar may enjoy some of the benefits of democracy, but for Arakan State and Arakanese people, democracy has been like a poison.
The 2020 election is drawing near. After the 2010 election and especially after the 2015 election, those who won a majority of votes of Arakan State's people did not get the right to form the state government. In other words, Arakan State voters were not politically empowered, and politics and democracy became the most mistrusted of concepts among Arakanese people. Making matters worse, between 2018 and the first half of 2020, many people were killed and injured due to clashes between the Myanmar Army/Tatmadaw and the Arakan Army in Arakan State.
The number of people who have been displaced from their homes due to the fighting has reached almost 200,000, and the union and state governments have failed to take responsibility for fostering peace, growing the economy, creating job opportunities and properly resettling war-displaced people.
Arakanese people do not yet see a ray of hope for peace and their futures remain bleak. Communities and society more broadly are in bad shape, with few opportunities for young people and women.
It is obvious that there is not a sound plan for the development of Arakan State; there was not under the previous government and there is not under the current administration. Some say the state's poverty can be traced back to intercommunal conflict in 2012, but I do not agree with that 100%.
Geographically, Arakan State boasts riparian and other natural resources such as natural gas, as well as having ready access to the sea. Additionally, it can produce rice in quantities sufficient for its 3 million people.
However, Arakan State is one of Myanmar's poorest regions, approaching poverty levels seen in Chin State, which has a far less favourable geography. This shows that the mismanagement of successive governments, and a lack of equal rights and equitable development are to blame for the sorry state of affairs in Myanmar's westernmost state.  
For Arakanese people, today's poverty and sense of hopelessness contrast with their own rich cultural and geopolitical past, when under the Arakanese Kingdom the region was a global trading hub and maritime power.
For Arakanese people, the 21st century "democracy" of which they are a part has not yielded the fruits and opportunities that were promised. For Arakanese people, the essence of the "Union spirit" is this bitter present-day reality.
There are potential remedies, however, and they must be explored fully and expeditiously. For example, Arakan State has port infrastructure that is valuable both to the state and the union, and there are large, populous markets in neighbouring countries such as India and Bangladesh. But in order to overcome Arakan State's poverty, the political neglect of successive governments must end.
Under the current civilian government, centralisation remains the model, monopolies have too much power and the Tatmadaw is still overly involved in the country's politics.
The 2008 Constitution is a major hurdle to realising the aspirations of ethnic regions including Arakan State. The National League for Democracy, which won a clear majority of people's votes with the stated intention to amend the military-drafted charter, has so far failed utterly in this regard.
There is potentially another path to federalism, via the Panglong Conference peace process, but here too the NLD has not proven adept at navigating the negotiations (if true federalism is indeed its goal).
The lofty ambitions of the 21st Century Panglong Conference — to establish peace and build a federal union with equality at its core — are stymied by deadlock at the moment, a situation made worse by the limits to the process that the coronavirus pandemic has imposed.
Meanwhile, it is clear that conflict in Arakan State is a union affair as well as international concern. The central government is not seen seeking to resolve the political conflict through political means; fair-minded observers agree that the State Counsellor's order to the Tatmadaw to solve it by military means likely exacerbated the conflict and complicated the situation.
The civil war that appeared alongside Myanmar's independence broke out when ethnic people demanded self-administration, equality and autonomy. The political egos of successive union governments did not allow this to come to pass, however, resulting in the protracted conflicts that continue to this day.
Meanwhile, poverty and a lack of job prospects in Arakan State have caused a large number of Arakanese people to leave their hometowns in search of work as migrant labourers elsewhere.
The state government has proven unresponsive to the needs and desires of its people, apparently torn between allegiance to Nay Pyi Taw and serving its constituents. That has meant the majority of Arakanese people are still missing political and economic outlets, resulting in understandable disillusionment with the political process. In desperation, some have taken up arms to fight for what they believe in.
That's why Arakan State will become a peaceful and stable part of the Union of Myanmar only when there is a government that can resolve political problems by political means.